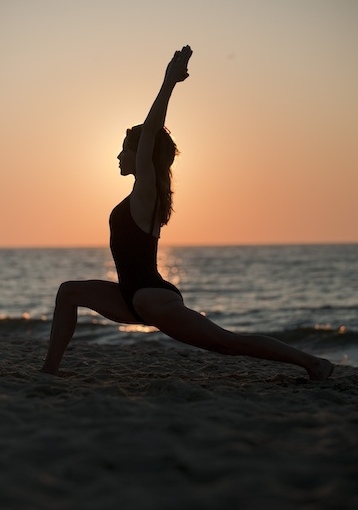 Walk into the brand-new Go Figure fitness studio in Potomac, and you'll likely be greeted by the sight of a few toned, Spandex-clad women. The boutique studio has a warm, feminine vibe with leopard-print carpet, leather couches, and scented candles, and specializes in the Figure Method: a hybrid of Pilates, ballet, and yoga designed to give you the long, lean body of a ballerina.
I attended a class one morning during the studio's first week. Bethesda native Julie Schlafman Wender, the studio's owner and (currently) only instructor, quickly learned names and assessed the fitness level of the participants. Most of us were reasonably fit, but were new to barre fitness.
The hour-long class started with some easy leg lifts and pliés. This is nice, I thought to myself. Then suddenly, we were on the ground doing pushups. And not just any pushups, but the slow, excruciating kind.
It turns out there's far more upper-body work than you might expect from a class inspired by ballet—though, by the looks of Wender's arms, I should have known it was coming. Don't be fooled by the one-, two-, and three-pound weights lining the far wall of the room. Wender led the class in 30-plus reps of bicep curls, lateral raises, and tricep extensions—and with no break between sets, those innocuous-looking two-pound weights soon burned more than the 15-pounders I'm used to lifting at the gym. "The idea is to work your muscles to exhaustion, then stretch them intensely to lengthen them," Wender explains.
Former ballerinas will recognize the plié, relevé, and port de bras, along with the graceful flow of the class. The Figure Method also incorporates abdominal and back work commonly found in Pilates classes, and some stretches and poses from yoga.
Some of the moves take some getting used to—for example, most of the lower-body exercises are performed with your pelvis tilted forward. And then there's the "back dancing."
Back dancing is performed lying on your back with your knees bent. You pump your hips toward the ceiling repeatedly to the beat of, for instance, the Commodores' "Brick House." Let's just say you might feel uncomfortable if you were doing it in a regular gym. But in the camaraderie of Wender's small studio, you quickly forget that this move is usually reserved for more, ahem, private situations.
The style, an adaptation of the Lotte Berk Method, was developed ten years ago in Greenwich, Connecticut, by Cindy Sites. Sites has six studios in Connecticut and New York, and has said she's actively looking to open a studio in Georgetown. Wender is the first to open a franchise.
The classes tend to be heavily populated by stay-at-home moms, Sites says. Though my class had only female attendees, Sites says she's had male participants in classes at her other studios.
"It can be a little humbling for men," she says. "When a man is told to do ten very slow pushups, he tends to struggle, so it's intimidating to see a petite woman next to him doing those pushups beautifully.
"But the men who do it love it. And the scenery is great for them."
Ballet barre fitness classes ($28) are offered Monday through Saturday. Special pricing of $23 per class, plus a free class with every purchase, is in effect until December 15. Packages are available. Go Figure. 12500 Park Potomac Ave., Potomac, MD; 301-838-5569; gofigurestudio.com.