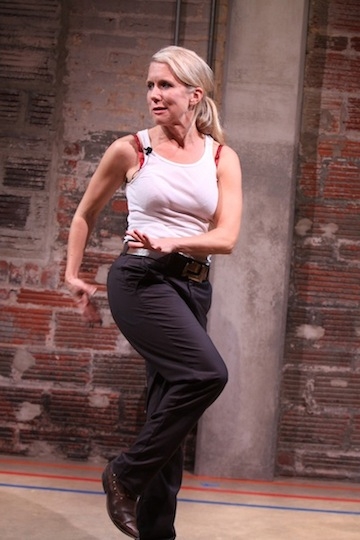 ☆☆☆ ½ out of four
Lauren Weedman just wants to get out of her own head and do some good for humankind. Which is easier said than done, she discovers.
In her solo show, Bust, playing at Studio Theatre through December 18, the Los Angeles–based actor/comedian/writer spins a wry, frenetic, addictively watchable tale about her decision to volunteer at the Los Angeles County Jail, and how it proved a far heavier-duty gig than she'd envisioned. The highest hurdle, it turns out, was not the jail's tense, overcrowded maximum security wing, nor the recidivist women prisoners who, shall we say, embellished the stories they told the naive Weedman. No, it was the near-impossible task of overcoming her own scattered mindset and monumental self-absorption.
These can be useful traits in a performing artist, but they sure gave Weedman a heckuva time out in the real world. She powers through her saga with infectious energy and dead-on characterizations of everyone she encountered along the way, first at the volunteer orientation meeting, for which she was 45 minutes late. There's the well-meaning but officious trainer who chides Weedman for her inappropriate dress, her lateness, and her hyper-talkative need to spill her guts to strangers. There's the somber fellow volunteer who earnestly tells the group, "I want to go where there is darkness, and I want to bring light."
Once at the jail, there's the no-nonsense Latino officer who takes the novice volunteers on a tour, imparting grim reminders about signing the "hostage release form," and warnings that "kindness is weakness." Acting like a clown, he adds, speaking directly to Weedman, "is gonna get you killed." Weedman earns this special attention because of her bizarre reaction to the officer's description of the many sharp implements that guards have found hidden in prisoners' behinds. She sets off on a near-hysterical comic riff—a mix of nerves and a performer's ego.
When she meets her first three "clients" in the jail, Weedman does everything wrong, sometimes hilariously, sometimes in ways that make you cringe. She offers personal information to a prisoner—one of the key things volunteers are told not to do. And she makes promises she can't possibly keep. Her three clients are wildly different and sharply etched by Weedman in a mix of broad strokes and little details: the crystal-meth-fueled prostitute who insists she wants to give up that life, then does a 180 at their next visit; the older prisoner who's in for fraud and who insists that her case has fallen through the cracks at the public defender's office; and the initially silent handcuffed woman in the maximum-security wing.
At irregular junctures in her saga, Weedman digresses into other stories that further demonstrate her internal war between self-absorption and selflessness. An editor at Glamour has heard about a story Weedman blurted at a party—that while in college she lied about having been raped as an attention-getting move. The editor urges Weedman to write her confessional story for Glamour's readers: "You could change women's lives . . . the journey to self; courage to tell the truth!" Glamour offers big bucks, so Weedman takes the bait, only to see her tale edited into a lurid piece that brings in hate mail. And they'd love for her work with them again, don'tcha know. Two more interesting but ultimately expendable digressions find Weedman at an audition for a Pepsi commercial, overseen by an incredibly snarky choreographer; and at a health club sauna with an acquaintance who waxes poetic about her phony spiritual fulfillment in the world of dachshund rescue.
An experienced performer and writer—her play Rash premiered and won multiple awards in Seattle—Weedman has appeared on The Daily Show, HBO's Hung, and in the 2010 Steve Carell/Tina Fey film Date Night, among many other credits. She demonstrates equal gifts for comedy and straight-up acting under director Allison Narver's kinetic staging, which never gets so busy that Weedman can't finish a thought or a look. Her changing moods, characters, and locations are sharply noted by set and lighting designer Allen Hahn, and the sounds of jail life and blasts of music getting Weedman from one place to the next were created by sound designer Mark Nichols. Bordered by red, orange, and blue stripes, the platform has on it only an ergonomic stool and a movable set of corrugated steel steps that Weedman uses to evoke the jail and other locales.
A slender blonde in tapered khakis and a white "wife-beater" undershirt over a red bra with scarlet straps proudly exposed, Weedman takes us with her on a Dante-esque descent into the LA jail and, after six months or so, emerges a little bit changed and having won grudging respect from both jailers and prisoners. On her trip through that Inferno, Weedman is very much herself, yet she also stands in for the rest of us 21st-century, Internet-bred, all-about-me Americans. She's nervous, lacking in self-confidence and impulse control. She wants to do good, but is unsure whether she can forget herself long enough to manage it.
So, it seems, there's hope for us all.
Bust is at Studio Theatre through December 18. Tickets ($35 to $60) are available through Studio Theatre's Web site.