Uncle Boonmee Who Can Recall His Past Lives, Sunday at the Freer Gallery. Photograph courtesy of Studio/Produzent
Uncle Boonmee Who Can Recall His Past Lives
It's probably fair to say that Apichatpong Weerasethakul is not a household name. In fact, most households would hesitate to even try to pronounce that handle. (If it looks intimidating, just remember that: 1. It's pronounced just how it looks, and 2. Weerasethakul is just fine with being called "Joe.") But in households with subscriptions to Film Comment or Sight & Sound, and an entire section of the DVD shelves reserved for Criterion Collection titles, the Thai director is well loved for his unconventional, enthralling filmmaking. His sixth film, Uncle Boonmee Who Can Recall His Past Lives, is the most acclaimed yet, winning top honors at Cannes in 2010.
The name of the film is also its summary, as the titular uncle, suffering from a terminal illness, begins to see visions of his past lives and specters from earlier in his own life as he draws closer to death. This is a film in which a plain old ghost is the most normal thing one's likely to see. Visions include a womblike cave that is a place of both death and of birth for Boonmee, a woman having sexual relations with a river catfish, and the return of Boonmee's missing son as a hairy forest creature with glowing red eyes. These are undeniably strange images, and Weerasethakul's static style requires attention and submission, but the reward for that patience is one of the best films of the past couple of years. You can read my full review here.
View the trailer. Sunday at 2 PM at the Freer. The museum will also screen two other films this weekend as part of its "Reincarnations: Films from Thailand" series.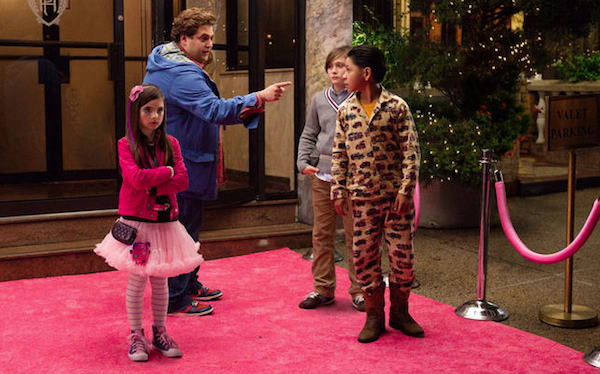 Jonah Hill stars in The Sitter, out Friday. Photograph by Jessica Minglio, courtesy of 20th Century Fox
David Gordon Green was once the darling of serious American independent cinema, a potential heir apparent to Terrence Malick in the field of elegiac, quietly revelatory filmmaking. Now he's three films and one HBO series into one of the strangest career shifts ever seen from an auteurist, away from the intimate dramas of George Washington and All the Real Girls and into the crass comedy of Pineapple Express, Your Highness, and now The Sitter. Some folks lament Green's turn away from serious movies, and while I'd like to see another of those carefully considered pieces from him again, it's a mistake to write off his latter work as worthless trash. Trash they may be, but the chaotic glee in Green's comedies comes from the same love of film that spurred his earlier projects—it's just different films doing the inspiring.
The obvious touchstones for The Sitter are adventure comedies like 1987's Adventures in Babysitting and 1991's Don't Tell Mom the Babysitter's Dead: Take one inept young adult, add some unruly kids, throw them into a bunch of crazy situations, and see what comes out. The Sitter may be the slightest of Green's three comedy features, but it's still intermittently enjoyable watching the always likable Jonah Hill cavort and curse around New York City in a minivan with three profoundly messed up tots. Add in some scene-chewing, drug-dealing insanity from the great Sam Rockwell, and you've got more than enough to flesh out a brief 80-minute feature, even if, honestly, you might do just as well chasing this down on video.
View the trailer. Opens tomorrow at theaters across the area.
A Spring for the Thirsty and The Eve of Ivan Kupala
The most well-known film that Ukranian filmmaker Yuri Ilyenko participated in was probably Sergei Parajanov's Shadows of Forgotten Ancestors, on which he served as cinematographer, but Ilyenko directed movies, as well. His films are little seen in the US, but the National Gallery has a brief retrospective in store over the next couple of weekends. This weekend, the gallery hosts a double feature of his first two films. Both were made in the mid- to late-'60s, and neither saw the light of day until more than 20 years later, shelved by a Soviet film system that simply took films away from directors if the government didn't approve of them. The first, A Spring for the Thirsty, is a poetic and experimental piece about rural decay told from the perspective of a peasant; it's accompanied by The Eve of Ivan Kupala, a fantasy adaptation of a folk tale by Nikolai Gogol. This weekend's films will be followed by a third, Swan Lake—The Zone, next weekend, a film Ilyenko made from the diaries that Parajanov wrote while imprisoned by the Soviet government during the 1970s.
Saturday at 2 and 4 PM at the National Gallery of Art.
Finnish director Aki Kaurismäki heads to the north of France for his latest, a film that addresses serious political issues without ever abandoning the director's trademark gift for often hilarious deadpan humor. The film, which takes place in the port town on the English Channel from which it takes its name, centers on a failed author in his sixties who makes a meager living for himself and his wife hustling shoeshine work here and there around the city. At the same time that his wife becomes ill, he takes in a young African boy who's trying to get to England with his family, smuggled aboard a shipping container, and discovered in port at Le Havre. The collective of misfits and outcasts that make up the shoeshiner's neighborhood identify with the boy, and they band together to attempt to help him avoid deportation and reunite with his mother, as a comically dedicated (and oh-so-very-French) detective stays just one step behind.
View the trailer. Opens tomorrow at E Street.
Stanley Kubrick's adaptation of Anthony Burgess's novel needs little introduction. The story of Alex is familiar: He's just a regular malchick with a taste for a little of the old ultra-violence, and having a real horror-show time of it before the millicents take him in and mess about with his poor gulliver. The now-classic images that populate A Clockwork Orange turn 40 this year, and to celebrate the occasion, the AFI is screening the movie over the course of the next week. Kubrick is one of those directors whose films absolutely demands the occasional trip to the theater when there's one nearby showing them, as his stunning images play better and better the bigger they are. So strap yourself into that Ludovico chair, prop those eyelids open, and viddy well, little brothers and sisters. Viddy well.
View the trailer. Opens tomorrow for a one-week run at the AFI.
DVD/Blu-ray Pick of the Week: Point Blank
Amid all the serious-minded Oscar hopefuls elbowing for theater space over the next few weeks, you may find yourself in need of a little break from the prestige and craving something a little lighter to decompress during the stressful holiday crush. Nothing better for you in that case than a good thriller. Why would you want more tension when you're already feeling stressed? Because the eventual escapist release valve that ends all thrillers helps us blow off steam, and few do it as well as this tight little French abduction thriller from earlier this year, out this week on home video. The Fred Cavayé–directed film starts with a chase and essentially never stops, as a man and his pregnant wife are inadvertently drawn into a criminal plot that causes her to get kidnapped, and him to go after her whatever the cost or the danger. Hollywood advertisers like to use terms like "adrenaline-fueled" to describe overblown, bloated summer blockbusters, but lean and streamlined pieces like this are the real cinematic stimulants. You can read my full review here.
Special Features: One behind-the-scenes featurette and the original theatrical trailer. View the trailer.