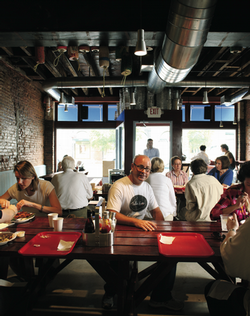 When Tackle Box Georgetown, and its more upscale sister restaurant Hook, caught fire in Georgetown late last June, Tamara Williams was there.
"Wednesday was half-price taco day" at Tackle Box, says Williams, who works at Story Partners, a public relations firm at 1000 Potomac Street. "We'd always try to hoof it over there." On the day in question, Williams says, she had already ordered tacos—for herself and to take back to her coworkers—when she saw a plume of smoke.
"It happened the minute he swiped my card," she recalls. The next thing she saw was a huge fireball, and that was enough to send her running across the street with the rest of the Wednesday crowd, where she watched as the first fire truck arrived. Williams was soon heading back to the office sans tacos.
But she kept her receipt. "I'm funny like that," says Williams. So when she walked by the Georgetown Tackle Box last week and found it reopened, Williams asked the cashier if she could come back with her proof of purchase and reclaim lunch. The employees said she didn't need it, and refilled her order free of charge. Williams returned to her office and handed her coworkers their lunches . . . about half a year after they ordered them.