Sure, that honey-glazed ham has become a holiday tradition. But what about the dinner guests who don't eat meat—or who are simply trying to stick to a healthier diet?
Skipping the meat doesn't have to mean feeling unsatisfied. We enlisted the help of nutrition guru Danielle Omar, a vegetarian herself, who shared with us some of her favorite meatless recipes that are healthy, filling—and, most important, delicious. Read on for five hearty dishes, including several gluten-free options, guaranteed to please everyone at the table.
—–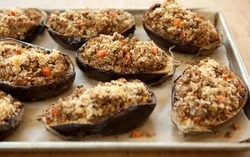 Baked Eggplant With Nutty Bulgur Stuffing
Serves 8
Calories per serving: 210
The perks: "I love this recipe because it's a 'single-serve' option with a unique flavor profile," says Omar. The bulgur can be replaced with quinoa or brown rice for a gluten-free option.
—–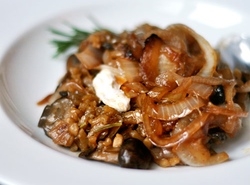 Mushroom Risotto With Caramelized Onions
Serves 4 to 6
Calories per serving: 154
The perks: The "hearty mushroom flavor" of this dish means no one will miss the meat, Omar explains. "This recipe is great for those who love the creamy richness of risotto but don't want to stand at the stove for an hour making it."
—–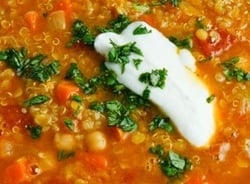 Curried Red Lentil Soup With Chickpeas and Quinoa
Serves 4 to 6
Calories per serving: 252
The perks: "Not only is this easy to make, but it's also high in protein, fiber, and super satisfying. And it's gluten-free."
—–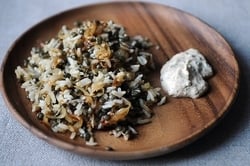 Mujaddara With Spiced Yogurt
Serves 4
Calories per serving: 334
The perks: "This recipe is a little more complex, but it's worth the effort. Lentils and rice make a satisfying main course, and this dish is even tastier the next day," Omar says. Readers at Food52 also voted it the best lentil recipe.
—–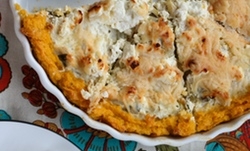 Artichoke Polenta Tart
Serves 8
Calories per serving: 182
The perks: "This gluten-free tart is full of flavor yet deceptively decadent, with many fewer calories than your standard tart."
Click here for more information.
Photographs courtesy of Food52.com, Wholefoods.com, Zestycook.com, thekitchn.com, and eastewart.com