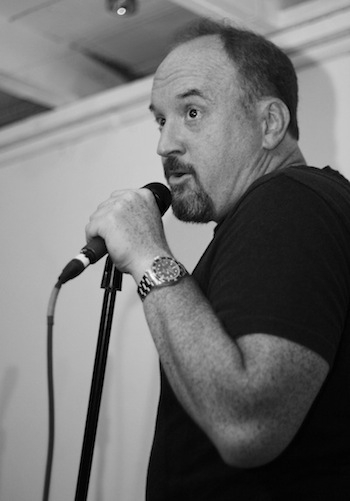 No one can accuse next year's 68th Annual Radio and TV Congressional Correspondents' Dinner of playing it safe. Comedian Louis CK—whose standup act is usually described using a combination of words like "dark," "profane," "genius," and "sort of mean"—will be headlining the black-tie event. And despite what reports from various media outlets would have you believe, it is not the same thing as the White House Correspondents' Dinner, which is usually the highlight of the Washington season (and was this past year hosted by SNL's Seth Meyers).
The event boasts a guest list that usually includes the President and congressional leaders, but it still plays second fiddle to the flashy White House Correspondents' Dinner. Commentators are already comparing CK's selection to that event's 2006 speaker, Stephen Colbert, who delivered a pugnacious performance aimed at President Bush, who was sitting just feet away.
In addition to standup, CK writes, directs, produces, and stars in the FX hit Louie, which earned him two Emmy nominations earlier this year. He made news last week by putting his new standup special, Louis CK: Live at the Beacon Theater, on sale on his Web site for just $5, bypassing the traditional cable television-to-DVD approach.
His everyman style of comedy doesn't normally stray into the political realm. After tweeting a few unprintable remarks about Sarah Palin last year, he told GQ he regretted them, saying, "I'm not a political comedian."
The 68th Annual Radio and TV Congressional Correspondents' Dinner will be held on June 8, 2012.