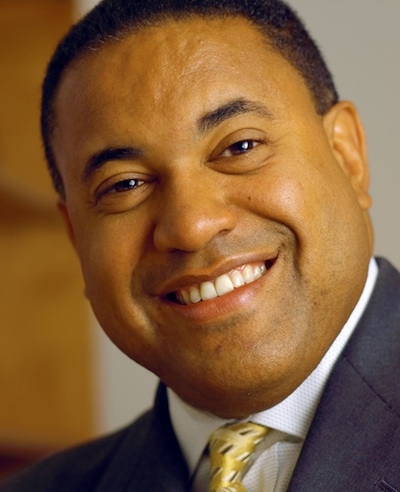 The DC government isn't short on legal and ethical trouble. In the past year, Mayor Vincent Gray and several DC Council members have found themselves embroiled in scandal. Ward 5 council member Harry Thomas Jr. is in the middle of one of the highest-profile investigations. The DC attorney general accused Thomas of diverting $300,000 in public funds to organizations he controlled and ultimately pocketing some of it himself. Thomas is also the target of a federal criminal investigation, and news broke Tuesday evening that he may be about to resign his council seat.
Lawyer A. Scott Bolden, managing partner of Reed Smith's Washington office, has been involved in past DC government investigations, and currently represents one of Thomas's former staffers in connection with the ongoing probe into the Ward 5 Democrat's dealings. Bolden shared his thoughts on the Thomas investigation, as well as the scandal-plagued DC government in general.
The civil case brought by DC attorney general Irv Nathan against Harry Thomas Jr. was settled, but can you tell us what you know about the ongoing criminal investigation by the US Attorney's office?
I represent Neil Rodgers, who is the former committee clerk to the Committee on Libraries, Parks and Recreation [which Harry Thomas Jr. used to chair]. That the US Attorney's office has had very little outreach to us is the first thing. Second of all, based on what's been reported, we know that the government executed a search warrant on Harry Thomas's home. It was interesting that the government executed the search but did not arrest the council member. The standard of proof for a search warrant is pretty equal to what is required to make an arrest. I think it was a strategic decision on the part of the government, especially if it has ongoing negotiations with Thomas's legal team. The execution of a search warrant without an arrest was, in part, to recover items they thought were fruits of a criminal enterprise, but second, I think it was to strengthen their hand and add pressure as part of their negotiations with Thomas.
Also, remember that no criminal charges have been formally filed against Thomas. We know there is at least one grand jury looking at the allegations against Thomas. The civil case was a setup for the criminal case. For the civil case, the DC Attorney General's office did quite a bit of investigative work and obtained several documents, and while the standard of evidence is far less in a civil investigation than in a criminal one, the information from the attorney general's investigation was all turned over to the prosecutor's office. The US Attorney will use that to build on this $300,000 allegation. It's my belief that the government is looking beyond that $300,000 into other grants that were obtained by certain parties as a result of Thomas's chairmanship of his committee.
What are your thoughts on the fact that Mr. Thomas is reportedly about to resign his seat on the DC Council?
If he pleads guilty to a felony, I think he will be forced to resign. I don't believe he would have to if it was a misdemeanor. Up to this point, he's shown a great amount of resilience. He's a second-generation Ward 5 councilman. His father served with great distinction. I think to resign without having been charged or convicted of these allegations—I think in his view, it would be letting down the people of Ward 5, a place where he still enjoys a great deal of support. The other thing to remember is that under the constitution, he's still innocent until proven guilty. Everyone has a presumption of innocence and the right to cloak themselves in its protection.
Tell us about your client, Neil Rodgers, and his connection to the investigation into Harry Thomas Jr.
It is my understanding that he is not a target or subject of the investigation. He is a witness to the federal investigation, and had essentially been a witness to the Office of the Attorney General investigation, as well, by the mere fact that he was committee clerk to the Committee on Libraries, Parks and Recreation [while Harry Thomas was chairman].
If Thomas does resign, will that have any effect on your client?
No. My client now is in another position with the DC Council.
You also represented Sinclair Skinner and Omar Karim, former mayor Adrian Fenty's fraternity brothers, who were at the center of an investigation into whether Fenty was funneling city contracts to friends. Harry Thomas was one of the most vocal accusers of Skinner and Karim. Given that, do you find your current involvement in this investigation into Thomas ironic?
I've been quoted before as saying, "The hypocrisy is deafening." But politics, be it local or national, comes with great ironies. The greatest irony here is that while there were several allegations against [Skinner's and Karim's companies] Liberty and Banneker, the independent counsel's report absolved them and the then-mayor, Adrian Fenty, of any wrongdoing. The remaining issues the Council had regarding certain financial transfers between Banneker and Liberty were never formally referred to the US Attorney's office. One thing that got lost in that investigation was that all of these recreation centers [that had been contracted to Skinner and Karim] were completed on time and under budget. So while they were investigating Banneker and Liberty, council members continued to cut ribbons, open up these rec centers, and enjoy the fruits of my clients' labors. There's no greater political plug or project for a DC elected official in his or her ward to tout than to open a rec center for the community.
Mayor Gray's administration has had its fair share of scandals, and other DC Council members, such as Kwame Brown and Marion Barry, have also been recently caught up in legal or ethical trouble. What does it say about the DC government that there is this ongoing string of problems with its officials?
I think that ethics reform should remain on the table, notwithstanding council member Muriel Bowser's ethics reform legislation that was just passed. I think that's a first step, not a last step. Second, I really think that the executive and the legislature should put a high priority on re-creating confidence in this government, in how it operates, its results, who it does business with, and how it does its hiring. On one hand, our government leaders need to be ethically better. On the other hand, we need the US Attorney to be more efficient with these investigations. The longer that these investigations continue, the larger and darker the cloud that hangs over the local government. Not good. DC residents need political leaders and a government they can believe in, and the most recent polling shows a real lack of confidence in the DC government and many of its leaders.