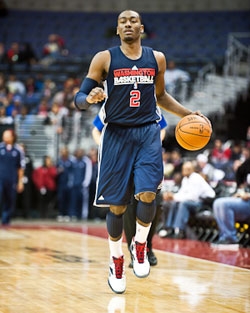 As you may have heard, the Washington Wizards are off to their worst start in franchise history. And for a franchise with such a rich tradition of losing, you know it must have been an especially difficult ten days.
Okay, that was mean. I apologize for piling on more pixels of despair, but a run like this makes it pretty difficult to stay positive. How can we focus on #NewTraditions when lackadaisical offensive sets and defensive indifference keep popping up to remind us of what we're trying to replace?
Forgive the frustration, Mr. Leonsis—I've spent most of my life watching this franchise rebuild.
I know, this was never going to be an easy year. As a fan, all I'm looking for are glimmers of hope for the future. Some indication that this team is on the path to improvement. Yet through six games, it's been more of the same: some nice individual efforts spoiled by a lack of cohesion.
However, there is still reason for optimism with this team. And as usual, it lies in the potential of youth. While Jan Vesely has yet to play, fellow first-round pick Chris Singleton has shown an ability to contribute on both ends of the court. His jump shot is better than anticipated, and his work on the defensive end is exactly as advertised. Yet on Monday, after the Wizards had flown to Boston to take on the well-aged Celtics for the second time in two days, 14-year NBA veteran Rashard Lewis logged nearly 40 minutes on the court, shooting just 4–10 from the field. That playing time came at the expense of Singleton, who languished on the bench in the second half and finished with just eight minutes played.
It would be great for John Wall if he were surrounded by veterans the way Rajon Rondo is in Boston, but that's not how these new Wizards are being constructed. In Rondo's second year he was starting alongside three future Hall of Fame inductees. In Wall's second year, his most accomplished veteran teammate is Lewis, who at this point is a 25 percent three-point shooter. In fact, the reason Lewis is still on the roster at all is because his $21 million is the only thing keeping the Wizards above the league's salary floor.
If this team is going to turn things around, they're going to have to grow together. Lewis will be out of the picture soon enough. What's important now is for Wall to develop a rapport with guys like Singleton (and Vesely at some point), who figure to be a big part of the team's future. It will be a tough year that will surely see the Wizards back to the NBA draft lottery. So play the young guys, and find Wall a capable running mate in the stacked 2012 draft. Perhaps then they'll be able to attract the kind of free agents that made Rondo's Celtics champions.