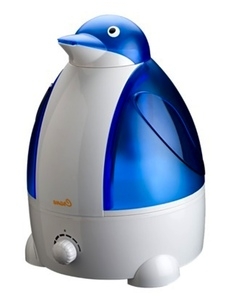 Thanks to modern technology, when it's freezing outside we can crank up the temperature inside with the touch of a button. But blasting the heat produces a lot of dry air, and breathing it in can hurt our noses and throats.
"During the winter, the air doesn't hold that much moisture," explains Dr. Thomas Troost, an ear, nose, and throat specialist at GWU Medical Faculty Associates. "So when you breathe in, you essentially dry out mucous membranes."
Humidifiers are a quick fix for this problem. They eject water mist, "raising the amount of moisture in the air so when you're breathing, it's not so dry," Troost explains.
Troost recommends investing in a humidifier if you've been coughing a lot or waking up with a sore throat in the morning. Humidifiers can also help reduce nosebleeds, another common occurrence when the lining of the nostrils are too dried out. Running a humidifier in your living room or in your bedroom while you're sleeping is perfectly safe, Troost says.
But note that they require some cleaning and care. One of the biggest issues with humidifiers is that if not properly cleaned, they can release mold and bacteria into the air. The US Environmental Protection Agency suggests cleaning portable humidifiers every three days. "You may want to get the type that has a clear water reservoir, so you can easily see whether it's clean," Troost says.
Troost typically recommends steam vaporizing humidifiers, since his patients say they feel more comfortable with the warmth, rather than cold mist. However, be careful using this type if you have children—the mist can be hot and may scorch someone.
Also, keep the humidity at a 30 to 50 percent range in a room. This can be measured with a hydrometer, a device available at most hardware stores. Some high-end humidifiers have their own built-in hydrometer.
Here are four steam, ultrasonic, and cool-mist humidifiers that come highly reviewed by professionals and users alike.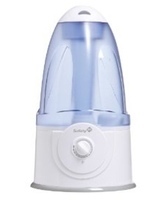 Safety 1st Ultrasonic 360 Humidifier, $30
This low-cost humidifier can run for up to 12 hours without refilling the tank. It humidifies up to 330 square feet, which is more than enough for a bedroom. Its nozzles allow mist to be directed two different ways, and various reviews note that it's easy to clean. As a plus, it's quiet, so it won't disrupt your sleep.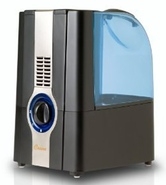 Crane EE-5200B Warm Mist Humidifier, $40
This Crane humidifier dispenses warm mist and covers up to 250 square feet of space. Since it's a steam vaporizer, there's no need for a filter, although you should use distilled water to lower any mineral or dust buildup. There's also a built-in medicine cup to add a product such as Vicks VapoSteam or another type of inhalant. It's quiet and can run for up to eight hours.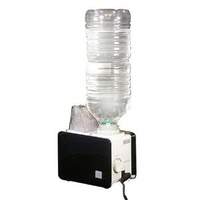 Sunpentown 1051 Mini Humidifier, $69
This is a great travel-friendly humidifier, thanks to its light weight and compact size. Instead of filling a built-in water tank, users simply place a filled water bottle into the machine. The mist is cool and can be adjusted from low to high.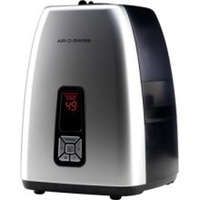 Air-O-Swiss Ultrasonic 7144, $200 and up
The Air-O-Swiss is the splurge-worthy pick of the bunch. Ranked best humidifier by Consumer Reports and Consumer Search, this model is praised for its sleek design and quiet operation. It has a 1.5-gallon tank and produces cool or warm mist that covers 650 square feet of space. It also has a built-in humidistat, so there's no need to buy a hydrometer of your own. However, the machine does require a water-refreshing hydro stick every year, as well as a demineralization cartridge every few months.