House pages in the 1980s—girls began serving in the early '70s—pose on the Capitol steps with Speaker Thomas P. "Tip" O'Neill. Photograph courtesy of the Capitol Page Alumni Association.
In 1886, Scribner's published Among the Law-makers, a memoir by a former Senate page about the post-Civil War years he spent on Capitol Hill. The memoir recounted Edmund Alton's experiences as a witness to history, rubbing shoulders with members of Congress, seeing them at their best and worst.
Alton also described such page adventures as getting the keys to the door leading to the Capitol dome and sneaking in there by candlelight for a picnic after the Senate adjourned: "We began the ascent of the long and intricate stairs in a joyous procession. . . . Hundreds of feet below lay the city of Washington, with its myriad of twinkling lights."
One time, they crawled into the pneumatic tube then used for transmitting documents to the Government Printing Office: "We derived immense satisfaction from this exploit. This satisfaction was increased when the engineer informed us, as we emerged begrimed with dust, that in another instant we would have been annihilated by the ball that, filled with documents, was shot with lightning velocity from the farther end."
Alton served as a page—one of the youths who, from the earliest days of Congress, have assisted members with errands and various other tasks—from age 13 to 17 during Ulysses S. Grant's presidency. In places, his memoir reads almost like a Harry Potter volume, but instead of Harry and his friends roaming the corridors of Hogwarts after hours, the pages were exploring one of the nation's largest and most complex buildings, the US Capitol, with dozens of secret passages:
"In the large room of pillars immediately above the crypt, there was a trap-door. Once, opening this, we descended an old stone staircase, and . . . soon found ourselves in a circular room, damp and cold, and nearly filled with broken statuary of every description—statesmen, griffins, lions, and other images." The boys used the secret room as a "retreat in which to conduct our midnight revels."
Most of the escapades were innocent—using boxes from the folding room to sled on the Capitol's west lawn on snowy days. But Alton also writes of getting into the office of the sergeant-at-arms and taking Ku Klux Klan robes stored there for a joint congressional investigation into the organization: "These costumes we pages would delightedly don in our night-session pilgrimages, and wander, a silent but awful band, through the corridors and rooms of the Capitol, to the consternation of all visitors. If you have ever seen one of these weird, fantastic outfits, you can imagine the hideous spectacle we presented."
Alton noted that those on the Senate side often dismissed the other chamber as inferior, referring to the House of Representatives as the Cave of the Winds because it often had so many members talking at the same time that it was almost always noisy.
Almost a hundred years after Alton, another youth recorded his reflections on being a Senate page with equal candor. "Senator V is a thoroughly asinine individual," Frank Madison wrote in his diary, published as A View From the Floor in 1967, nine years after he served as a page. Madison, from Kentucky, was 16 when he began, and he served from 1956 to 1958, when Lyndon Johnson was Senate majority leader and John F. Kennedy was a freshman senator making a name for himself.
Proving the adage that no man is a hero to his own valet, Madison wrote scathingly of many lawmakers: "Senator D is one of those people who think they are of tremendous importance to humanity and that every pungent syllable that falls from their lips is of urgent and critical importance to the salvation of mankind. On both counts he is in error."
Madison referred to one of the Senate's more rotund members as "Tummy" and wrote that "[Hubert] Humphrey has been doing a good job on the whole, considering that he is laboring under the handicap of an unpleasant voice. He is always sticking out his pointed chin, which juts from an otherwise pudgy face." And this: "That great champion of nothing, Senator O, has been consistently maintaining his high and unblemished record of inadequacy."
Madison summed up his assessment of the world's greatest deliberative body: "I measured the Senate by its capacity to combine extremes and incongruities, quaintness and grandeur, genius and stupidity."
No matter the century, congressional pages have enjoyed their proximity to members of Congress, watching momentous national debates and fooling around in their off-hours. But over the years, page antics—including some sex scandals—have become more public and the program has come under increasing scrutiny and criticism.
Last summer, without warning, House leaders announced they were ending that body's page program, citing cost and new technology that made the pages obsolete. When the House reconvened after Labor Day, its pages were gone. Senate pages remain on the job. In recent years, there have been about 30 Senate pages at any time, compared with about 70 in the House.
Next: In 1842 there were eight pages, each paid $2 a day.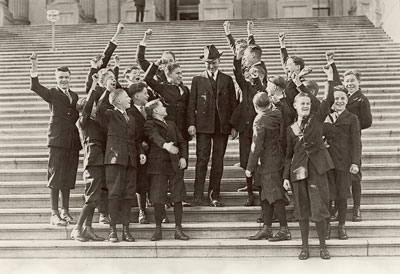 As early as the First Continental Congress in 1774, young boys served as messengers and ran errands for the representatives. The term "page" wasn't officially used until 1827, when the House of Representatives employed three young boys.
Often the boys, who were paid for their services, were chosen because they were destitute or orphaned or because their mothers were widows. In 1842 there were eight pages, each paid $2 a day. As the years went by, the compensation increased along with the prestige of the position. Pages currently earn more than $400 a week, from which expenses for room and board are deducted.
The first Senate page, appointed by Daniel Webster in 1829, was nine-year-old Grafton Dulany Hanson, a descendant of John Hanson, president of the Continental Congress, and grandson of the Senate sergeant-at-arms; he was a page for ten years. Two years later, Webster pushed the Senate to appoint 12-year-old Isaac Bassett, whose father was a stonemason who worked on the reconstruction of the Capitol after it was burned by British troops in 1814.
Isaac Bassett became a Senate fixture, remaining more than 60 years, most of that time as assistant doorkeeper, a position in which he supervised the Senate staff and pages. He left a trove of handwritten remembrances of Senate leaders and events—from the speeches of Henry Clay, Daniel Webster, and John C. Calhoun to an assassination attempt on President Andrew Jackson in the Capitol rotunda and the caning of Senator Charles Sumner on the Senate floor in 1856. Bassett helped carry Sumner out of the chamber after the attack.
The original page duties—delivering correspondence and carrying documents, messages, and letters for members of Congress—weren't so different from those of the present day. One of their important responsibilities after a presidential election is to carry the wooden boxes containing each state's electoral ballots from the Senate to the House, where the votes are tallied.
Pages—who for a long time were only boys but since the early 1970s have included girls—raise and lower the flags that fly above the House and Senate to signal whether the chambers are in session. Senate pages place copies of the Congressional Record, executive and legislative calendars, and pending legislation on every senator's desk in the chamber before the start of each day. When a senator speaks, pages bring water and a lectern if needed.
Some responsibilities have changed. One job in the 19th century was filling the Senate snuffboxes, which remain on the Senate floor today, although they're empty now. Henry Clay summoned pages to bring him a snuff box as often as 20 times a day.
Pages also refilled ink bottles and made sure quill pens were sharpened and blotting-salt shakers filled. Before the introduction of gas lamps and then electricity, the Capitol was lit by oil lamps on the walls and by candles on members' desks. In long evening sessions, pages had to trim the candles and stoke the fireplaces and stoves with hickory wood. When the windows were open during warm evening sessions, bats would fly into the chamber and pages had to chase them out.
Before telephones, "riding pages" delivered letters from Congress to the President and to executive offices on ponies. They also rode high-seat bicycles to deliver telegrams. During late-night sessions, pages had to rouse members sleeping in the cloakroom when a vote was called—and even go to hotels and rooming houses to collect them when a vote was close.
An unwritten rule in the 19th century
held that pages couldn't be taller than the shortest senator.

Congressional pages were immortalized in the 1939 movie Mr. Smith Goes to Washington when Jimmy Stewart's character, the newly appointed senator Jefferson Smith, is shown to his seat by one. Stewart tells the boy he doesn't plan to make any speeches: "I'm just going to sit around and listen." In response, the page says, "That's the way to get reelected." More recently, a Senate page was a main character in the 2004 political thriller The Zero Game by Brad Meltzer.
Pages still often show new members of Congress where things are and how they work—such as what the bells and voting lights on congressional clocks mean. Over the years, they've also had to remember personal preferences, such as who likes mineral water, fruit-flavored chewing gum, or licorice and which senator wants a piece of apple pie with cheese at 2 every afternoon.
Even now, Senate pages are asked to bring a glass of water to any senator who rises to speak, and they must know who likes still water and who wants sparkling, who prefers ice and who wants lemon added—though today's pages probably would never try a 19th-century prank that Alton wrote about: The boys occasionally substituted salt for sugar in a glass of lemonade a senator requested.
In the 19th and early 20th centuries, the teenagers often played practical jokes on one another, such as sending new pages in search of a "bill stretcher." They sometimes played marbles behind the Vice President's chair in the Senate.
In the 19th century, many pages—and senators—lived in rooming houses without bathing facilities. Pages often were directed down to the Senate bathtubs in the Capitol basement to wash themselves and get their hair cut. There were 16 large tubs made of Italian marble; the baths were in operation from 1860 through the 1890s, when most homes and rooming houses got indoor plumbing and the tubs were taken out of use.
Congressional pages have long had a dress code. Until 1947, they wore dark-blue knickers, dark ribbed stockings, a dark-blue jacket, and a white shirt. Now they wear dark-blue jackets, white shirts, and ties; girls can wear pants or skirts.
An unwritten rule in the 19th century held that pages couldn't be taller than the shortest senator. In the Supreme Court, which also had pages, they couldn't be taller than the justices' chairs so they wouldn't be observed by court spectators.
Page programs have evolved to reflect societal changes. For the first hundred years or so, no schooling was provided for pages. In 1925, a congressional page school was established in the basement of the Capitol. About 25 years later, a more comfortable school was created on the third floor of the Library of Congress, and improvements have been made to the program, with social studies, science, math, and English now required. Pages get up at dawn to be in school during the early morning hours before Congress convenes.
Until late in the 20th century, pages had to find their own accommodations in rooming houses and apartments. But in 1983, two members of the House—Illinois Republican Daniel Crane and Massachusetts Democrat Gerry Studds—admitted having had sex with pages. Both were censured. Crane lost his next election, but Studds was reelected to six more terms before he retired from Congress.
Next: "It was one of the highlights of my life."
Up till 1982, the House and Senate page programs were unified; afterward they were separated. That year, a House Page Board was created, recommending the establishment of a residence hall, complete with curfews and bed checks, as well as a House page school. The board also proposed that pages be in their junior year of high school and be limited to one year of service.
By that time, girls and African-Americans had been serving as pages for more than a decade. New York senator Jacob Javits appointed the first black page to the Senate in 1965 and the first females in 1971. The House followed suit, also appointing its first black page in 1965. House speaker Carl Albert appointed the first female House page in 1973.
Many pages have gone on to distinguished careers in public service and business, including Bill Gates, who was a House page in the summer of 1972. Former senator Chris Dodd was a page. Current members who were pages include Michigan representative John Dingell, who served during the presidency of FDR; Senator Roger Wicker of Mississippi; Representative Jim Cooper of Tennessee; and Representative Dan Boren of Oklahoma.
Early last August, after Congress adjourned for its summer recess, House speaker John Boehner and minority leader Nancy Pelosi announced the end of the House page program. Technology such as cell phones and BlackBerrys had rendered pages unnecessary, they said, and eliminating the program would save $5 million a year. However, perhaps as a response to member protests, Pelosi announced in the fall that she would establish a program to allow House members to "loan" their college interns to the Democratic cloakroom for temporary stints.
The decision to cancel the program was harshly criticized by former pages and members of the Capitol Page Alumni Association, which represents 11,000 former pages. Some members of the association created a Facebook presence and organized a day of Capitol Hill lobbying to try to get the program reinstated.
Representative Dan Boren protested that the decision had been made without input from members. Boren, 38, was a Senate page in the summer of 1988 when his father, David, was a senator from Oklahoma. "It was an incredible experience," Dan Boren says. "You do get to witness history."
He learned of the demise of the House program through news accounts: "I thought the timing was suspect, that all the members were gone when they made the announcement, like they knew it was going to be an unpopular decision, so they thought, 'Let's do it when everyone is out of town and maybe it will go away.' "
Boren and 29 other House Democrats sent a letter to Boehner and Pelosi expressing concern that cutting the program "will harm the institution of Congress as a whole." Boren and two fellow congressmen introduced a resolution to create an advisory panel of three Democrats, three Republicans, and three former House pages to make recommendations on how to restructure and continue the program; Boren has cited examples such as adding to page responsibilities, reducing their salaries, and raising money from foundations and former pages to fund the program.
House leaders had previously commissioned a study of the page program by a consulting firm, but that report was kept under wraps. Boren asked that the report be released. Some former pages speculate that it may contain embarrassing accounts of misbehavior by pages and that potential embarrassment to members—not just cost—was key to the leaders' decision to disband the program.
"It was one of the highlights of my life."

In September 2006, Republican representative Mark Foley of Florida resigned after it was revealed that he had sent sexually explicit messages to male former House pages. After the story broke, the Los Angeles Times and ABC News reported that Foley had had sex with two former male pages after they turned 18. Many Republicans think the scandal had an impact on the 2006 election, when Democrats regained majorities in the House and Senate.
The following year, an investigation revealed that several pages had been expelled for shoplifting and for engaging in sexual acts in the elevator of the House page dorm.
Stories about pages behaving badly is the kind of publicity House leaders don't want, but they would do well to remember that the most prominent scandals and indiscretions involving pages originated with House members. No scandal concerning pages on the Senate side has ever been reported.
In economic hard times, it may be symbolically appealing to cut $5 million a year from the House budget, but ending the page program isn't like eliminating ice delivery to members' offices, an anachronism discontinued in 1996 by then speaker Newt Gingrich. The page program provides experience to young people that many former pages say changed their lives. Yes, many are children of the well connected or the offspring of members such as House majority leader Eric Cantor, whose daughter, Jenna, was a Senate page several years ago. But many pages earn the position through merit and determination.
Michelle Sturgill, now a fifth-grade teacher in Woodbridge, was appointed a page by then House majority leader Tip O'Neill and served from 1976 to 1978. "It was one of the highlights of my life," Sturgill says.
Says Robert Cuthbert, 34, a page in the fall of 1994: "Every door that has opened for me is a result of the program. It brought out the best in me." Cuthbert went on to the University of Chicago and then became an Army Ranger who has deployed in Iraq and Afghanistan. "We're throwing away hundreds of years of tradition. There's something important about the members having to confront the next generation on a regular basis."
Congressman Boren says a few bad experiences shouldn't doom the program: "With anything there's going to be an incident or two, but that's not a reason to shut the program down. I know if there was a House vote on ending the program, it would fail. It's important for the young people, but it's also important for the institution. It reminds us of why we're here. The page program is a part of who we are and our history."
At a time when congressional approval ratings are in the single digits—the lowest since pollsters have been keeping track—members of Congress could probably use an infusion of idealism and energy from their pages. Perhaps it's not the best idea to remove one of the few daily reminders members of Congress have that a future generation is counting on them to do the right thing.
Linda Killian's book "The Swing Vote: The Untapped Power of Independents" will be published in January. She is a senior scholar at the Woodrow Wilson International Center for Scholars and writes about politics for the Atlantic and Newsweek/the Daily Beast. She tweets at @lindajkillian.
This article appears in the January 2012 issue of The Washingtonian.