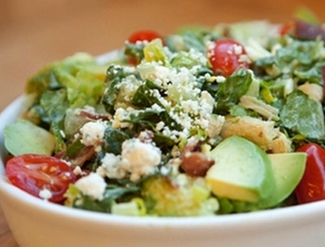 Ever since I moved to DC from Puerto Rico in 2006, winter living has been one of my biggest challenges. (My class attendance during my junior year at American University wasn't exactly stellar.) As I started this weight loss journey, I knew I needed to overcome my dread of the cold. Granted, this hasn't been the harshest of winters, but this was both a big challenge and a great necessity because my gym is only open Monday through Friday until 7 PM. I'm usually able to sneak in a workout after lunch, but it's not always possible, given that my schedule is shaped by my boss's events.
A friend of mine had this really corny line about how he loved winter because he could "layer like a player." It sounds silly, I know, but that's exactly what I needed to do. My goal was simple: I was going to bike to work no matter what the temperature, and I needed to run outside for 45 minutes anytime I missed a gym workout, and on the weekend.
Frankie's Weight Tracker:
Starting: 168 pounds
Current: 162 pounds
Goal: 155 to 158 pounds
Well, thank goodness for modern workout clothes! I bought a pair of Under Armour thermals (something I had never thought to do before), and now I actually enjoy running outside. If feels great to feel so light outside, but still warm. One problem solved.
Now for my diet. My last post focused on my bad eating habits. I was done with them and ready to start the new year eating properly. I needed to replace bad behaviors with something that made me feel full and tasted good. Sweetgreen's Derby Cobb salad (no bacon or cheese) was the answer. It sated my hunger without adding any unnecessary calories so late at night. This diet (plus the workouts) kept me going from the 164.1 pounds of last Tuesday to 162 pounds by Friday.
But then came the weekend.
First I had an MLK prayer breakfast to attend for work at Shiloh Baptist Church. What an amazing event—and breakfast. I indulged in the eggs and bacon on the condition that I would take it easy the rest of the day and run 45 minutes in the afternoon. I ended up going running, but not taking it easy. That night I ended up at a party that made it hard to stick to MINT trainer Will Noel's "two beers max" rule.

Still, I relished the fact that even though I had failed the beer rule, I had not ordered a pizza at 2 AM. This good feeling led me to grabbing brunch with friends, which Will also told me to avoid. And as I was obviously not planning on ordering egg whites, I made myself run another 45 minutes that day. As a result, when Tuesday's weigh-in came around, I wasn't expecting to see a sharp weight drop, but I thought I'd at least have shed one or two pounds due to all of the running I'd done over the weekend.
Nope! I weighed exactly the same as Friday: 162 pounds. This gave me much to think about: I really, really have to cut the beers or this is not going to work. I only drank one day over the weekend, and it froze my weight loss trajectory. (Admittedly, the brunch didn't help, either.)
Goal for this week: Zero beers!
FRANKIE'S WORKOUTS OF THE WEEK
Thursday: 25 minutes of high-intensity interval running and 30 minutes of weight training
Friday: 4.5-mile run and core exercises (crunches, bicycle crunches, etc.)
Saturday: 4.5-mile run and core exercises
Sunday: 4.5-mile run
Monday: 3-mile run
Tuesday: 20 minutes of high intensity interval running and 30 minutes of weight training
Track Frankie's weight loss journey every Thursday during the month of January. Follow him on Twitter at @djlawphin.