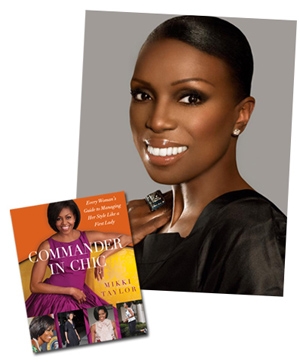 Michelle Obama is a busy, busy woman. Between appearances on Nickelodeon shows, delivering gifts to Toys for Tots, and supporting her husband while he, you know, runs the country, FLOTUS doesn't have time to spare for sartorial insecurities and multiple outfit changes. In Commander in Chic, a working woman's style manual modeled after Mrs. Obama herself, Essence editor-at-large Mikki Taylor offers readers a lifestyle guide for the modern woman with an impossibly packed calendar. Can't spare a second to read the compendium that could save you even more? No worries—Taylor summarizes five of the most important takeaways right here.
1) Wear clothes that make sense for your life.
"We all have long days, just as Mrs. Obama does," says Taylor. "We may not have state dinners at the end of the day, but we do have events." Taylor tells us life gets a lot easier when you size up how you're spending your time and fill your wardrobe with pieces that fit within that framework. Be realistic about what you actually need to get dressed for. Attending a lot of company networking happy hours? Then you probably don't need to keep a bunch of sequin miniskirts around.
"Define what works for you, and never veer from it," says Taylor. "If something is not in Michelle's lane, you won't see her in it."
Pay attention to the differences between how you think you ought to dress and what actually allows you to function. "You'll never see Michelle suited up and there for the 'appearance'," says Taylor. "She's there to do the work—it's not about playing dress-up."
Does your job keep you on your feet all day? Save the heels for after hours and wear a pair of comfy flats or chic, supportive boots. Never leave your computer? Wear sleeves you can roll up and leave the bracelets at home. You'll be more productive when your wardrobe doesn't interfere with the task at hand.
2) Invest in "bankable pieces" and "repeat performers"
Your shopping list should aways have two major focuses: apparel you feel great in no matter what—what Taylor calls "bankable pieces"—and items you wear multiple ways (the "repeat performers").
"Smart separates extend the mileage of your wardrobe," says Taylor. They also make it easier to pack for last-minute business trips and vacations.
Some of her favorite FLOTUS examples of the concepts:
The cardigan: "Mrs. Obama works them day and night. She does them in colors, with embellishments, and even cinches them. Rarely does she do the matching twin set."
Pencil skirts: "This is a beyond classic piece, and you can add something new to it every season." Just make sure to check for proper fit—"If you can run in it, it's too boxy," says Taylor.
The little black dress: "Michelle has them in an array of fabrics and necklines."
A multitasking shopper: This tote should be big enough to hold all your essentials, and in a design appropriate for work. Worried it'll take up too much space under table at the restaurant you're headed to straight from the office? Check the tote, then carry a clutch, says Taylor.
As for on-a-whim purchases? "Impulse buys turn your closet into a museum," Taylor says. "You'll have much to admire, but nothing to wear.
3) Buy quality in multiples.
Have a hard time finding jeans that fit? When you do (finally) come across that perfect pair, buy two or three. This saves you from unnecessary shopping trips—not to mention laundry sessions—down the road. You should also buy versatile basics such as crew-neck sweaters in two or three colors you love, which will keep you in silhouettes you feel great in without looking like you're wearing the same thing every day.
4) Never buy a look for a single occasion (unless it's your wedding).
Though it's tempting to go all out for the interview of a lifetime or a big date, this kind of purchasing won't pay off in the long run. A wardrobe full of one-time-only outfits is one that will constantly need replenishing—who has time for that?
5) Organize your closet the right way.
Nobody wants to waste time wading through a cluttered, disorganized closet. You'll be dressed and out the door in half the time each morning if you know exactly where to find things.
"Put the clothes you're most comfortable with in the center of your closet," says Taylor. That way, if you only have nanoseconds to get dressed, you'll easily snag your most confidence-building pieces.
Because every minute counts for the woman with a packed schedule, Taylor also includes labels and photographs on all of her shoe boxes so she knows exactly what she's reaching for.
For more great tips, follow Taylor on Twitter at @IamMikkiTaylor. Every Friday for an hour, she answers follower questions.