To celebrate the end of my weight loss journey, I wore my skinny jeans out this past Friday night. This month has been an overall great experience that has allowed me to get back on track with regards to what I'm eating and drinking, and how often I'm working out. I've learned it's all about choices—instead of beating yourself up over every move you make, you should just try to make the better choice right off the bat.
Here are the some of the lessons I learned during the month.
Julie's Weight Tracker:
Starting: 159 pounds
Current: 150 pounds
Goal: 145 to 148 pounds
1) Eat Clean and Healthy
On the downside, I did have a few events this week; I couldn't control myself at the after-party for Big Miracle this past Wednesday. I did drink wine instead of the featured sugary cocktail, and opted for smoked salmon over pizza (I was really craving pizza!). I also went out for dinner on Friday night, but I split a bottle of red wine and a mozzarella salad with tomato and eggplant. Let's be honest—it's not like any of us are never going to socialize or go out for dinner while trying to shed those pounds.
But the biggest lesson here is that you can't eat whatever you want just because you did an hour of cardio. You need to work out and eat clean and healthy.
2) When In Doubt, Get a Trainer
With regards to exercise, I've gotten lucky with all this crazy weather, which has afforded me the option to run outside a few nights this past week. I've gone back to working out with my former trainer Andrew Bloch twice a week, which has really helped. If you want results, there is nothing like a million squats and lunges to keep your body toned.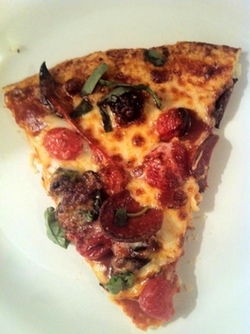 3) Be Your Own Chef and Bartender
Two big lessons I learned during my weight loss journey are to keep the alcohol at a minimum and to try not to go out to dinner all the time. Both are just recipes for disaster; at dinner you always consume way more calories than you think. I would really suggest cooking at home as often as possible. It's a lot more fun when you're making a healthy meal at home with your girlfriends.
4) Find a Workout Partner
Make plans with friends that revolve around some type of physical movement, and take heed of what works for others. I was at a dinner party last Saturday, and a girlfriend of mine asked if I had been to ZenGo. "Yes I've been to Zengo for sushi," I replied. Of course, she was talking about the cycling gym ZenGo Fitness in Bethesda. We went to a class called Power Hour, which is a calorie-torching cycling class that incorporates weights and some other exercises. It's a super-hard workout that can burn 800 to 1,000 calories and is high energy and a lot of fun. We plan on going back next Sunday.
See Also:
5) Have Fun With Fitness
I'm also lucky enough to have a friend who's the sales manager of a gym. One of her head trainers shared a great overall workout plan with me, which I did twice this week (see below). At this point, I'm a little off from my goal, but I'm feeling positive and I'm back on track. I've lost nine pounds without making myself miserable, and I've had fun.
Good luck to everyone with all of your 2012 goals. Put yourself out there every chance you get, and good things will come back tenfold. Having a positive outlook on life really helps with mental and physical health, which I believe can help and will with weight loss.
Try Julie's new workout for yourself:
Set One
20 pushups
20 leg extensions
12 lunges (each leg)
5 minutes of cardio
Do this set twice.
Set Two
15 dumbbell flys
15 leg curls
20 squats with 20-pound dumbbells
5 minutes of cardio
Do this set twice.
Set Three
15 reps on hip abductor machine
15 reps on hip adductor machine
3 minutes of cardio
Do this set twice.
Set Four
15 bent-over rows with 10-pound dumbbells
3 minutes on the bike
Do this set twice.
Set Five
2 sets of 15 dumbbell bicep curls
2 sets of 50 crunches on fitness ball
60-second plank
Stretch