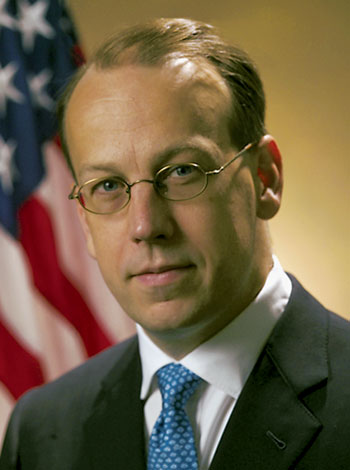 Paul Clement is no stranger to the Supreme Court, but his attempt to get the nine justices to strike down President Barack Obama's health care law as unconstitutional is the most significant moment in his career to date. And given all that Clement's accomplished, that's really saying something. Here's a cheat sheet to get you up to speed on the nation's top Republican lawyer.
• Clement is just 45 years old, making him a relative young gun among his peers in the upper echelon of Washington's Supreme Court bar, such as Ted Olson, Seth Waxman,and Carter Phillips.
• He was also one of the youngest US solicitors general in history. He served as SG in the George W. Bush administration, from June 2005 to June 2008.
• No doubt in part because of his young age, he's considered a frontrunner for the Supreme Court should a Republican president have the chance to nominate a new justice.
• He ignited a fierce bidding war among some of the nation's best law firms when he left the Bush administration, eventually commanding $5 million a year to join King & Spalding.
• His exit from King & Spalding garnered just as much attention as his decision to join the firm. When he agreed to represent House speaker John Boehner last year in a federal court case to uphold the Defense of Marriage Act–the legislation that defines marriage as between a man and a woman–King & Spalding pulled its support from the controversial representation. Clement chose to stick by his client and left the mega-firm for the small boutique firm Bancroft, run by Viet Dinh, a former Justice Department official known for crafting the Patriot Act during the George W. Bush administration.
• Clement will have argued seven times at the high court this term, the most of any private-practice attorney in one term since at least the 1970s, according to Bloomberg. He's become the go-to attorney for conservative causes: In January, he argued at the Supreme Court against a Texas congressional redistricting plan meant to protect minorities. He is slated to defend Arizona's rigid immigration law before the justices next month.
• Some quick stats: Clement studied foreign service at Georgetown and economics at Cambridge, and got his JD from Harvard Law, where he served on the law review while Obama was its president. He clerked for Justice Scalia.
• New York magazine and the Washington Post offer more insight into Clement in their recent profiles of him.