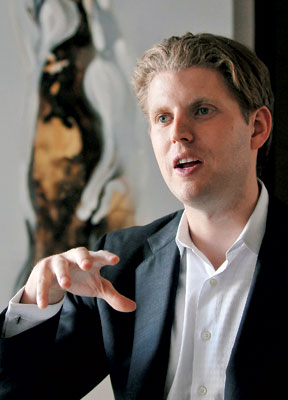 A joke in the industry goes: How do you make a small fortune in wine? Answer: Start with a big fortune.
Donald Trump is making his first foray into a world where soil talk is sexy and "malolactic fermentation" holds more meaning than "mergers." Last spring, he paid $6 million for Patricia Kluge's Kluge Estate Winery, Virginia's largest singly owned vineyard and, on green hills six miles from Monticello, one of the most beautiful. Trump has tapped a novice–son Eric, 28, a Georgetown graduate–to run the operation, now called Trump Winery. We spoke to the younger Trump by phone from his office suite high above Manhattan.
Why did your father decide to get involved in wine?
He bought this because he saw an amazing property. Patricia had already gotten the accolades and the awards and, quite frankly, created a product that already fit with who we are as a family. We focus on the very highest-end products, whether it's a commercial building or a hotel or a golf course. We want to compete on a worldwide basis.
What does it mean to "compete on a worldwide basis"?
We want to achieve the best ratings possible. Patricia knew wine, and her wines were consistently rated 93 points, which is really best in class. Obviously, everybody has different tastes–it's subjective. I think there is a difference between a high-quality wine and a not-high-quality wine. It's not that different from someone who wants to live on Fifth Avenue and 57th Street and someone who wants to live in SoHo and someone who wants to be in the country.
You're essentially a real-estate company. Winemaking is quieter, it's artisanal, dependent on the vagaries of the seasons. Make the argument that this isn't as big a departure as it would seem.
The perception of our brand is that we're big city, but the reality is different. I love the country and spend every weekend in the country. I love that lifestyle. And I think that over the last six, seven, eight years we've gotten really into the horizontal.
The horizontal?
As opposed to the vertical–skyscrapers. We've been involved in something similar to vineyards–golf courses–which need to be maintained, the grass has to be manicured. That's really kind of like agriculture.
Terroir is important to many winemakers–the idea that wines need to evoke a sense of place. What does terroir mean to Trump?
I think you're right that every wine region has a special feeling, and what is that for Virginia versus Napa or Oregon? What is Virginia and how is it so quickly making a mark on the wine world? There are more than 200 wineries in Virginia, and that's just going to grow and grow.
Are there qualities to the wines here that you think are important, that help define Virginia wine?
Well, you really want seasonality–it creates complex flavors and grapes, and you want that seasonal shift. You don't get that everywhere. But you do in Virginia.
And then you add to that the beauty and the history. Here we are, six miles outside Monticello and a couple of hours from the nation's capital. That's pretty special.
And you have the diversity. You're not only doing red wines; you're doing white wines and incredible sparkling wines. It really is the next Washington or Oregon.
This article appears in the April 2012 issue of The Washingtonian.