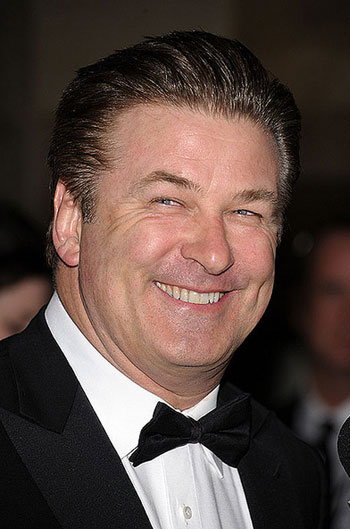 Invited guests, coming to hear a speech by Alec Baldwin, arrived at the Kennedy Center Monday evening to the sound of Japanese war drums filling the cavernous hallways. Was this a hint of things to come? No, the drums were a separate event, but given Baldwin's bumptious reputation, it was fair to wonder.
Baldwin delivered the 25th annual Nancy Hanks Lecture on Arts and Public Policy, and what the Concert Hall audience got was remarks from a mellow, reflective, and thoughtful man. In fact, he began with a center-stage yoga pose–a well done "down dog"–in his suit and tie, because the 30 Rock star is now very much into yoga. He credits the stretching and breathing techniques with getting his fitness back and with leading him to the love of his life; he recently became engaged to his yoga instructor, 28-year-old Hilaria Thomas. Baldwin is 54.
The evening was hosted jointly by Americans for the Arts and Ovation TV. In his remarks Baldwin was not overtly the comedian nor the outspoken political activist. The theme of his words was how the arts entered his life, especially growing up in an American suburb, the Long Island town of Massapequa, New York. Interestingly, though, he credits Washington with his cultural awakening, stemming from his time as a college student at George Washington University.
"Washington, to an unsophisticated 18-year-old, was beautiful and inspiring beyond my imagination," he said. "It was here in Washington that I discovered architecture. Nothing makes you love this country as much as the architecture of Washington." He recalled playing touch football in view of the Lincoln Memorial, of gazing at the White House and thinking about how "ambition had driven many men, and a few women, to want to reside there." He said that at that time, the late 1970s, "I was one of those people."
But other muses also wooed Baldwin, he said, and those muses took him on a path toward the creative arts. At GW he studied acting for the first time. He drew a laugh when he said the class was called "Acting for Non-Drama Majors," and when he confessed, "I was terrible, but I suppose I was less terrible than everyone else."
As a boy, after seeing the Oscar-winning musical film West Side Story, he wanted nothing more than to "dance like them, and in a gang. I wanted to have gang fights, but with dancing." Later he became enthralled with the dark and brooding tone of the '70s films featuring the likes of Marlon Brando, Al Pacino, and Jane Fonda. He cited Last Tango in Paris as a game changer for him. It was also the first film he saw at his favorite DC movie theater, the Circle, just on the edge of the GW campus. The Circle, like the also-now-defunct Biograph, Key, and Janus theaters, was one of Washington's principal funky art houses at a time when independent and foreign films ruled pop culture.
Bitten by the acting bug, he transferred to New York University's Tisch School of the Arts, where he studied acting "and actually became an actor, which I still consider bizarre." He did not spend a lot of time speaking about his television and film career, which in addition to the Emmy-winning role as network boss Jack Donaghy on 30 Rock, spans dozens of films going back to the late 1980s, including Glengarry Glen Ross, Ghosts of Mississippi, Outside Providence, The Departed, Beetlejuice, and It's Complicated. He focused instead on how the arts have infused his life and propelled him in his profession.
He also made time at the end for a tiny bit of soft peddling of the arts agenda, which no doubt he will more loudly advocate today as he visits Congressional offices. He mentioned his heavily aired commercials for Capital One bank. "I donate all my fee to charities, nearly all of them arts related," he said. "I mention this because I wish I had a few billion. I'd be giving most of that away, right now, in my attempt to raise awareness about the arts."
Because of his political activism Baldwin is occasionally mentioned as a possible political candidate, though he has taken no active role to seek any office. He did say, though, "If I were President, I would lobby for a billion dollars to the NEA [National Endowment for the Arts] and the NEH [National Endowment for the Humanities], and I would still consider that not enough."
Following the lecture there was a small dinner on the Kennedy Center rooftop for corporate supporters of the host organizations. By then the Japanese drummers had packed up their gear and gone home.