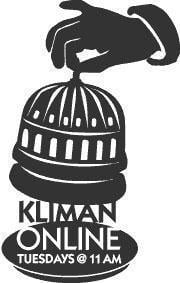 Where can you get a three-star experience at one-star prices? Which hot new restaurant merits the scorching hype? The answer to all these questions and more can be found Tuesdays at 11 AM on Kliman Online.
From scoping out scruffy holes in the wall to weighing the merits of four-star wanna-bes, from scouring the 'burbs and exurbs to hitting the city's streets, Todd Kliman covers a lot of territory. Winner of a James Beard Foundation Award in 2005 for the country's best newspaper column about food, Kliman is food and wine editor and restaurant critic for The Washingtonian. His work has appeared in The New Yorker, Harper's, The Oxford American, The Daily Beast and Men's Health, among others, and he has been selected four times for inclusion in the Best Food Writing anthologies. He is the author of The Wild Vine, a literary exploration of two entwined mysteries: an obscure grape that rose to prominence, only to disappear, and its present-day evangelist, a foul-mouthed transgendered multi-millionaire vintner on an obsessive quest to restore the legend of an antebellum southern doctor.
Can't wait a week to talk to Todd? Follow him on Twitter for dining reports, tips, and breaking news from the culinary world.
…………………………………………………………………………………..
W H E R E I ' M E A T I N G N O W . . .
* Green Pig Bistro, Arlington
One of the best and most intriguing of the current crop of Hipster Farmhouse restaurants (dishtowel napkins, bluegrass in the air, repurposed wood and yard-sale tchochkes throughout). The chef, Scot Harlan, an alumnus of the kitchen at Inox, cooks with precision and clarity, making light of a plate of crispy pig tacos (the pig, here, is salty, crunchy matchsticks of julienned ears) and even a country-style pate. There's a fantastic drinks menu, and a not-bad selection of Virginia wines, including a Michael Shaps Cab Franc that sells for $5 a glass; it's a perfect match for the rich, porky treats.
* Moa, Rockville
Situated in the fascinating industrial sector of Rockville, amid a slew of old warehouses and specialty supply stores, you would never find this intimate Korean restaurant if you weren't looking for it. It's worth seeking out. The cooking is vivid and punchy — great bibimbap, served several ways, along with a parade of soups, noodle dishes and stir frys. Order a soju to wash it all down; the mango and watermelon are fresh and gently sweet, a good counterpart to the garlicky intensity of the food.
R&R Taqueria, Elkridge
Best Mexican food in the area, and it's not even close. And–it's in a gas station. Worth the drive to Elkridge.
Maple Avenue, Vienna
Some diners might be skeptical of splurging for $20 + entrees in a tiny, repurposed diner where the 8 tables are wedged together so closely the room can feel like one big dinner party when the drinks are flowing. Others might be skeptical of the menu, which bends in a dozen different directions, implying a kitchen with a scattered, be-everything-to-everyone vision — which is to say, no vision at all. But this is a surprisingly focused restaurant — and a surprisingly rewarding one, too, a place that feels like a personal statement, backed by an amiable staff that clearly aims to send you away smiling. The chef and owner, Tim Ma, does his part, too. He makes a mean shrimp and grits, and his beef cheek sandwich with beer battered fries is one of the best simple plates around. Don't miss the bread pudding.
*Society Fair, Old Town Alexandria
I find the room garish, the prices high, the mood presuming. I'm putting this on here on the strength of two terrific sandwiches — a fabulous baguette stacked with thin shaved ham and good mustard and lamb shoulder stuffed into a griddled flatbread with tangy yogurt and spinach — and a superlative wine list.
Fiola, DC
Fabio Trabocchi's edge-of-Penn Quarter restaurant has put its tentative beginnings behind it. The dishes emerging from the brick-framed, herb-potted kitchen find the prodigiously talented chef moving further and further from the controlled elegance of his work at the late Maestro. They also find him cooking with a renewed confidence and conviction. The best of these plates–an astonishingly flavorful ragu of wild hare with thick bands of papardelle, a double-cut, prosciutto-wrapped veal chop with toasted hazelnuts that accent the sweetness and nuttiness of the meat, a bowl of tender meatballs in a tomato sauce that frankly puts most Italian grandmothers to shame–marry rusticity with refinement. Desserts–including a fabulous cone of sugar-dusted bomboloni, with pots of apple marmalade and cinnamon gelato–remain a rousing finish.
* Sidebar, Silver Spring
Chef Diana Davila-Boldin, a Windy City native, has improved upon her Chicago dog — grilling the link, griddling the bun and overloading the ripe, fresh toppings. The result? The best dog in Washington, and better than any Chicago dog I have ever had in Chicago. I'd give this poolhall/hipster bar/cafe a spot on the list just for that, but I also love her mini-falafel, her homemade sausages, her cod fritters, and the cochinita tacos that amount to a glorious precis of El Chucho's Cocina Superior — Jackie Greenbaum's forthcoming "inauthentic Mexican" restaurant, in Columbia Heights.
Mintwood Place, DC
Perry's owner Saied Azali was lucky to land Cedric Maupillier, formerly the chef at Central and before that the chef de cuisine at Citronelle, for his rusticky new bistro. The Toulon native is doing typically great work–cranking out lovingly faithful renditions of such bistro classics as cassoulet (see if you can finish it without two glasses of wine) and steak tartare (the tiny, crunchy tater tots on top are a clever allusion to his old boss, Michel Richard) as well as offering up some sly, smart takes on tradition (frogs' legs with black walnut romesco, a lamb tongue moussaka). There's a whole boneless dorade with picholine olives and braised fennel that's a knockout–beautifully conceived, perfectly executed.

* Meaza, Arlington
The largest Ethiopian restaurant in the country, according to owner Meaza Zemedu, if you count the butcher shop, grocery and banquet room in addition to the dining room itself. Which wouldn't mean much at all if Zemedu wasn't a talented cook who commands such a focused and consistent kitchen. Her wats, or long-simmered stews, are remarkable for their depth and length. The kitfo is superb, akin to a great beef tartare in its blending and balance of spices.

* Cork, DC
DC's best wine bar is eating better than it has since its early months, thanks to new hire Rob Weland. The erstwhile Poste chef has brought a seasonal focus to the menu, a welcome development for all those who regard the place as a regular in their dining-out rotation. More important is his great gift for making complex combinations feel inevitable and for imbuing simple arrangements with subtle textures and touches.

East Pearl, Rockville
A superlative addition to the unofficial Chinatown of northern Rockville, this cheery, subtly modish restaurant is turning out uncommonly clean-tasting versions of standard Hong Kong-style fare, including shrimp dumpling soup, shrimp with walnuts, and soyed chicken — all spectacular. And don't miss a Shanghai-style noodle dish that brings together angel hair, roast pork, shrimp, green onions and a generous spoonful of yellow curry powder into a light, greaseless and remarkably vivid whole.
*New this week
………………………………………………………………………………………………………………….
Today's contest: Who gets your vote for best bargain in town?
For the past few months, the Washingtonian food team has been traveling all over the District, Maryland, and Virginia, determining which restaurants will make this year's Cheap Eats list. Now, it's your turn. Where's the best bargain on the dining scene? Remember, a good deal isn't only about price and tastiness, it's about value. Make the case for why your place is such a good deal and you'l win a copy of Nuts in the Kitchen, an excellent collection of recipes from Susan Herrmann Loomis.
…………………………………………………………………………………………………………………..
---
Rosslyn, VA:
Todd,
Although the contest is over, would you consider posting about this unsung hero next week?
I want to recognize another kind of employee who may be overlooked in the dining scene.
This individual makes a positive impact with every customer encounter. Katie Fowler is a barista at Buzz Bakery but her welcoming personality, product knowledge, and attention to customer service is on par with the best servers, restaurant managers, and bartenders.
For the past 8 months, I never knew her last name until your employee nomination post inspired me to contact Buzz and request her full name.
I patronize restaurants more than casual dining venues. However, I make an exception for Buzz Bakery because of their weekly rotation of seasonal items and friendly staff. Katie Fowlers stands out as exceptional because she greets everyone with a smile even when the place is packed. If the bakery has sold-out of a product, Katie profusely apologizes and helps customers find something else that interests them. Last week, she spent a considerable amount of time discussing rhubarb, petit fours, and sorbet with me. Then she helped me find the perfect gift for a friend. In that time period, she also assisted other customers and gave them her full attention when they had questions.
Katie goes out of her way to ensure every customer's happiness.
I'm bored of the self-satisfied smirks, snobbery, and nonchalance of certain restaurant industry employees. A snarky attitude doesn't necessarily mean you know more than your fellow employees who dare to smile. I want to feel welcome when I enter a restaurant, bar, coffee shop or bakery. More importantly, I still want to feel good when I leave. Katie's customer service and sunny disposition is refreshing. She is the best possible kind of marketing for the Neighborhood Restaurant Group. I encourage more managers to hire people like Katie. Please consider acknowledging her in your online chat. Thank you.
Todd Kliman
This is wonderful.
Thank you so much for taking the time to seek out Katie Fowler, and write up why you think she's so deserving. It's great to recognize people like this. They ARE the face of these places, in many, many cases.
I would love to continue this practice of singling out and praising these folks. Perhaps again in a few weeks we can reprise the same contest, which will give everyone time to go and get the name of someone in the biz who makes your days better.
Thanks for writing in …
And thank all of you for being patient with the operating system delays this morning. My fear was that we were not going to be up and running at all today, so this is a welcome surprise …
---
Barcelona & San Francisco:
For last week's request for suggestions in Barcelona:
Merendero de La Mari – The best seafood paella ever! Get the pasta, not the rice, trust me. The noodles soak up a rich and savory seafood broth that we tried to find again in Barcelona, but just couldn't at any other place. We still dream about it. Definitely make a reservation because the popularity of the restaurant causes a small line of customers before the doors open for dinner, and every table was immediately filled.
Catalana – Being in Barcelona, we were naïve enough to think that in the motherland, every tapas joint would taste better than anything we have here in DC. Unfortunately, we had a couple of very underwhelming, and even disappointing, meals at times.
After 2-3 days of very disappointing eats, my husband decided to get on the internet and do some research, which yielded an amazing meal. Very nice modern restaurant with 2 tapas bars in the front where you can take a seat at the counter and order the dishes you see in the glass cases or you can choose to sit in the main restaurant and order tapas off a menu.
We chose to sit in the back and asked the waiter to recommend what he liked best. A tapas staple, we had been trying tomatoes rubbed on toast at several locations and I just wasn't getting it because well, it tasted like tomatoes rubbed on toast, nothing special. But here, the waiter urged us to give it another try, and it was so good that I finally got it! We had some lovely jamon iberico, because when in Barcelona… The waiter also recommended some buttery wild mushrooms topped with a runny egg, and grilled baby octopus that wasn't on the menu. For real, that was the best tapas meal we've ever eaten.
Mercat, St Josep, La Boqueria – beautiful food stalls and crowded counters with some amazing eats (think Reading Market in Philly). There are too many delights to choose from, so I'd choose ones with the largest crowd and longest lines of locals.
La Cure Gourmande Artisan Sucrecuitier – I saw people carrying these beautiful yellow bags around town and was curious to know what everyone was buying. We happened to come across the shop and it was the prettiest candy store I had ever seen. It's a French gourmet chocolate shop that makes delicious treats in pretty packaging and gift boxes which make for great presents/souvenirs for people back home.
Many thanks to Jessica and last week's reader who provided some excellent suggestions regarding dining spots in Portland. You've got me hungry and excited.
Any suggestions for local hot spots/mom and pop in San Francisco? The fancier, well known places are easy enough to find via an internet search, but can you or any reader suggest the smaller local spots that a visiting tourist would miss?
Todd Kliman
Wow. Now that's what I call coming to aid of a fellow food-lover!
Thanks for taking so much time on this, and being so thoughtful with your recommendations and suggestions. My mouth is watering …
Re: San Fran. My latest two recs are not quite "fancy, well-known" destinations, as you call them—they're not Gary Danko —but they're becoming better known by the week and month — The House, in North Beach, and Mission Street Chinese, in the Mission.
---
Washington, DC:
Todd –
Desperately need your help. One of our largest clients lives in CA and is great. He is Chinese American and last time I was out there he and his wife took a group of us to his favorite Chinese restuarant.
The dinner was amazing and it was an honor and a feast. His wife had gone earlier, picked out the seafood/menu and for dinner it was a seven course meal served family style. Truly one of the best meals of my life.
Now he's coming to DC and I want to try to provide something similar.
Here's the details:
Its him, his wife and his 80 year old mother.
They are staying in Crystal City, and are willing to go to DC but with an 80 year old I need to take into account steps, travel, etc.
Check per person needs to be under $50 (with tip/alcohol it can go over a little bit).
With mom, not super adventurous eater.
I was thinking places like Filomena Restaurante, Peking Gourmet Inn, or even Central but want it to be really special (and not too loud).
Thank you!
Todd Kliman
I hear you.
I'd take everyone to Fiola. It'll feel special, and the prices aren't going to blow your budget.
See my quick take on the place, above. As I say, I think the place is really, um, cooking after an uncertain start. You're not going to find better pasta dishes in the city.
Good luck. And I'd love to hear how your dinner turns out …
---
Bethesda, MD:
We're going to The Hamilton this Thursday to see a friend's band. Have heard pretty good things about the food. What should we focus on…raw bar, sushi, or more traditional bar type food? Is there any type they seem to better than others? Do you know if all the food is available in the concert area? Thanks!
Todd Kliman
Seriously? You've heard good things about the food? Have you been talking to the chef?
Because I have heard nothing good about the food, and, in my one visit there, was underwhelmed by every dish hit the table. Including a burger topped with cheddar, bacon and an egg. It had the warmed-over, muted quality of one of those wrapped breakfast sandwiches.
And the sushi seemed to have been sitting a while before it arrived. It put me in mind of buffet sushi.
Best thing was my Manhattan — strong, cold, smooth. The booze was from nearby Catoctin Creek, which is making some very good spirits.
---
Dupont:
I have elderly family visiting in a few weeks and we're struggling with activities and dining options. They are in great health for 85, but 85 nonetheless and walking much is not in the cards. Do you or chatters have any activity ideas for a Saturday afternoon? Also, on the dining front, they are very meat-and-potatoes folks and we will need to eat around 5:30. Would Mintwood work? The menu has options that definitely seem conducive and I have to think that that early, it won't be loud. Other ideas? HELP!
Todd Kliman
I think Mintwood Place would work.
And it wouldn't be that loud then, but it would by 7.
Let's see, what else …
You could try The Majestic in Old Town, housed in a handsomely restored diner. It's meat-and-potatoes place with a twist. There's even a meatloaf on the menu. With potatoes. Don't miss the cocktails. And save room for the desserts.
Or Ray's the Steaks, in Arlington. Both places, The Majestic and Ray's, are going to have more muted environments. I like both places, a lot.
Activity ideas … You could pile everyone into the car and go for a drive around the Tidal Basin, look at the cherry blossoms, note the joggers, take in the sunshine.
And … yeah, I'm pretty much out of ideas after that one …
… Unless you consider hitting a restaurant an activity. Which I most definitely do. : )
---
Jack Barry:
I tried a new restaurant in Herndon last week and have been back once because I really enjoyed the experience.

It is called Stones Cove and they call themselves a KitBar because all the food is prepared behind the bar by the bartenders – pretty crazy. I wondered if you had been and if so what you though of the food. There aren't going to be nominated for any Michelin stars but it was very good.
Todd Kliman
Yeah, I heard about this place not too long ago. It's on my short — actually, long — list.
It sounds like a fun idea. Of course, fun ideas like this are only fun in reality if the food is any good.
I'll get back to you — to all of you — in a bit …
---
Arlingtongue:
For value you cannot question a bahn mi at Song Que. A fairly sized sandwich on crusty bread with fresh toppings priced between $3.25 and $3.75 depending upon which one you order. That is less than the price of the average drink at Starbucks, and a whole lot more delicious.
Todd Kliman
So true.
It's amazing the value some places can give. It's also amazing how cavalier so many places are when it comes to the question of value.
Why is it, I've always wondered, that a Vietnamese sub shop can put together a delicious sandwich for less than four bucks, while — typically — an American restaurant or cafe charges two and three times as much for something far less tasty?
And it's not just sandwiches.
I recently ate a fantastic plate of fried trout at a Peruvian restaurant — a whole fried trout, beautifully fried. With oiled rice and a side of beans. $13.
I cannot name one American restaurant in this area that can make a comparable plate of food for the same price. Only the chains. And they're not delicious.
What you tend to find in this area is an American restaurant that says: We are all about simplicity and honoring our sources. And so it gets its fish from a local purveyor, and names that purveyor on its menu and instructs its staff to tell the story of that purveyor, and how that purveyor caught that fish, etc., etc. And the restaurant proudly serves that purveyor's fish, which is fresh, of course, but doesn't TASTE any better than the trout you had at the Peruvian place — in fact, it most instances it's pretty disappointing — with rice and beans, which are (you guessed it) not nearly as good as the bargain spot's rice and beans, though the menu will make a great deal over the authenticity of the preparation. And the final "of course": The dish costs $23.
---
Northwest:
Hi Todd,
I am trying to find a fun place to bring my family when they come down for my college graduation. We really enjoy seafood and vegetarian sides, but are not big meat eaters. I was initially thinking maybe Hanks Oyster Bar or maybe Rasika if we can convince my Dad to go for Indian, but then I was thinking it might be fun to take advantage of the car we'll have and somewhere in VA (Four Sisters?). They are from RI, and the Asian/ethnic food scene isn't so great up there. Any suggestions?
Thanks!
A hungry about-to-be graduate
Todd Kliman
Or maybe Rice Paper, in the Eden Center — aka Little Vietnam — which I just wrote about for the magazine.
A slew of good dishes there … excellent grilled stuffed grape leaves, which you bundle with mint and pickled carrot and radish into thin doilies of rice paper and fold and roll like cigars, an offal-laden but remarkably bright and tangy chicken and cabbage salad, a plate of spice-rubbed pork ribs, a fabulous thrice-baked chicken, snails in a coconut cream sauce … I could go on and on and on.
Oh, and the spicy lemongrass tofu — one of the best tofu dishes I've ever encountered; phenomenal.
It's a very swank place, too, with white leather chairs and a pressed tin ceiling and dangling lights, far from the functionary hole in the wall environs we still tend to expect of a so-called ethnic restaurant.
Congratulations on your imminent graduation. Have fun and enjoy your time with your parents.
If you do end up going, I'll be curious to hear how your meal turned out …
---
NEDC:
Franklin's in Hyattsville definitely gets my vote for best value. The food is always good and the service even better. The regular menu has great diversity without overreaching, and the specials don't disappoint. They are very kid-friendly (but that doesn't mean Chuck-E-Cheese) – they just understand some of the different needs that families have. The beer from the brewery is great and their bar, while not as sophisitcated as the city, produces good products without the big city price. Always an enjoyable experience without the big cost, which means we can take the family at least once a month. Definitely a winner!
Todd Kliman
I'm with you.
I think foodies who pop in once and then blog or post or tweet their experience with a sort of electronic shrug of their shoulders, tend to miss the value of a place like this, which is best understood when you go once or twice a week over a period of time, like a year or years. It's a neighborhood restaurant, a true neighborhood restaurant in that you need to understand its larger context to get what it's doing.
I haven't found many restaurants that are better for families than this one. Many of the servers are very good with kids — good in specific, non-generic ways — and one of the neat things about the place is that the parents can have a grown-up sort of experience alongside them, drinking wine or beer (every one of which is brewed on site) and even eating food that goes well beyond pub grub.
Thanks for writing in … You're definitely in contention …
---
Washington, DC:
Todd,
Is there something I don't know? I thought Fiola was rather expensive and I'm surprised that a person could get out of there for 50/person, give or take. What does that buy you: an entree and a drink? Just curious, thanks.
Todd Kliman
It's not cheap. But I think you're being glibly dismissive in just writing it off like this.
Remember, the guy running the show here had the best restaurant in Washington for a couple of years there in the mid-aughts. Initially, the place struggled with its identity, and its aim of rustic elegance often eluded it. But that's not the case now.
I think it's a pretty fully realized vision at this point. And pretty consistently delicious.
You're right in saying that 50 bucks won't go far if you're looking only at a couple of top-end entrees, but most pastas are in the 20s.
---
Naeem:
Went to Philly this past weekend and decided to make it a day trip instead of staying the night due to the incliment weather that was approaching. So, instead of eating at a fine dining restaurant decided to compare philly cheesesteaks from two different places in the city.
First went to Pat's steaks the original philly cheesessteak. The line was long but moved very quickly. The bread for their sandwich was very good but the meat was a little dry but the cheese whiz on their sandwich did remind me of childhood steak and cheese.
The second place was Saad's, which is near uPenn and according to reports and reviews serves the best halal cheesesteak in philly. Their meat was must juicier but that could be because their sandwich has more onions than Pat's. Their provolone cheese sauce was amazing but the bread was not as good as Pat's.
All in all it was a good day trip to Philly to see where our founding fathers met to help establish this nation.
Also, hope you liked the link for the book on "Foodie Law" and one last thought question for everyone. What is the actual date of the signing of the Declaration of Independence (it is not July 4th)?
Thanks!
Todd Kliman
I'll have to try Saad's. Thanks for the tip.
And comparing and contrasting Philly cheesesteaks is a fun adventure, and more than enough justification for going up.
You'll have to try Tony Luke's next time, although I will say that my last pork, provolone and broccoli rabe sandwich there was surprisingly not-great.
Which reminds me.
I did get to La Forchetta, the latest roost for deposed celebrity chef Roberto Donna. Had the Margherita pizza. Eh.
Terrific, bright tomato sauce, but the crust didn't have enough salt or char; it was doughy and chewy and I ended up leaving most of my edges on the plate. Good cotechino sandwich, though. Donna's famous pork shoulder on ciabatta, with provolone and green sauce, was sold out.
---
Arlington, VA:
-many days I felt broke and instead of going to Burger king for a piece of crap, I headed to Ravi kabob and filled my stomach for a delicious bargain.
-when I wanted to impress my girlfriend, the fixed price bar menu at Corduroy did the trick.
-love to eat burgers and Hell Burger is a big piece of it, juicy and tender beef with great toppings.
-when I need a change of protein and served fresh and fast, Fish in the Hood was my go to place but now I found Fishnet. It is much cleaner than the first and does not smell like an uncleaned fish tank (still like the fish in the hood). I think for the value of it these two fish places are hugely bargain.
-a good cup of cappuccino is done correctly and same every time I go to Chinatown coffee shop.
how is this for today`s contest??
Todd Kliman
Not bad. Not bad at all.
And all good spots and good deals.
Of course, I would rather you had spent more time talking up one of these places than giving us a quick-hit type of list. But of course there's still time … : )
---
Arlington, VA:
In response to the chatter looking to do something with older folks. One of my new favorite things to do with visitors is the water taxi out of Alexandria. It's a nice boat ride and you can sit inside if its chilly outside.
Todd Kliman
That's a GREAT idea. Thanks so much for thinking of it and writing in …
And doesn't this same water taxi go down the river to National Harbor?
Not that there's great eating on the other side — you'd have better luck in Old Town — but it's a pretty scenic ride and some of the restaurants offer really pretty views of the water.
---
For Washington DC from a Chinese American:
Hi Todd – I worry that the 80yo Chinese mother will not like a dimly-lit room like Fiola, since as far as I know, the older Chinese generation doesn't really like that type of decor.
I wonder if somewhere like the Oval Room or Bibiana might fit the bill better since it is spacier and brighter inside? Is there a place like Blacksalt that has fresh seafood but is brighter in the decor (my mom still raves about this place and Chinese people love fresh seafood)?
Todd Kliman
Brighter decor?
They could try Reston's PassionFish, one of the best seafood restaurants in the area. That might be a very good option for them.
For a seafood and fish restaurant, the prices are actually remarkably good, a function of the fact that the group that owns the restaurant, Passion Hospitality, owns four others and has, as a result, increased buying power.
Thanks for thinking of your fellow chatters, and for pushing me to make another suggestion …
---
Van Ness:
Speaking of cheap eats, value and fish…we almost always get the veggie sampler platter at Ethiopic and add on the fried croaker (I believe it is a $2 add on). It's enough to feed three people before you hit the injera wall. I hope Ethiopic is making this year's Cheap Eats list!
Todd Kliman
Terrific place.
And a very good value, yes.
Re: the "injera wall" — if this were ten years ago, I would agree with you. Injera then was made with so much white flour, it just sat in your gut after you were done. But not anymore. Most of the injera I've eaten over the past few years is much lighter. I seldom find that I have to abandon a dish halfway through because I've simply consumed too much sourdough bread.
Zenebech Injera, on 6th St. near Howard University Hospital, makes a very teff-intensive injera that you can ask for separately. It's fantastic — dark and nutty almost, with a grainy crunch that gives the experience (for a non-Ethiopian, anyway) a different dimension.
---
Alexandria, VA:
My best value at the moment is Fireflies in Del Ray. It has a small but diverse menu, good drinks from the bar, a great kid's menu (mac and weenies, how could you go wrong?), plus they give each table butter laden popcorn to munch. That brings me back to my childhood meals at Ground Round! Some of the dishes are interesting (a great calamari appetizer with a fruity salsa) and some are standard (BBQ burger), but all have been really good. And it is a great value, especially if you hit during happy hour time (to save on drinks and apps) or on half price burger night! It has been a place my three year old asks if we are going to whenever we tell him we are going to a restaurant!
Todd Kliman
Thanks for writing … and playing.
It's interesting; I've always thought of Fireflies as one of those restaurants that falls in between fine dining (or casual fine dining) and cheap eats — not really a bargain, and not really gastronomically exciting either.
But I guess it goes back to what I said earlier about neighborhood spots. The true neighborhood spots have to be understood in their context, and over a longer period of time than what a reviewer might generally give a place.
---
Naeem:
When I asked some of the locals which place they recommend as the best cheesesteak, the answers were wide ranging. There were some people who had complete disdain for Pat's Steaks and Toni Lukes.
The one place that kept coming up was Jim's Steaks. By that point we had decided to go to Pat's but will keep it on the radar for our next trip to Philly.
Todd Kliman
Yeah, Jim's.
Classic. Old-school.
---
Washington DC:
Todd,
Thanks for your answer.
I'm the poster who had the question about Fiola's pricing. I'm most certainly not glibly dismissing Fiola at all. There is so much that I appreciate about Fiola, the place, the staff. It has a lot going for it, for sure. I was asking my question in all sincerity because I consider Fiola to be more of a special-occasion place. If I could get in/out for about 50/person, it wouldn't be an everyday place but I might not have to wait for a special occasion to roll around, either.
Fifty, while expensive, is what you end up paying at a mediocre place in the area.
Todd Kliman
Thanks for coming back on and elaborating. I appreciate that.
"More of a special occasion place," yes. But I still think that, if you gravitate to certain things, it can be a part of your regular rotation — assuming you are the sort of person, like all of us here, presumably, who thinks not terribly much of blowing decent sums of money on recreational dining.
I love your last line, by the way: "Fifty, while expensive, is what you end up paying at a mediocre place in the area."
So true, so true. And so sad, so sad …
---
Best bargain in town:
In DC, I really like Well-Dressed Burrito. For a salad, beans and burrito, it is big enough to last two meals for $6-8. I also think of Horace and Dickies on H St…who can argue against Fried Catfish?
On the fine dining side, there is still Proof's bar menu at $12 or Bibiana's for $15 for lunch. Up in Maryland, I think of all the 3 for $6 hot dish places like Yuan Fu or inside the Chinese supermarkets…
Todd Kliman
All good.
But these contests, they're about the writing — not just listing the places, but making the case for them, with interesting turns of phrase that (ideally) make our mouths water …
Something to remember for next time.
Or for this time, if you want to hustle and do a quick rewrite …
---
Naeem:
Also, doesn't going to La Forchetta break your own rule of not going to place for at least 3 months until they have had time to work out the kinks?
Todd Kliman
3 months?
No, no — 3 WEEKS.
And occasionally I break my own rule, as I did with Green Pig Bistro, which has only been open — what? not quite 3 weeks now.
You'll notice that I gave it some good praise (see above); if it hadn't been excellent, I wouldn't have said a thing on here or on Twitter. I would've given it another few weeks and tried again.
Thanks for asking and giving me a chance to explain/clarify my approach …
---
Alexandria, VA:
I recommended the Lickety Split Lunch at Restaurant Eve for the best bargain in town. I had a great write up about the delicious pulled pork sandwiches, pastrami sandwiches, meatballs, seasonal salads, etc. but it said my submission had an error. For this time, I decided to just let you think: Restaurant Eve's food for less than $15!
Todd Kliman
Yep; pretty great.
A phenomenal deal.
A deal we probably can't say enough about on here and in the magazine …
---
Washington, DC:
My favorite bargain meal these days are the sandwiches at Seventh Hill Pizza near Eastern Market.
The size of a salad plate (actually, a bit smaller than they were when the place opened), Anthony Pilla's terrific pizza dough is sliced open and stuffed full of quality ingredients, whether it be the veggie sandwich rife with marinated vegetables and mozzarella, the meaty Italian with salami, mortadella, and capicola, or the prosciutto, tangy with red peppers and provolone.
I've not tried the chicken or spicy tuna, but even the turkey manages to be distinctive. At $7.50 each, they can easily feed two, and are so good they have kept me away from Seventh Hill's equally terrific pizza.
Todd Kliman
Good one.
Who isn't lusting for one of these sandwiches right about now?
The last two pizzas I had there were only fair; I know EXACTLY what I'm getting next time in, which may be very, very soon …
---
Falls Church:
Best bargain?
My go-to is Bayou Bakery's regular Tuesday special: it's a BLT with thick cut Benton's bacon, oven roasted cherry tomatoes, arugula, and just the right amount of what I suspect is homemade mayonnaise on a huge, toasted, french bun. It's easily big enough for two and has far more care folded into it than you'd expect for a 7$ sandwich (seriously – who would expect roasted chewy tomatoey goodness in a BLT?).
Finish off your meal with one of David's near-enough perfect chocolate chip cookies and you'll still have change from a 10$ and a good feeling in your soul from the atmosphere in this little Courthouse shop.
Todd Kliman
I love Bayou Bakery, too.
I haven't had the BLT, and have been meaning to get back over there and give it a taste. Your praise for it is making me RAVENOUS right now.
(I am; I'm full of raven.)
I wish more places made BLTs. But not cute ones — not "our interpretation of." Just the plain simple thing we all know and, presumably, love. With great, fresh ingredients and simple bread.
I'd love to see every bar and lounge offer one on its menu. Even a mini-BLT, if it's done right.
In this pork-laden age, it makes no sense not to see a BLT at every upscale diner, bistro, cafe and Hipster Farmhouse restaurant in the area.
…
Thanks for all the great comments and tips and emendations and contest-entries.
The winner of Susan Hermann Loomis's Nuts in the Kitchen is … NEDC, for her heartfelt paean to Franklins.
NEDC, drop me a quick email at tkliman@washingtonian.com, and I'll put the book in the mail to you later today.
Be well, eat well, and let's do it again next Tuesday at 11 …