Stay the Night
It's best to book early at the centrally located Hill House Bed & Breakfast (12 W. Third St.; 301-682-4111). The three-story 1870s rowhouse is filled with gorgeous moldings and columns plus a wonderfully eclectic mix of owner Damian Branson's family-heirloom furniture. Four guest rooms include the Mexican Suite, which features artwork and painted-ceramic bathroom fittings that Branson brought back from her travels in Mexico. Rates range from $125 to $175 a night.
Top Chef Restaurants to Try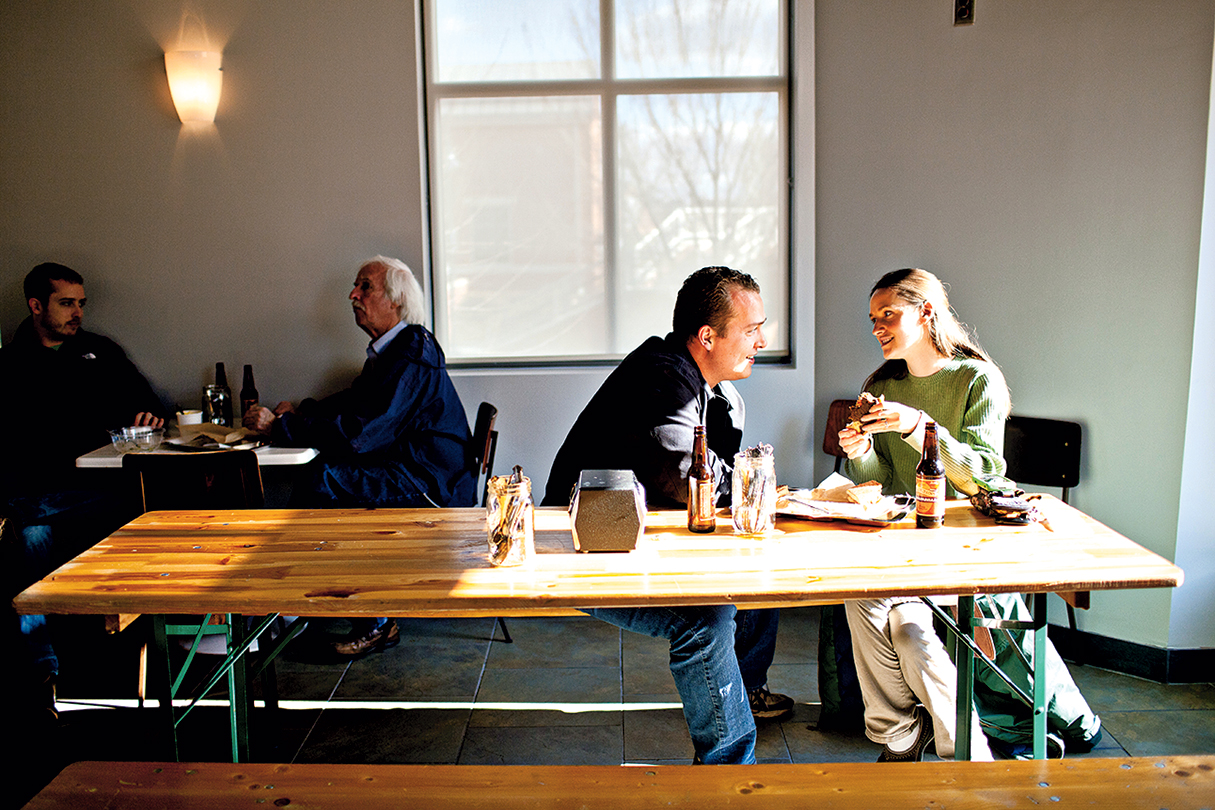 Frederick native and Top Chef runner-up Bryan Voltaggio has been expanding his mini-empire. But don't let the grand old mansion that houses his flagship, Volt (228 N. Market St.; 301-696-8658), fool you. Voltaggio's artful cooking is thoroughly modern, pairing venison with apple and green soy or maitake mushrooms with steel-cut oats. Choose between four- and seven-course menus, or go all out by booking Table 21, a 21-course thrill ride that lets you watch Voltaggio or one of the other chefs at work. For something more casual, look to his five-month-old Lunchbox (50 Carroll Creek Way; 301-360-0580), a nearby soup-and-sandwich stop with quirky sodas and a killer muffuletta.
Old-School Fun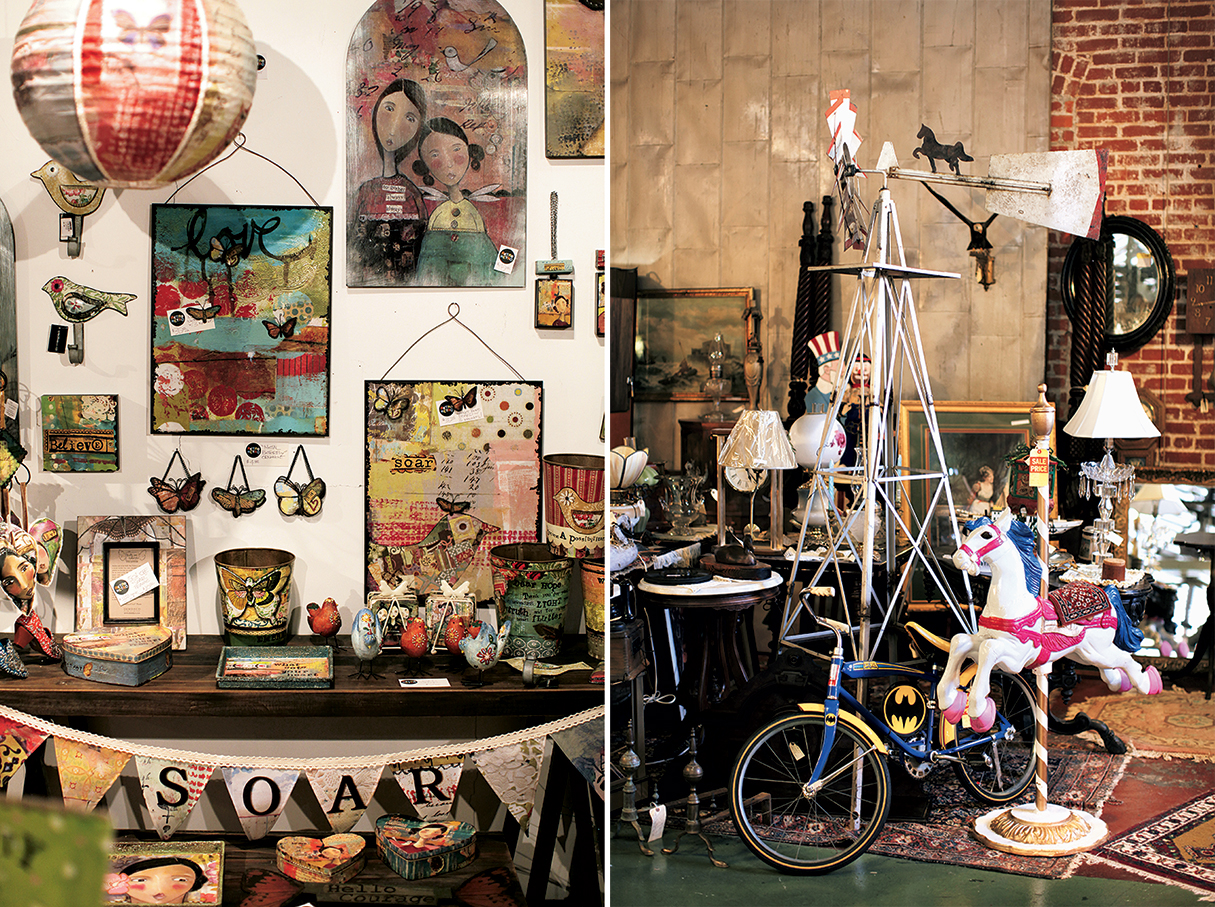 Shoppers with a sense of humor will smile at Retro-Metro (213 N. Market St.; 301-698-8100), a cheerful novelty shop where you'll find everything from bacon-flavored toothpaste to a shot-glass-shaped ice-cube tray. Kids along for the trip? Retro-Metro's nostalgic toys work great as a treat for good behavior. There's also a nice selection of stone jewelry and graphic wall art.
In the mood to while away a few hours? Emporium Antiques (112 E. Patrick St.; 301-662-7099) is a winding warehouse packed with dining sets, writing desks, brass lamps, kitchen tables, and much more. The 55,000-square-foot space showcases goods from more than 100 dealers. On our last visit, we picked up some Art Deco-style costume jewelry and a stately antique globe.
California Cool
West Coast transplants could fill their closet with the laid-back styles at the contemporary women's boutique Velvet Lounge (203 N. Market St.; 301-695-5700). The Splendid cotton maxi-skirts pair well with light-as-a-feather C&C California tees, while cheeky Free People tops and Citizens of Humanity cutoffs are fun options for fashion risk-takers. Whatever your age, you can round out your look with a pair of Havaianas flip-flops and tribal-inspired jewelry by House of Harlow.
It's Showtime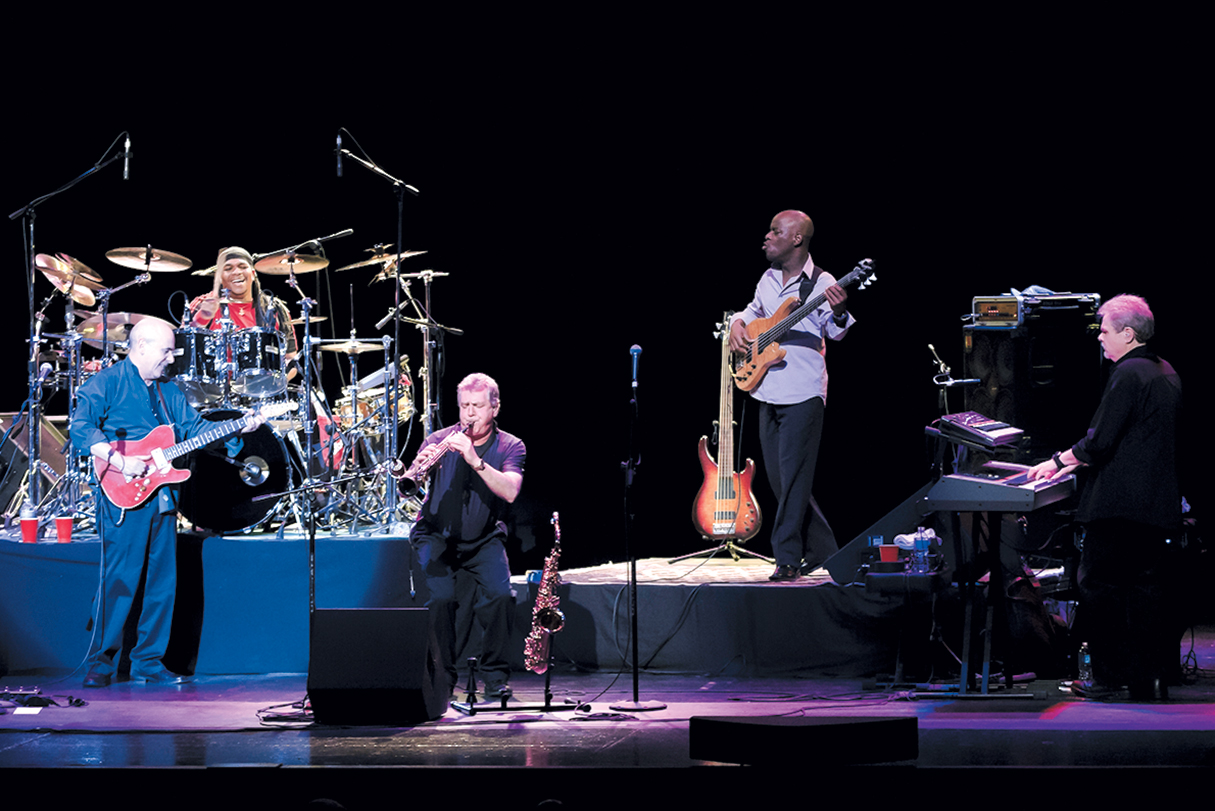 The Weinberg Center for the Arts (20 W. Patrick St.; 301-600-2828) is a restored 1920s Greco-Roman theater with original chandeliers, mosaic stone floors, and stained-glass exit signs. The hall, which seats 1,200, books everything from readings by humorist David Sedaris to ballet and symphony performances. If The Artist whetted your appetite for silent movies, you'll appreciate the half dozen or so the Weinberg schedules per season, all accompanied by improvised Wurlitzer organ music.
Pops of Color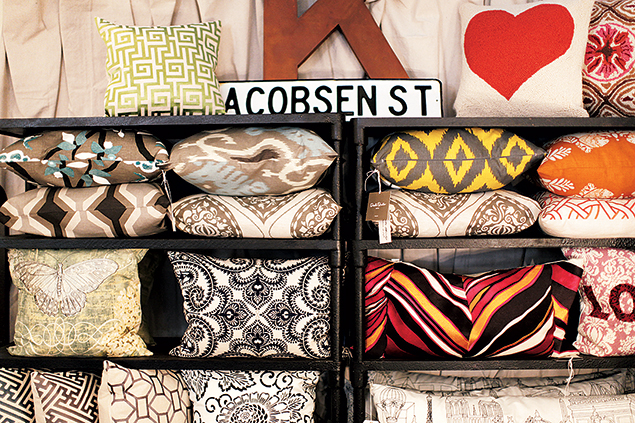 We love the mélange of clothing, home decor, and vintage furniture at Silk & Burlap (28 E. Patrick St.; 301-360-9648). Up front you'll find lots of colorful clothes—Tracey Reese frocks, Tulle jackets, silk Dolan blouses—but our favorite part is the always-evolving collection of curios in back. Scoop up Trina Turk pillows and 1960s Lucite chairs—or grab a polka-dot serving bowl to present at your next housewarming party.
Bath and Beauty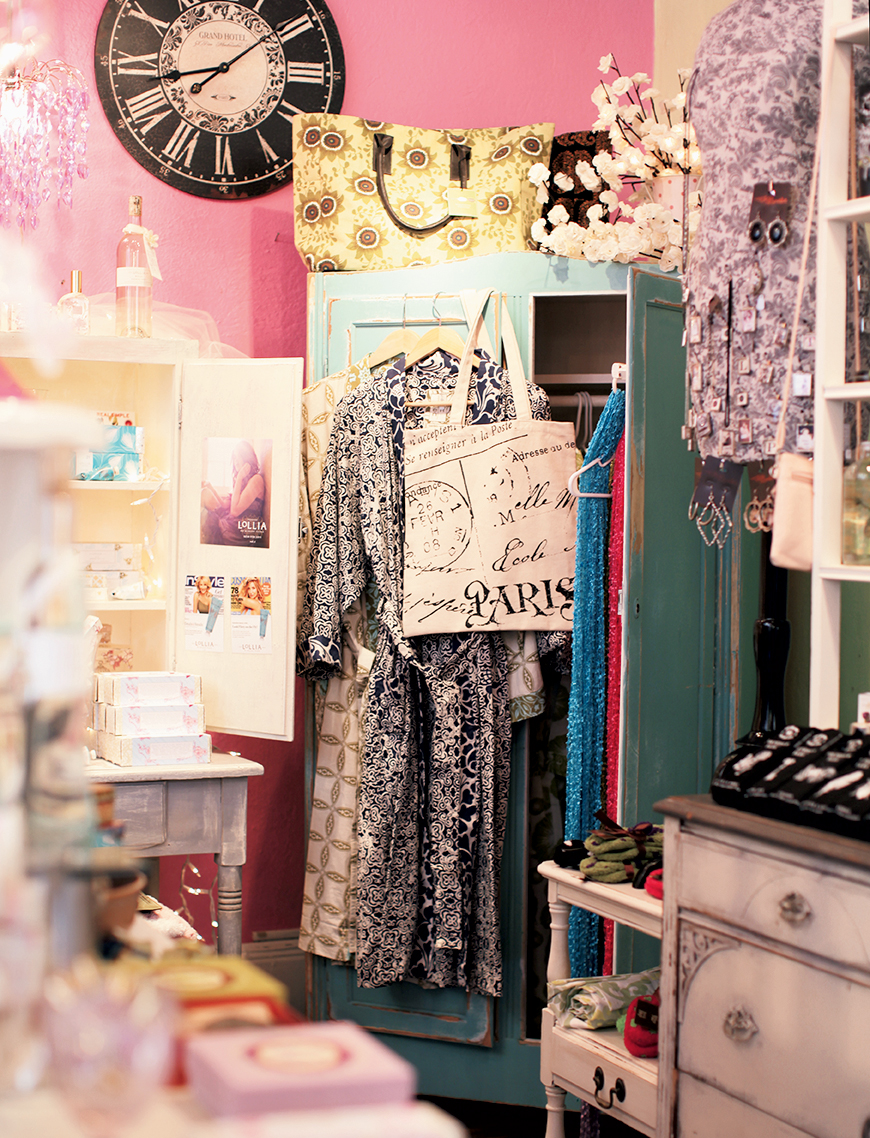 Urban Cottage (107 E. Patrick St.; 301-668-0023) stocks bath and beauty products pretty enough to display on the bathroom counter: clean, classic Archipelago candles, floral Lollia perfumes, and luscious TokyoMilk lotions. And don't miss the selection of colorful napkins and wineglasses.
Vintage Delight
Fans of '50s and '60s style will flip for the full skirts, costume jewelry, and mod jackets at Venus on the Half Shell (101 E. Patrick St.; 301-662-6213). The vintage haven also stocks leather jackets and Western-style button-downs for men. Owner Jennifer Stillrich, who grew up in Frederick, is as friendly as they come and lets shoppers browse at their leisure.
Wine and Dine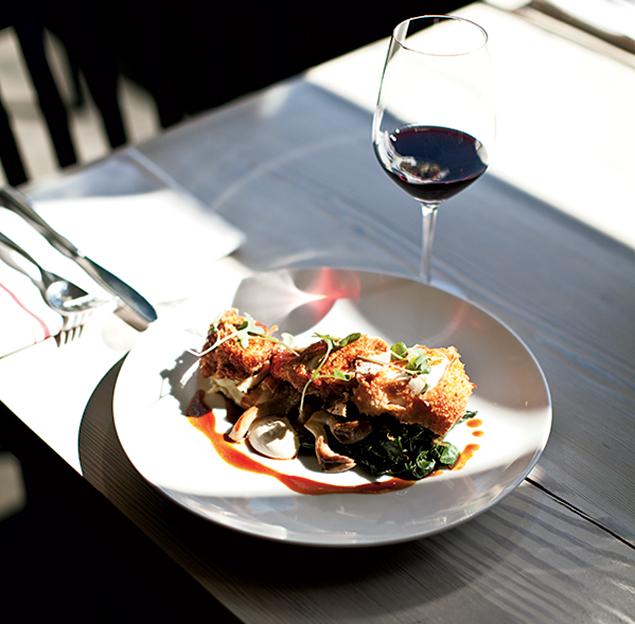 Larger than the Leesburg original, this outpost of the Wine Kitchen (50 Carroll Creek Way, Suite 160; 301-663-6968) has a bright, modern-barn feel. Order the Local Flavor flight featuring Frederick County's worthy Black Ankle Vineyards and start with some warm, curried cashews or Chesapeake poutine. Entrées, such as mushroom-studded pappardelle, an elegant fried chicken, or pan-seared scallops, are available all day. Save room for a silky coconut panna cotta or a hefty portion of trifle.
Diet Be Damned
The Tasting Room (101 N. Market St.; 240-379-7772) is all about indulgence. Supersized starters include creamy lobster bisque and a pear-Stilton salad with candied walnuts. Filet mignon comes out sizzling, with sides of potatoes au gratin and rich béarnaise sauce, and the surf and surf features a heaping plate with crab-stuffed shrimp, pan-roasted scallops, and lobster mashed potatoes. Throw in a Lavender Lemondrop cocktail and apple-walnut bread pudding with luscious vanilla ice cream and then resign yourself to salads for the rest of the week.
Warm and Cozy
Modern yet charmingly lived-in describes both the decor and the menu at Firestone's Culinary Tavern (105 N. Market St.; 301-663-0330). Start with the creative deviled eggs, crowned with salmon roe, or an extraordinary clam chowder. Lunch features memorable sandwiches on house-made breads, such as a pastrami sandwich topped with pork barbecue or a tender steak-and-cheese on a rosemary roll. A seasonal cobbler—we tried apple with whiskey ice cream—is a great ending. Ask for a window table upstairs for a view of the bustling main drag.
Bring a Date
It's hard to resist one of the 19 innovative cocktails at Shab Row Bistro (221-B N. East St.; 301-631-8102), such as the gingery, lemony Slow Boat to China. The seasonal menu can include goat-cheese ravioli in a rich mushroom gravy or a spring-like salad with peppery greens and a hint of gin. For mains, try well-seasoned scallops or a hearty hanger steak. Finish with an espresso-laced chocolate pot de crème—or an outstanding gin and tonic featuring lavender-infused gin and elderflower liquor.
Food Truck to Watch For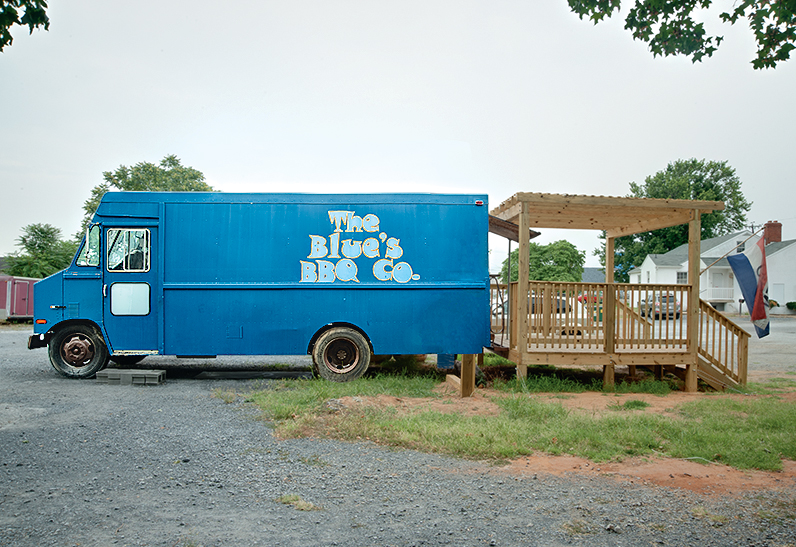 The Washington area has seen one barbecue joint after another open over the past year. But really good 'cue is still hard to find. We've long loved the smoky offerings at Blues BBQ Co. (5822 Urbana Pike; 240-674-5805), a food truck parked outside a tattoo shop. Look for smoky pulled-pork-and-slaw sandwiches done up two ways—with spicy vinegar and slaw or with a thicker barbecue sauce. Don't miss the hushpuppies, served fresh from the fryer with honey butter. They work as starters—or dessert.