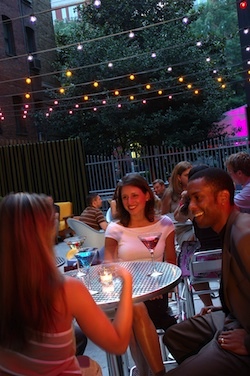 If you can't commit to a burger a day during National Burger Month, the least you could do is commit to one a week. Here's how to do so inexpensively, and while enjoying one of summer's fundamental pleasures: the backyard barbecue.
Every Wednesday during the warm months, the whimsically appointed Hotel Helix holds a little patio party called Backyard Bash. From 5 to 7, a wood-fire-grilled burger–beef, chicken, black-eyed pea, or turkey–plus chips and fixings from a free toppings bar can be yours for $7. (Fine print: Fancy toppings such as Brie, avocado, and bacon jam are $1 extra. Super-fancy toppings include brisket chili and crab dip and cost as much as $4).
Beers are cheap, too. DC Brau lagers are $3 during the Wednesday special, and regular happy hour prices–available from 5 to 7 daily–are also in effect throughout the bash. That means $2 PBR cans, $3 Yuengling and Miller Light drafts, $4 house cocktails, $5 "traditional" Cosmopolitans, and $6 select wines.
Should it rain–and if you go this week, it very well may–the party is moved indoors and the burgers are cooked in the kitchen instead.