Shakespeare once wrote that music might be the food of love, but '80s pop star
Terri Nunn of the band Berlin describes it
slightly differently. "Music was originally created by man to get laid,"
she told an audience
of congressmen, musicians, and journalists at the Library of
Congress last night, most of whom looked a little surprised at
this revelation. "And it works."
Nunn, resplendent in a backless gold lamé dress, was
part of an all-star show celebrating ten great songwriters, hosted by
the library and the American Society of Composers, Authors, and
Publishers. Each artist donated original sheet music, photos,
manuscripts, and other material to the library's archives. The
evening's host was Oscar-, Grammy-, and Golden Globe-winning
songwriter
Paul Williams, who also serves as president
and chairman of ASCAP. Williams introduced his first song by recalling
how he was asked to
compose a song for a bank commercial, which he did, believing
it was a song no one would want to record until "an angel sang
it." That particular song? "We've Only Just Begun," a 1970
record that went on to help the Carpenters become household names.
There were a few surprises at the event. For one, the
representatives seemed to be in a universally jovial mood, proving
music's
indisputable power to bring people together. "No matter which
side of the aisle you sit on, in the House or in the Senate,
[this is] one of our favorite evenings," said Representative
Marsha Blackburn of Tennessee, who was there to introduce
Stephen Bishop. Bishop, who's composed music for Eric Clapton and Barbra Streisand, among others, played two songs: "On and On" and "Separate
Lives," a hit for Phil Collins and Marilyn Martin that garnered Bishop an Oscar nomination in 1985.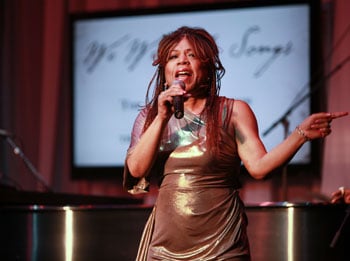 Bishop was followed by folk singer
Melanie, who was introduced by a jocular Representative
Joe Crowley of New York. Crowley made a few
cracks about the subtext behind Melanie's hit, "Brand New Key," saying
when he was a kid growing
up in Queens, he was so naive that he actually thought it was a
song about roller skates. Accompanied by her children, and
sporting a beaded caftan, Melanie proved how powerful her voice
still is, performing "Look What They've Done to My Song" as
well as the song that first made her famous at Woodstock in
1969: "Lay Down (Candles in the Rain)."
Michigan representative
John Conyers introduced
Ray Parker Jr., a legend from Motown who took to the stage wearing a jeweled American flag T-shirt. Despite a lengthy and illustrious career
as an R&B and funk performer, Parker will forever be best-known for the 1984
Ghostbusters theme song, which he declared to be his
"most innocent record." Although it was originally composed in two days
as a one-minute
accompaniment to the movie, the song became such a hit that
Parker recorded a full-length version, which reached number one
in 50 countries and, he said, helped send his kids to college. A
glint in his eye, Parker said something about how Washington
makes him think about running for office, and judging by how
infectious his performance was, the idea might have caused a
degree of concern for an audience member or two.
The most surprising performance of the evening came from
Irving Burgie, a.k.a. Lord Burgess. The 88-year-old, whose album of songs for Harry Belafonte,
Calypso, became the first record in history to sell
more than a million copies, had to be helped onstage, but once there, he
proved
he's still a very nimble dancer. In a pristine purple suit and
tie, Burgie shook his hips vigorously while performing "The
Banana Boat Song (Day-O)" and "Jamaica Farewell," receiving a
standing ovation from the audience.
Burgie was followed by
Tom Whitlock, composer of multiple film anthems, including Berlin's "Take My Breath Away" from
Top Gun. Whitlock roped in Nunn to perform the song, and midway through she left the stage to walk into the audience, causing a few
members of Congress,
Nancy Pelosi included, to crane their heads to look at her. Even more surprising was the revelation following Nunn's performance that
the disco anthem "I Will Survive" was actually written by
Dino Fekaris, a white man from Pittsburgh. Fekaris performed the first few lines himself in a gravelly baritone, before passing the torch
to the evening's stellar backing vocalists:
Keith Fluitt,
Sheila Slappy, and
Theresa Thomason.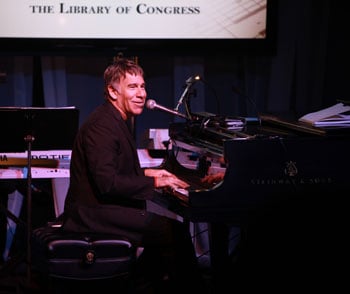 The evening's most contemporary songwriter was
Chris Stapleton, the man behind the number one
Josh Turner hit "Your Man"; he performed that song and another of his hits, "If It Hadn't Been For Love," which pop superstar
Adele included on European versions of her album,
21. After Stapleton left,
Wicked and
Godspell composer
Steven Schwartz sang two hits from the two Broadway musicals: "For Good," and "Day by Day."
Georgia representative
John Lewis appeared to introduce the final performer. "I love music," Lewis said, "but I sing solo. So low no one can hear me sing."
Lewis welcomed his friend,
Valerie Simpson, who with her late husband,
Nick Ashford made up of the most dynamic
songwriting duos of the 20th century. Although now in her sixties,
Simpson gave a stirring rendition
of the couple's greatest hit, "Ain't No Mountain High Enough,"
but not before comparing the audience to what Maya Angelou
would call "you high-up muckety mucks." At the end of the show,
all the songwriters and performers joined her onstage, proving
the truth behind what Representative
Tim Murphy said earlier in the evening: "When the Library of Congress throws a party for Article 1, Section 8.8 of the Constitution,
it's incredible."