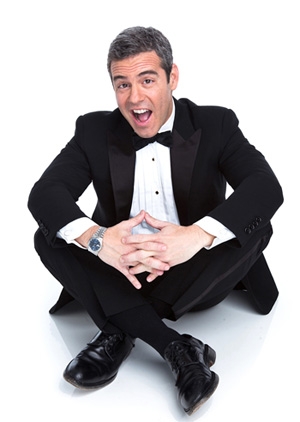 If you are a fan of the Bravo network and its programming–think
Real Housewives,
Top Chef, and especially
Andy Cohen's own
Watch What Happens Live–you will also be a fan of Cohen's memoir,
Most Talkative: Stories From the Front Lines of Pop Culture. It is, like his on-air style, breezy, goofy, abrupt, and occasionally revealing. He's at his most candid when writing about
the distant past–which means if you're looking for serious
Real Housewives of Washington, DC dish, you won't find it here. But that could also be because he's still very much an executive with Bravo.
Cohen does relive the one-season RHoDC moment when
Michaele and Tareq Salahi were accused of
gate-crashing a White House state dinner, but he uses this significant
word: "allegedly." Yes, it's that vanilla,
with no secrets spilled about what really happened, though he
does get off some funny lines about Tareq. He was similarly
reticent about the suicide of
Russell Armstrong, a husband in the cast of the
Real Housewives of Beverly Hills. It's clear, though, that in the case of Armstrong he felt real sadness and concern.
The book makes a good romp out of Cohen's years as a field producer at CBS News, particularly the network's morning show.
Here he lets down his guard and allows the reader into his head. (So maybe in the book he writes after the
Housewives years we'll learn some of the gossip fans crave most.) There's plenty of name-dropping, and in the best sense, with colorful
recollections of time spent with divas like
Susan Lucci,
Oprah Winfrey,
Diana Ross, and
Cybill Shepherd, who once challenged him to a strip-down in the process of pitching a reality show.
We recently caught up with Cohen by phone and asked him 20 questions. Here's our conversation:
Now that you're hosting WWHL five nights a week, what has happened to most of your duties as executive vice president of Bravo?
They just changed. I'm now in charge of all development and talent and continue to be EP on
Housewives and
Top Chef and some of our new series.
Do you think you're taking a career risk as an executive by moving your focus substantially into the talent column?
It's happened very gradually. I didn't one day decide, "I'm going to give this up and do a different career." It's been dual
careers at once. It's happened organically, which is what has made it safe.
In the book you talk about pitches that are on-brand and off-brand, but aren't you the brand? Meaning, would there be a Bravo
without you?

Yeah. There would. It would be a little different. I'm not one person standing in the Bravo tower. I work with an incredible
team.
You develop shows. What was your last programming hit?
What will be the legacy of the programs you created in reality television?
I hope just happy escapism.
Do you think another part of it could be the way Bravo brought gay culture into the mainstream of cable television?
I think it could be one of the things. Treating people not as gay people but as human beings who happen to be gay.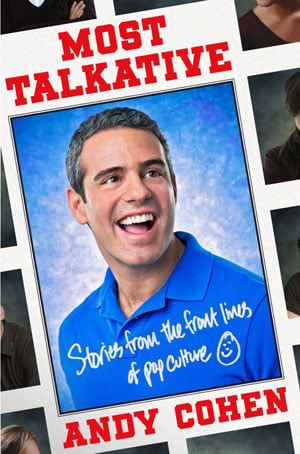 In the book you mention that the Housewives' "gay sidekicks" are among some of your favorite cast members. Would you ever
do a show featuring only the sidekicks?

I think it could be a little relentless. I love them, you know, but I think sometimes when a sidekick gets their own show
it becomes too much.
What do you think of the trend toward teen moms and the popularity of those shows? Is that a subject you'd draw the line at?
I just think it's not on-brand for us. I've not seen much of
Teen Mom. It's hard for me to comment.
What is the enemy of reality TV? Time? Familiarity? Boredom?
I think with all of TV, the enemy is just so many choices at once, and so many outlets and DVRs.
The harshest critics of the

Housewives

shows say they make women into cartoons because you, personally, hate women. Do you?
I love women. That's the craziest thing I've ever heard. It's guilt-free gossip. The
Housewives are the modern-day soap opera.
Which was a greater disappointment, the DC

Housewives

or the Miami

Housewives

?
Neither. Miami we're shooting more of right now, with some changes in the cast.
DC was a victim of the show kind of getting
sidetracked by the events at that state dinner. They were a great group
of women.
I wanted to do another season, but we had Beverly Hills and
Miami about to premiere, and we wanted to let one go. They were
a victim of that timing.
In the book you mention 700 women tried out for the Beverly Hills franchise. Do you recall how many women tried to be on

Real Housewives of DC

?
I don't. Not that many. People in Washington were more reticent about opening up their lives.
To what do you attribute the breakdown in the
marriages
of four of the cast members of the DC franchise, Catherine
Ommanney, Mary Amons, Michaele Salahi and Stacy Turner?

I don't know. I was really surprised to hear about that. I only just heard about Stacy and was so surprised. I have no idea.
A lot of interesting people have pitched shows to you: Naomi Campbell, Ashton Kutcher and Demi Moore, Richard Simmons, Candy
Spelling, Ivana Trump. But Charlize Theron? What was her pitch?

Her pitch was she was going to be a producer of a makeup show, some kind of competition involving makeup teams. She was going
to be a producer of it. She's a big Bravo fan.
What's been so outrageous you wished you'd made it just for the hell of it?
The one Cybill Shepherd pitched. It didn't seem like a bad idea.
What's the one that got away, if any?
The one that got away was when I was at Trio and they pitched
Queer Eye [for the Straight Guy], and we didn't do it. But it didn't get that far away because I got to work on it at Bravo.
Why are people in reality cooking shows always running and people in reality housewives shows always drinking?
On our cooking shows they are cooking against the clock. The housewives love a big goblet of wine.
Since cocktails are such a large part of WWHL, what's the significance of the Maker's Mark bottles?
Oh, just that I love Makers Mark and they sent me that bottle with my face on it.
The blue cards you use with "viewer questions"–do you ever write those questions yourself, for the reunion shows or WWHL?
No, I don't. They are all legit.
Do you watch

CBS Morning News

? Would you want to return there as an anchor, or maybe have Charlie Rose give you his PBS show?
[laughs] I'm pretty happy where I am. I do watch it sometimes, and I think what they've done with it is great. I think
Gayle King is a superstar in the morning. I love
Erica Hill, and Charlie adds this incredible legitimacy. But I love where I am. I'm a late-night guy.