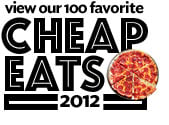 The pollo ala brasa is estimable, but it's what comes
after the ampersand in the name of this order-at-the-counter cafe that
garners it a spot on our list—and makes it a prime pick for dinner before
a movie at Rockville Town Square.
Seafood is king in most Peruvian restaurants, but the emphasis
here is on the grill—from a chorizo sandwich to a marinated short-rib
steak, asado de tira, that offers the savor of a T-bone. If you
leave without an alfajor, a shortbread cookie with dulce de
leche, you have extraordinary willpower.
Also good: Chicharron; aguadito de
pollo soup; chicken sandwich; black beans and rice.