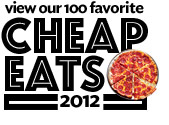 Peruvian chicken houses are nearly as common as burger joints
around here, and for years these bare-bones pollerias have been
in the top tier. At their finest, the spice-rubbed birds, which rotate
above bright-orange coals, sport moist meat and zesty skin.
It's best to come at dinner, when families pile around tables
scattered with cans of Inca Kola and when turnover is high—at slower times
the chickens can sit and turn dry. Tiny cups of fiery jalapeño purée and
tangy mayo sauce come with your bird—they're so good we order extra. Lines
can be long, but the recent addition of credit-card machines is a
convenience.
Also good: Thick-cut fries; alfajores
(shortbread cookies).