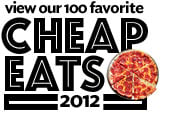 This Neapolitan pizzeria rolled into our culinary consciousness
when owners Enzo Algarme and Anastasiya Laufenberg plied their doughy
wares from a cart outside the Ballston Metro station. Today they operate
out of a sliver of a restaurant that opens up into an indoor/outdoor area
where young families and Peroni-sipping twentysomethings gorge on pizzas
and fried risotto balls at wooden tables.
The springy crust tastes great beneath a layer of salty Parma
prosciutto and peppery baby arugula, while the Margherita DOC—the initials
stand for the Italian designation recognizing true Neapolitan pizza—makes
an elegantly simple dinner well complemented by a glass of Chianti. Smoked
mozzarella dominates the sausage-and-onion pie, but fans of that cheese's
deep, ashy flavor won't mind a bit.
Also good: Frittura sampler, with
prosciutto-filled potato croquettes, eggplant, and polenta
arancini; sausage-and-mozzarella panini.