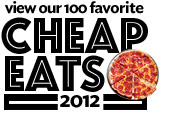 The decor, or lack thereof, doesn't inspire sticking around,
but the danger of ordering takeout from this tiny strip-mall spot is that
you might miss the fixings bar—a Shangri-la of toppings including limes,
lettuce, radishes, cilantro, pico de gallo, salsas, and other
condiments for decorating the silver-dollar-size corn-tortilla tacos.
Fresh guacamole augments tender chunks of steak asado and juicy
chicken tacos, while a little pico de gallo and lime taste great
with spice-rubbed carnitas.
Also good: Lengua (braised beef
tongue) tacos; tacos al pastor; sopes—rounds of fried tortilla
lightly grilled and piled with refried beans, lettuce, sour cream, and
queso blanco.