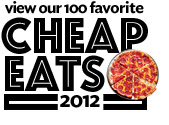 With its ornate chandeliers and small stage, this Afghan eatery
feels like a banquet hall—for a more intimate experience, ask for one of
the cozy booths. Appetizers such as the mantu, oversize dumplings
stuffed with ground beef, and the potato-filled pastries called
sambosas come with tasty dipping sauces, but the stir-fried
eggplant, topped with tangy yogurt, is the standout starter.
Entrées include a terrific rendition of qabili
palow—chunks of lamb topped with shredded carrots and sweet raisins
and served with a meaty stew. A sampler called the Bamian Platter lets you
try that along with tender ground beef, lamb, and chicken
kebabs.
Also good: Aushak, scallion-stuffed
dumplings; kadu, a dish of sweet sautéed pumpkin;
firnee, a pistachio-topped cornstarch pudding;
baklava.