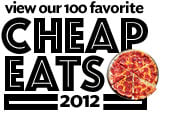 This saffron-yellow Ethiopian spot just off DC's U Street feels
like a cozy bistro. The warm vibe is furthered by gracious service,
flowing honey wine and Ethiopian beer, and platters of boldly flavored
salads and stews.
At the base of each communal tray is a round of
injera—the spongy, slightly sour bread that takes the place of
utensils. Tear off a piece and swaddle it around fabulous wats,
complex stews made with lamb or chicken, or kitfo, the
cuisine's answer to steak tartare (ask for it very rare). This is a
terrific place for vegetarians—the brightly colored hillocks of
azifa, a cool and spicy salad of green lentils, and kik
alicha, a yellow split-pea stew, are among the best reasons for
anyone to come.
Also good: Sambusas, lentil or beef
pastries; vegetarian sampler; lamb tibs.