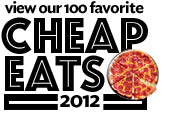 Meat on a stick is elemental—indeed, it was among the first
steps toward humans' creation of a civilization. Of course, there's a
multitude of ways to mess it up. The best practitioners take the craft
seriously, jealously guarding the source of their halal-only meat, the
secrets of their marinade, and the length of time the skewers spend over
smoldering charcoal.
This restaurant in Silver Spring's Cloverly neighborhood is no
exception. Answers would be nice, but we'll settle for the glory of these
judiciously charred, juicy kebabs—especially the bone-in chicken and lamb
chop. A plate of hot rice and fresh-from-the-tandoor rounds of blistered
naan make fine companions.
Also good: seekh kebab; chole, a
chickpea stew; mango lassi.