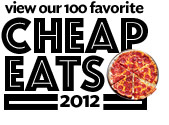 Peter Drosos, owner of this bright Greek cafe, spent time in
Thessaloniki and Ioannina learning the finer points of gyro-making—and it
shows. Though the drill is fast casual—you order at the counter—whimsical
murals of Greek street scenes and a lineup of Greek wines, such as Gavala
from Santorini, take the mood beyond that of a diner. Plaka's blue-ribbon
sandwich is the pork gyro—the meat is roasted on a vertical spit—with
tomatoes, onions, tzatziki, and a handful of fries tucked into
warm pita. Well-turned-out mezze, such as plumply stuffed grape leaves and
airy taramasalataround things out along with more robust fare
such as lemon rotisserie chicken and moussaka.
Also good: Lemony avgolemono soup;
feta dip with hot and sweet peppers; loukaniko (sausage); chicken
souvlaki.