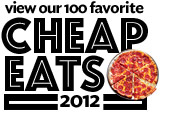 Chelo means "cooked rice" in Persian, and kebabs at
this mirror-lined family restaurant arrive alongside an enormous mound of
saffron-topped grains. They're delicious with a raw egg cracked on
top—your server might assume you don't want one, so be sure to ask—which
cooks quickly as you weave it through the rice.
Our pick of the meats: the chelo kebab kubideh—juicy
ground beef fragrant with spices. Chicken fans should experience the
gamey, crisp-skinned Cornish-hen kebab, served on the bone.
Also good: Salad Shirazi, with diced
cucumbers, tomatoes, and onions dressed simply in olive oil and lemon
juice; panir sabzi, goat cheese served beneath a mound of fresh
herbs; Persian tea.