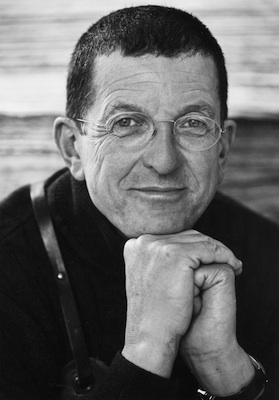 The morning after the unveiling of his first American drawing show at the Phillips Collection, Antony Gormley received a phone call from the BBC. A reporter had discovered that artist Agata Oleksiak, a.k.a. Olek, had "yarnbombed" some of his sculptures on Crosby Beach in England, covering the bronze statues in pink and purple crocheted knits. Gormley, to his credit, was impressed. "It's absolutely brilliant," he says. "It's this perfectly, perfectly fitted multicolored thing, and it's a nice tribute. I thought the barnacles were a perfect development, but this is one I could never have expected."
Gormley is tall, with cropped black hair and
wire-rimmed glasses. He's quietly focused, and speaks softly but
intently about
his work, which he describes as philosophical rather than
autobiographical, even though he is almost always his own subject.
For an artist whose work is almost synonymous with public
areas, an exhibition of drawings in a space as predictable as an
art gallery might seem odd. But "Antony Gormley: Drawing Space"
exposes in greater detail than ever the artist's exploration
of the human body. One series of prints, "Body and Soul,"
features marks made by Gormley's mouth, knees, spine, and even the
tip of his penis. "I'm treating my life as a test site for the
common human condition," Gormley says. "I've no interest in
manipulating or possessing the image of others for my purpose,
and I think I would find it very difficult to command what
I can feel for myself."
Now 61, Gormley has been a fixture in the British art scene
for several decades. In 1980, he created "Bed," an installation
depicting two human figures bitten by the artist into a square
"bed" made from more than 600 loaves of bread. "The eating
part was tedious," he told the
Guardian
earlier this year. "I never want to have
anything to do with industrially produced bread again." In 1994
he won the Turner Prize—Britain's most prestigious, if often
controversial, award—for his work "Field for the British
Isles," which filled a space with 40,000 individual terra-cotta
sculptures,
ranging from 3 to 11 inches high.
"Event Horizon," one of Gormley's most famous
installations, opened in London in 2007, placing 31 life-size casts of
his body
in different rooftop locations around the city. The work, which
might be interpreted as suggesting figures about to jump,
was moved to New York in 2010, and was recently installed in
São Paulo, where Brazilian authorities have received numerous
calls from concerned citizens about the people on top of
buildings. Gormley says the work reflects his attempts to jolt humans
into an awareness of their current state. "My work, while
growing out of something like cubism, is not the same. It's more
psychological, and to do with a growing sense of the pathos of
our inability to use our intelligence productively. We have
some very fundamental core beliefs to shift as a culture," he
says.
"Drawing Spaces" is perhaps less visually surprising
than some of Gormley's work, but no less thoughtful. He explores inner
and outer spaces in sketches made from materials such as paint,
charcoal, casein (a milk protein), and even blood, breaking
down the body into its different elements: eyes, lips, legs,
fingertips. Two sculptures, "Aperture XIII" and "Clasp II," present
bodies formed from geometric structures—one a series of cubes,
the other hexagons. Surprisingly flimsy and light, the works
are undeniably human; "Aperture XIII" has the slumped, slightly
rounded posture of a man waiting for a bus.
This is only the fifth drawing show in Gormley's
career. "I don't think they pretend to the grand tradition; they're not
great
works of art," he says. "They're little snippets of maybe
half-formed ideas and feelings. They're sort of pathetic. But I
think even my monumental works are pathetic, because this is
not a time of manifestos and exposed certainties, so the tentativeness
of the pieces I think is important. They were purposeful for me
in the making of them, but it remains to be seen whether they
can have a bigger purpose."
"Antony Gormley: Drawing Space" is at the Phillips Collection through September 9. For more information, visit the museum's
website.