From the minute I walked into Circle Yoga's "Yoga for Runners and Cyclists" class last Sunday afternoon, I could tell this wasn't going to be your standard yoga practice.
Participants chatted and joked as they waited for instructor Mercedes Santos to enter the room—a far cry from the silent meditations that dominate the pre-class space before other yoga classes I've taken. There were as many ratty running shorts and race T-shirts as there were fancy Lululemon tops and yoga pants. And although we were in a sun-spattered yoga studio with bright wood floors and a calming vibe, the atmosphere felt more like the start of a friendly group run than the beginning of a yoga class.
The idea that runners, cyclists, and other athletes can benefit from practicing yoga isn't new. Yoga instructors such as Sage Rountree, a marathon runner, triathlete, and frequent contributor to Runner's World magazine, have long touted the flexibility, alignment, breath control, concentration, and focus athletes can reap from a regular yoga practice. But Sunday was the first time I'd taken a yoga class geared specifically toward runners and cyclists, and I was eager to find out which of those benefits might address the soreness and snap-crackle-poppiness in my legs following a hilly four-miler that morning.
Sunday's class started with some gentle cat-cow stretches, during which Santos encouraged us to check in with our bodies, noticing where we felt resistance, which muscles felt tight, and which body parts felt sore. As I breathed through the sequence on my hands and knees, arching my back and neck, I was surprised to notice that the arches of my feet felt tight.
I continued feeling greater body awareness as we proceeded through some modified sun salutations and pigeon poses. In the pigeon pose, a classic hip stretch that looks kind of like a split with the front leg bent, I noticed for the first time just how sore and tight my left piriformis muscle, near the glutes, was feeling.
More hip-opening poses followed, and I learned through a series of lunges that my left hip flexor was sore, too. "Who knew?" I thought, as I breathed into the slight tightness and discomfort.
Santos, herself a former runner and cyclist who came to yoga after she was sidelined from her other sports by a lower-back injury and some bad cycling accidents ten years ago, says this is one of the most notable benefits for runners and cyclists.
"People report to me that they feel a greater sense of concentration and focus while they're running or cycling," Santos says. "And they say that because of the nuanced body awareness they've gained through practicing yoga, they start to become aware of problems before they become injuries."
After a sequence of lunges, we retreated to child's pose, in which you kneel on the ground, then rest your torso on your thighs. I was surprised to feel a marked sense of relief upon giving in to the relaxation of the pose.
"I think runners and cyclists can benefit from getting out of the 'I'm trying so hard' mode," Santos says.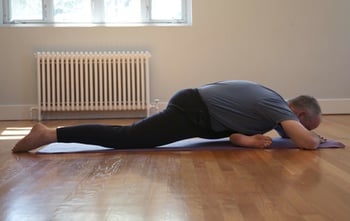 Santos also aims to work on balance in this class with poses such as the tree and eagle. As I held each pose, both of which involve balancing on one foot with a few variations, I thought about how barefoot running enthusiasts would be wise to strengthen their arches in the safety and comfort of a yoga class instead of on the open road.
The class finished with a five-minute savasana, or the period of total relaxation in corpse pose, in which you simply lie on your back with your eyes closed and sink into a place somewhere below your normal consciousness. As I relaxed the weight of my body into the ground, I noticed that my hips were much less crackly and my shoulders were more relaxed. Perhaps the most important part was that I checked in with my body, listened to what it had to say, and gave it what it needed.
"Sometimes I teach this class exactly as I would teach a regular yoga class," Santos says. "The real benefit that comes out of taking a class like this is that you begin to find poses that address your body's needs, which means you can enjoy your sport for a longer period of time without injuries."
Circle Yoga is one of many area yoga studios to offer athlete-specific yoga classes. Nonmembers of Circle Yoga can drop into a class for $20. The Yoga for Runners and Cyclists class tends to fill up, so make sure to reserve a spot before showing up to class.
Amy Reinink is a freelance writer whose work has appeared in the Washington Post , Backpacker magazine, Runner's World, and Women's Running. She's also a marathon runner, open-water swimmer, and ski patroller who blogs about her training adventures at amyreinink.com.