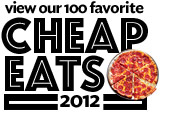 This sprawling restaurant's intersecting chambers are full of diners shuffling to and from the 120-item buffet, but ordering à la carte lets you try the really good stuff, such as Ants on a Tree, a dish of finely minced pork sticking to cellophane noodles. The kitchen's rendition of fiery mapo tofu—soft cubes of bean curd bobbing in chili oil—will have you moaning with pleasure even as the feeling leaves your lips. And be sure to sample a perfect rendition of Chengdu-style Kung Pao chicken.
Going with a group? Consider calling ahead to order the steamed pork shank, then pile your plate with the still-crunchy bok choy and soft mushrooms that swim in its rich brown broth.
Also good: Cucumbers with garlic and chilies; dan-dan noodles; steamed dump-lings; cumin lamb.