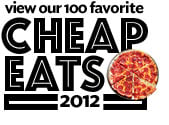 How do we choose one pho parlor over another when at first glance they appear pretty much the same? There are many good places throughout the region in which to slurp what in Vietnam is regarded as breakfast and in certain quarters in America is hailed as "Vietnamese penicillin" for its putative healing properties. But this shop earns our affection for the consistency and complexity of its broth—a dark, meaty elixir that trails a heady perfume of star anise and cinnamon.
Ask that your bowl be larded with such off-cuts as tendon and fatty brisket; you don't have to eat them, but their richness will add immeasurably to the broth.
Also good: Mango, avocado, and passionfruit bubble teas.