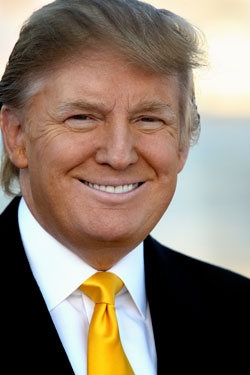 Editor's Note, June 12, 12:47 p.m.: This story has been updated with additional comment from the Trump Organization.
Where
Donald Trump goes, controversy often follows,
whether because of his political bombast about the President's birth
certificate, his legal
battle with a beauty queen,
or—evidently—his successful bid to develop a luxury hotel on
Pennsylvania Avenue. When the federal government chose Trump's
company last February to renovate the historic Old Post Office
building into a hotel, he promised "something everyone can
be proud of." No one promised him the process would be clear sailing.
According to documents obtained by
The Washingtonian under the Freedom of Information
Act, Trump's selection by the General Services Administration—the Post
Office landlord—has
been the subject of an official protest and a threatened
lawsuit. On April 30, BP-Metropolitan Investors, LLC, a Washington-based
development team that included Hilton Hotels and Resorts, filed
a protest with GSA alleging that the agency's decision was
"unlawful and unwise." The protest called for the GSA to
rescind Trump's plan, which Metropolitan characterized as deficient
and based on "unrealistic" assumptions about how much money the
hotel could generate for the government.
The protest accused GSA of failing to account for
Trump's record of high-profile real estate flops, including the Trump
hotel
and casino chain that filed for Chapter 11 bankruptcy in 2004.
"The public record reveals that Trump projects often fail,
and fail with a great deal of negative publicity," Metropolitan
said.
Metropolitan also said Trump's team didn't include
enough experts in historic preservation for the complex and expensive
restoration
of the landmark building, which was built in 1899. And it said
that the rent Trump was promising to the government for the
Post Office site was based on nightly room rates that are
"simply not obtainable" for a hotel on Pennsylvania Avenue, where
there isn't already a nexus of high-end shops and restaurants
to attract business travelers and tourists.
The GSA rejected Metropolitan's protest a month after it was filed, on the grounds that the Old Post Office lease is not a
procurement under federal law and therefore Metropolitan had no grounds to protest.
Ivanka Trump, who is managing the project for her father's company, said the legal snag hasn't slowed the project: "We're on conference
calls twice a week as we go through the various approvals. GSA is excited about our plans and responding accordingly."
But in a detailed seven-page response, the GSA shed new light on what exactly Trump is proposing for the historic site, and
how much money the government believes it stands to make on the deal.
"A major thrust" of a law that allowed GSA to turn the
building into a hotel was "to provide a lucrative financial return
to the government," the agency noted. To that end, GSA said
Trump proposed an annual lease payment of $3 million, or $250,000
per month, which was the third highest of the ten offers the
agency received.
Trump was also proposing a high per-night room rate,
but one that was "by no means unreasonable" when compared to the other
bids, the GSA said. While not disclosing Trump's quote, the
agency disclosed that the average rate among all the offers was
$626 per night, roughly equivalent to the regularly most
expensive rooms in the District at the Four Seasons in Georgetown.
Metropolitan's nightly room rate, the GSA said, was below
average, and its proposed annual lease was the lowest of all ten
bidders. The
Washington Post's
Steven Pearlstein has calculated that Trump's plan would have to charge around $750 a night. By comparison, quoted rates for this week at the
J.W. Marriott, a few blocks up Pennsylvania Avenue from the Old Post Office, range from $519 to $629.
"Steve Pearlstein is absolutely wrong and there is no basis for his statements. He is neither an authority in this field nor has he seen our projections. His numbers are pure speculation and, simply put, wrong," Ivanka Trump said, although she declined to say what the hotel's specific projected room rate would be. "We will be in line with the other luxury hotels in Washington which is justified by our program. In fact, while I know this hotel is positioned to be the best in DC, we wanted to be extremely conservative in our projection and therefore showed achieving a rate less than that of the Four Seasons Georgetown."
While published reports have questioned whether the
hotel can realistically fetch such a high room rate downtown, GSA is
betting
that it can. It received proposals from some of the world's
biggest hotel chains, including Hyatt and Marriott, and has concluded
that the market will support an expensive luxury hotel situated
between the Capitol and the White House. The agency, as well
as several members of Congress, have high hopes that the Old
Post Office will become an anchor in a prominent but underdeveloped
portion of Washington, and that it will draw foot traffic and
nightlife business from nearby neighborhoods that have been
revitalized, such as Penn
Quarter.
Indeed, the GSA is basing its plans on the Hotel
Monaco in Penn Quarter, which itself was an old post office that the GSA
leased to the Kimpton hotel group more than a decade ago. The
current room rate at the Monaco ranges from $399 to $499.
Responding to allegations that Trump's team lacked historic renovation experience, the GSA noted that Trump had hired the
Washington architect
Arthur Cotton Moore, who in the 1970s first proposed that the Old Post Office be used as a hotel. Moore referred requests for comment to Ivanka
Trump, who said, "I can guarantee that few have historic renovation experience equal to that of my father. Over the course of his career, my father has shown himself more than capable of historic renovation projects; including the Plaza Hotel, Grand Central Station, Barbizon Plaza, Delmonico Hotel, and 40 Wall Street, to name just a few. He retains experienced architects, like Mr. Moore, which further proves his commitment to historic preservation."
With its protest rejected, Metropolitan now has the
option of suing the GSA in court in order to block Trump. The company
sent GSA a draft version of a lawsuit alleging many of the same
deficiencies and flaws as in its protest. The draft notes
that Metropolitan reserves the right to file in both the US
Court of Federal Claims and the US District Court. Metropolitan
is represented by the law firm McDermott Will & Emery.
In a statement, Metropolitan's CEO,
Cary Euwer, said, "We are obviously disappointed with the General Service Administration's decision." He gave no indication of whether
the company would sue the government. Several phone calls and e-mails to Hilton went unanswered.
Separately from Metropolitan's protest, other of Trump's competitors have raised similar concerns about his ability to complete
the Post Office renovation without encountering financial trouble.
"Trump, in my judgment, was not the wisest choice for
the very simple reason that he has properties in various stages of
foreclosure,"
says
Norman Groh, a hotel developer who led a team
that included Hyatt and a proposed national Jewish museum. Like
Metropolitan, Groh pointed
to various Trump hotel and casino projects that either declared
bankruptcy or defaulted on loans. As part of its protest to
the GSA, Metropolitan included an 18-page list of such publicly
documented cases.
Ivanka Trump forcefully stated that the company is ready and able to proceed with the project. "My father has never filed for bankruptcy and none of his properties have been foreclosed on. Metropolitan's allegations are just baseless. As part of the RFP process, we submitted a full balance sheet and audited financials showing a net worth of $7 billion with over $300 million in cash alone," she told The Washingtonian.
Others have said that GSA appears to be too concerned
with getting a high financial return and hasn't taken into account the
best interests of a historic property. The agency has tried to
emphasize that money wasn't the only factor, for instance by
noting that Trump's proposed annual lease payment was the third
highest the agency received.
But the teams that technically bid higher than Trump
were also disqualified because their proposals included ideas for the
Post Office site that the GSA never envisioned, such as using
it for an office building, according to an individual who was
a party to a post-award debriefing conducted by the GSA. Among
those teams that proposed a "credible" plan, this person said,
citing conversations with GSA officials, Trump was offering the
highest rent payment to the government.
"We were chosen because we have an amazing plan and balance sheet. We're doing a very high-end renovation," Trump said by phone. "This is clearly a man who is disappointed he produced a third-rate RFP to the GSA and came in dead last of the ten competing companies. These two individuals should be embarrassed and ashamed by their statements."
For its part, the GSA, which has been embroiled in a political scandal over an $800,000 employee convention in Las Vegas,
is striking a cautionary note. "Dan Tangherlini [GSA's new acting
administrator] has made it clear to his staff that they need to get the
best deal for the American taxpayer,
and if the Trump Organization doesn't deliver, GSA should pull
out of the negotiations," said a person familiar with the situation.
Tangherlini is a former assistant secretary of treasury and
deputy mayor of Washington, DC, who was brought in by the Obama
administration to clean up the agency and restore its
credibility. His predecessor,
Martha Johnson, resigned in the wake of the Las Vegas debacle. The Trump deal was negotiated during her tenure.
Asked if the protest would slow down their work in developing the Old Post Office, Ivanka Trump said it would not: "We're
moving forward very swiftly with GSA."
With the GSA protest rejected, Michael Cohen, special counsel to Donald Trump, issued a statement to The Washingtonian, saying, "This is sour grapes by two bitter individuals who are disappointed after the GSA rejected their last-place bid. Donald Trump has no issue with money and there's no issue with the GSA. These individuals, should they continue making these false and defamatory statements, will find themselves facing very significant litigation."