Eating out with a gluten allergy or intolerance can be a challenge. It means more than just staying away from bread and pasta, and it can incite a stomach-churning fear of cross-contamination that often puts a halt to indulging in fried favorites and other treats. Last week's Gluten Free Expo got us curious about which local restaurants really cater to those of us with gluten sensitivity. We called scores of local restaurants to find out how they prepare their foods, to make extra sure meals would be allergen free. Read on for our list of great restaurants with GF menus.
DC
Lebanese Taverna
Multiple locations
With locations around DC, Maryland, and Virginia, Lebanese Taverna has a gluten-free menu that offers up tastes of Lebanon anyone can enjoy. From traditional mezze platters to the array of flavors available at the "hommos bar," gluten-free patrons can indulge knowing their food is prepared at a separate station in the restaurant's kitchen. Owners say one of the more popular celiac-friendly dish is braised lamb, which is served with lamb-filled grape leaves, spiced rice, and yogurt salad.
FireFly
1310 New Hampshire Ave., NW
The Dupont eatery doesn't have a separate facility to prepare gluten-free foods, but the knowledgeable staffers do everything they can to prevent cross-contamination, including using different utensils and keeping gluten-free stations clear of wheat contaminants. The place has a pretty extensive menu, including a dessert menu offering a gluten-free peanut butter ice cream sandwich, with house-made peanut brittle between two slices of flourless chocolate cake, and a warm apple pie sundae made with confit apples, ginger ice cream, and cinnamon crème anglaise. Popular non-dessert gluten-free dishes include risotto, halibut, and a selection of salads.
Peacock Cafe
3251 Prospect St., NW
Chefs at this Georgetown cafe make all of their salad dressing in house, and most are gluten-free, making salads popular dishes for the GF crowd during brunch. The chefs use different pots and utensils when putting gluten-free dishes together, and the owner says the staffers and chefs are well-trained in gluten-free preparation.
Zengo
781 Seventh St., NW
Chef Richard Sandoval blends Latin and Asian styles at his Chinatown restaurant Zengo. The largely gluten-free menu features favorites such as tuna tiradito and Peking duck tacos with orange-coriander sauce, and the kitchen takes care to prevent cross-contamination.
Birch & Barley/ChurchKey
1337 14th St., NW
Logan Circle's two-in-one restaurant concept has menus crafted by executive chef Kyle Bailey and brews selected by beer director Greg Engert. The restaurants have ten gluten-free beers in bottles and offer naturally gluten-free dishes as well as pastas and flatbreads that can be prepared gluten-free for a small surcharge. The restaurants take precautions to prevent cross-contamination and encourage customers to call ahead for special care.
Cafe Green
1513 17th St., NW
The District's first "full-service" vegan restaurant has a menu packed with gluten-free options, including Korean kimchi pancakes, raw pizza with handcrafted sunflower-seed, flax, and quinoa crust, and spaghetti marinara with zucchini noodles. Everything gluten-free is kept in separate containers and fridges to prevent cross-contamination.
Sticky Fingers
1370 Park Rd., NW
In 1999 Doron Petersan started a vegan bakery in her kitchen. Today this Columbia Heights mecca for vegan sweet tooths has won Food Network's Cupcake Wars twice and features gluten-free chocolate-chip cookies, chocolate cupcakes, and cakes with either vanilla or chocolate icing. The bakery takes care not to cross-contaminate, but make sure to call ahead; gluten-free bakery orders require 48 hours notice or a rush charge of 20 percent may apply.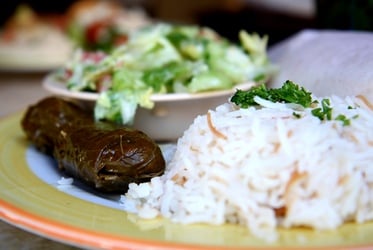 Jaleo, Oyamel, and Zaytinya
Multiple locations
All three of these José Andrés small-plates eateries offer gluten-free menus with an abundance of options. They also boast specific stations in the kitchens for preparation of food for allergen free dishes. But DC diners beware: Since the Jaleo in the District was remodeled, the separate gluten-free menu has yet to return; Crystal City and Bethesda still offer it.
"I really like that [Zaytinya] has an option to get cucumber slices instead of pita bread for dipping," says blogger Valerie of City Life Eats. "It's the little things that really make difference when you're eating out gluten-free."
Dino
3435 Connecticut Ave., NW
This Cleveland Park Italian restaurant keeps gluten allergy sufferers in mind with its menu of rustic fare. Gluten-free items are listed on the regular menu, and most pasta sauces can be used to make a delicious risotto. Though chefs here are sensitive, the kitchen is small and may not be able to accommodate those with severe allergies.
Carmine's
425 Seventh St., NW
Carmine's, the New York-style Italian restaurant in Penn Quarter known for its mammoth portions, has a separate gluten-free menu. The special menu has a lot of choices and features allergen-free versions of classics such as pasta Bolognese and penne with garlic and olive oil. All gluten-free dishes are prepared at a separate station in the kitchen to prevent cross-contamination.
MARYLAND
Lilit Cafe
7921 Old Georgetown Rd., Bethesda
The owner at this Bethesda cafe says he and his chefs have been preparing gluten-free foods for five years now, a statement that is reflected on the comprehensive menu. The cafe serves up several entrées including a chicken kofta kebab, a crabcake platter, and chicken tikka masala, as well as gluten-free sandwiches, baked goods, and pizza. There are even gluten-free croutons to top the array of salads. Gluten-free blogger Cheryl Harris says she loves Lilit because "they really cater to gluten-free. Everything tastes authentic. My family is Middle Eastern, so I can tell it's the real deal." At Lilit, gluten-free foods are prepared in a separate oven, ensuring meals like the gluten-free pizza are free from wheat and gluten contaminants. Some other popular items incleude crabcakes and steak-and-cheese sandwiches.
Les Delices Bakery
1615 East Gude Dr., Rockville
This European style bakery has been serving the Rockville community for 24 years, and its extensive menu of elegant gluten-free offerings will appeal to a variety of tastes. Those in the mood for something fruity can indulge in treats such as raspberry or coconut mousse layered over coconut. For chocoholics, try the coconut-chocolate or white-chocolate-walnut varieties.
Paladar Kitchen
Locations in Bethesda and Annapolis
Ropa vieja and guacamole served with vegetables for dipping are popular gluten-free items at this Latin and South American fusion spot with locations in Annapolis and Bethesda. The separate gluten-free menu gives detailed instructions of how to stay away from ingredients that have been cooked in a vessel that has come into contact with the allergen.
VIRGINIA
Chart House
1 Cameron St., Alexandria
Located on the water in Alexandria's Old Town, Chart House offers fantastic views of the city from across the Potomac and a separate gluten-free menu. Popular choices include the chopped salad to start, and the prime rib or bronzed tilapia. For dessert, don't miss the crème brûlée.
Choices by Shawn
3950 Chainbridge Rd., Fairfax
This Fairfax cafe, located in a historic home, is born of the success of chef Shawn Warner's line of gluten-free baked goods, and the "choices" part of the moniker is no lie. There is a whole list of gluten-free sandwiches and other usually off-limits goodies for those with celiac and gluten sensitivity. Diners with severe allergies can eat here without sweating cross-contamination because the restaurant has two kitchens, the main one of which is gluten-free.
Dogfish Ale House
Multiple locations
The Rehoboth brewery's local outposts in Gaithersburg, Fairfax, and Falls Church all feature gluten-free menus and, better yet, an allergen-free beer. The Tweason'ale is made with a sorghum rather than a barley base and features notes of strawberry and pit fruit. But be careful not to order the fried fish—there are no separate gluten-free fryers.
Rustico
Locations in Alexandria and Arlington
Rustico offers many dishes that are either inherently gluten-free or can be prepared that way, but its most popular gluten-free dish is the pizza. Any of the pizzas can be ordered on a gluten-free crust, which is made with chickpeas, making it a bit denser than the regular crust. Although prepared in the same cooking area as non-gluten-free foods, all of the gluten-free pizzas are prepared on pans specifically for dishes of this type, and chefs use separate gloves and utensils to ensure they never come in contact with any celiac-unfriendly products while in the kitchen.
Do you know of a gluten-free restaurant in Washington that's not on this list? Let us know in the comments.