Confession: When we made dietitian Heather Calcote's fennel, mushroom, and cherry tomato pizza back in April, we were homemade pizza virgins. Also new to us was the idea that pizza can be healthy. Well, we couldn't get enough of it, so we asked Calcote for another of her famous creations.
This recipe uses fresh basil and broccoli, and a two-slice serving counts as a full serving of veggies, Calcote says. Make sure you spring for the fresh mozzarella—we couldn't believe what a difference it made.
Calcote recommends serving with a fresh fruit salad to make a well-rounded meal. If you're cooking for the whole family, just double the quantities for the toppings and use all the dough to make two pizzas.
Yield: 8 slices (plus extra dough for next time)
Calories per slice: 165
Whole wheat dough*
Ingredients:
1 teaspoon white sugar
1½ cups warm water (110 degrees)
1 tablespoon active dry yeast
1 tablespoon olive oil
1 teaspoon salt
2 cups whole-wheat flour
1 cup all-purpose flour and about ½ cup for kneading, plus more for dusting
Steps:
1) In a large bowl, dissolve sugar in warm water. Sprinkle yeast over the top, and let stand for about 10 minutes, until foamy.
2) Stir the olive oil and salt into the yeast mixture, then mix in the whole-wheat flour and one cup of the all-purpose flour, until dough starts to come together.
3) Tip dough out onto a surface floured with the remaining all-purpose flour, and knead until all of the flour has been absorbed and the ball of dough becomes smooth, about 10 minutes.
4) Place dough in an oiled bowl and turn to coat the surface. Cover loosely with a towel, and let stand in a warm place until doubled in size, about one hour.
5) When the dough is doubled, tip it out onto a lightly floured surface, and divide into two pieces for two thin crusts. Form each into a tight ball, and save one half for later. Let rise for about 45 minutes, until doubled.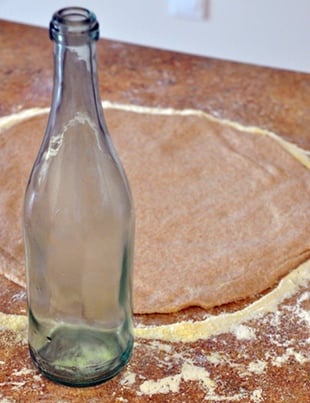 6) Preheat the oven to 425 degrees. Roll the ball of dough with a rolling pin (or improvise with an old wine bottle, as we did) until it will not stretch any further.
7) Then drape it over both of your fists, and gently pull the edges outward while rotating the crust. When the circle has reached the desired size, place on a well-oiled pizza pan. (This is a rather advanced step; we considered it optional.)
*Dough recipe recommended by Calcote and adapted from allrecipes.com.
Toppings (all amounts can be adjusted to taste and size of pizza):
½ cup sauce
4 sundried tomatoes, sliced
¾ cup broccoli florets
¾ cup chopped yellow bell pepper
7 leaves fresh basil, torn into pieces
One ball fresh mozzarella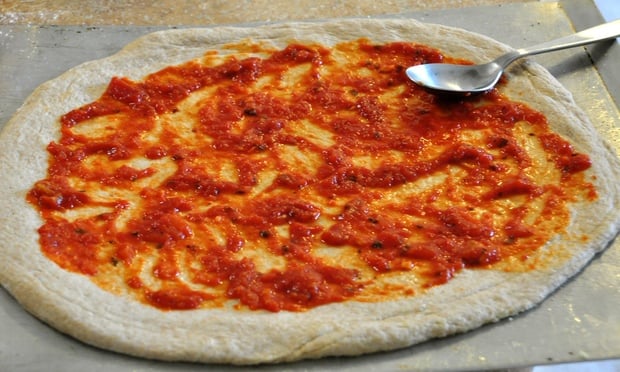 Top pizza first with sauce, then basil and veggies. Tear the ball of mozzarella with your hands and scatter the lumps evenly over the pizza. Bake for 20 to 25 minutes in the preheated oven, until the crust is crisp and golden at the edges and cheese is melted on the top.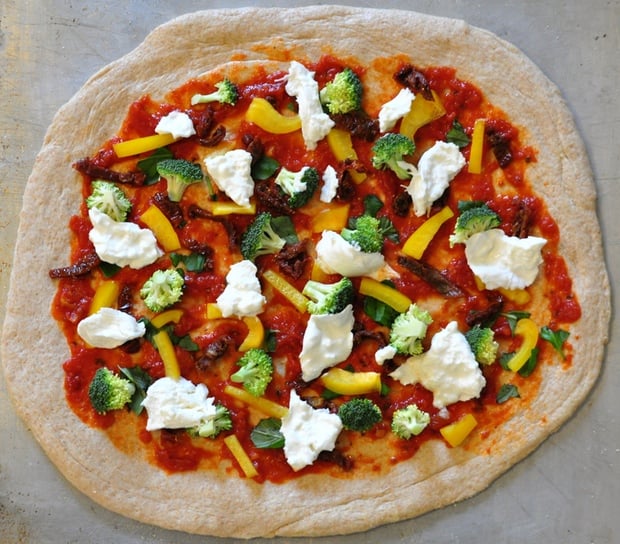 Heather Calcote is a registered dietitian in DC. She blogs about nutrition, running, and cooking at dietitianontherun.com.
For more healthy recipes, visit our Healthy Recipes feed.