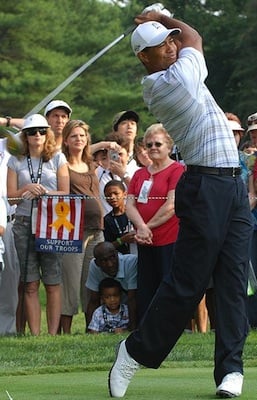 This week Congressional Country Club welcomes back the AT&T National golf tournament, and notably its host,
Tiger Woods, for the first time in two years. The tournament took a short hiatus, moving to Philadelphia, to make way for 2011's US Open,
which was absent an injured Woods but gave spectators and the TV audience a legitimate thrill with the performance of
Rory McIlroy. On a soft, wet course, the 22-year-old McIlroy won with a record low 16 under par score. Calls of "boy wonder" soon followed, but that was then.
This week McIlroy will be at the Irish Open rather
than in Potomac, Maryland. But in keeping with the spirit of youthful
phenoms,
the tournament will offer spectators a chance to watch amateur
sensation
Beau Hossler, a 17-year-old high school senior from Southern California; his future teammate
Jordan Spieth, a freshman at the University of Texas; and 20-year-old
Patrick Cantlay, who turned pro last week at the same time as Spieth. Other notable names in the mix include
Nick Watney (who won last year),
K.J. Choi (who won in 2008),
Jim Furyk,
Hunter Mahan,
Ben Curtis,
Y.E. Yang,
Kyle Stanley, and
Dustin Johnson. In all, the starting field is 120 golfers. Congressonional expects 100,000 spectators during the four-day tournament. The
opening is Wednesday, followed by a Pro-Am event.
All that said, the star of the event is Woods. "Love him or hate him, Tiger Woods basically saved PGA Tour golf in Washington,"
says
Eric Bickel of WFAN's
The Sports Junkies, which will broadcast live from the
tournament. "DC should be grateful to Tiger, especially after the
Kemper went away."
The Kemper Open had an assortment of sponsors and names before
its demise in 2006. The Tiger Woods Foundation stepped in,
Congressional members accepted its proposal, and the AT&T
National was created in 2007.
Those who watch Woods closely say this event and venue
appeal to him because he has a great affection for the US
military—service
members are invited to attend for free—and because he also
loves classic golf courses, which the lushly beautiful Congressional
is. "He goes the extra mile for the military, and always has,"
says WTTG sports anchor
Dave Ross. "The Kemper wasn't a tour stop players liked, but everybody loves Congressional."
Will there be a marked difference between the US Open and the AT&T National? Of course, and on several levels. "It's a much
smaller logistical operation," says
Barry Svrluga, who will cover the tournament for the
Washington Post. "The US Open is essentially like
putting a small city in Congressional. [The AT&T National] is much
more streamlined. In
some ways, fans can get closer to the action; the rope lines
are literally closer to the fairway. Also, it's more relaxed."
He said there's also a better chance for interaction between
fans and players.
While generally pleased with the 2011 US Open, the US
Golf Association was disappointed with the low scoring.
"They like scores to be around par," says Bickel. According to
Svrluga, "it was very wet that week, which made the course
softer and slower. A lot of meteorological things lined up to
make it easier than they would have liked it to be."
Congressional Country Club has taken that into account.
Greg Lamb, Congressional's vice president and
the tournament's chairman, says this year things will be "firm and fast.
It's remarkably
different from last year. It's in tip-top shape. Better than
it's ever been." He concedes the greens may have been "early"
last year, but now they are "mature, and better able to take
heat and moisture." He says the course was played as a par 70
for the US Open and will be a par 71 for the AT&T National.
"It's generally the same distance—7,569 yards—except one more
stroke to par." Dave Ross is expecting exciting competition.
"The greens will be tough and the rough much tougher than last
year," he says.
The US Open, as the club expected, tore up the greens.
But, as Lamb pointed out, the greens recovered well. It's part of the
process of hosting a significant golf tournament. I would use
the word "major," but that's a meaningful word in golf, where
"the majors" are the four principal championships, what every
player wants to win. This year there's been no trend; the two
thus far have both been won by someone different. The third,
the British Open, comes up in July and the PGA Championship in August.
What will sports reporters be looking for this week? "It's always interesting when Tiger plays," says WTOP sports anchor
Jonathan Warner. "Whether he's playing well or
having a meltdown, it's a huge story." He's also interested in the
young players—Cantlay,
Hossler, and Spieth—but asks, "How competitive can they be over
four days? That will be the test. Everyone can pop up and
do one good round, two good rounds, but by Saturday and Sunday
things change."
"He loves this course," says Svrluga of Woods. "And he
hasn't played here since '09, when he won." Ross, though, cites the
challenges Woods faces due to injuries. "He's now on the other
side of 35, and you can't beat Father Time. Mentally, the game
doesn't get easier. He's one of the first new wave of golfers
who really had fitness. Maybe his body is breaking down because
of the rigors he put on it." Still, in the official world of
golf ranking, Woods is fairly high up, sitting fourth behind
Luke Donald, McIlroy, and
Lee Westwood. Tiger Woods is still very much in the game.