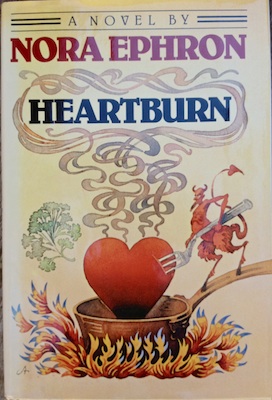 Washington owes a debt, and a moment of mourning, to writer and director
Nora Ephron, who died last night in New York from leukemia. She was only briefly a Washingtonian, but her experience, as unfortunate
as it may have been for her, left us with probably the only real published and cinematic Washington love story,
Heartburn. It had no spies, no world crises, no acts of Congress—only love, betrayal, and heartbreak, set against a Washington backdrop
and communicated with a biting wit.
In the glowy months after Watergate, after the resignation of
President Richard Nixon, after the
Washington Post won the Pulitzer for its coverage of the historic story, reporters
Carl Bernstein and
Bob Woodward were the closest Washington had ever come to having its own rock stars. Whatever they did, wherever they went, made it into
the gossip columns. They were good copy, whether it was being spotted with
Robert Redford as they worked toward the movie version of their book,
All the President's Men, or with the women in their lives. For Woodward, it was
Francie Barnard, whom he married. For Bernstein, it was
Nora Ephron.
Not only were Bernstein and Ephron an intriguing
couple, but they met cute and married wonderfully. A judge performed the
ceremony in New York City, with Woodward and Barnard as
witnesses. Given the time and the players, what could be more romantic?
They were the toast of both Washington and New York at the
time. Their friends were the glittering costars of the Watergate
episode, including especially
Ben Bradlee and
Sally Quinn, and
Richard and Barbara Cohen. Whatever happened to them was the juicy fodder for the city's most-read gossip column, "The Ear," written by
Diana McLellan for the
Washington Star.
Except the fairy tale romance, like so many fairy tale romances, was a nightmare for Ephron. When she was pregnant with their
first child, she learned Bernstein was carrying on a rather public affair with
Margaret Jay, the wife of the British
ambassador. There were rumors, there were sightings, and—as the adage
goes—the wife may have been
the last to know. McLellan helped a lot with that. "It was my
duty to reveal what le tout Washington already knew," she wrote
this morning on Facebook.
There's no question the implosion of Ephron's marriage
was a terrible time for her. She and Bernstein stayed together long
enough for the birth of a second child, but divorced in 1980
after four years of marriage. She returned to New York. It could
have all ended there but, fortunately for people who love good
books, she wrote
Heartburn. Its slight but action-packed 179 pages are
mostly a thinly veiled recounting of her marriage to Bernstein—rich with
detail
about their lives together, their friends, her enemies (Jay),
Washington—but more than that, it includes recipes! No kidding.
It's a witty, mean, fun roman à clef with occasional pages
devoted to how to make excellent lima beans, Key lime pie, cheesecake,
bacon hash, and
Lillian Hellman's pot roast. I have a first edition. It is treasured.
The movie of
Heartburn,
released in 1986, holds up well as a sharp period piece. The filming in
Washington, of course, was just as sensational as
the Bernstein-Ephron romance. There were regular sightings in
Georgetown of the filming, and of the cast, which included
Meryl Streep (as "Rachel") and
Jack Nicholson ("Mark"), plus
Jeff Daniels,
Maureen Stapleton,
Stockard Channing,and
Karen Akers as "Thelma" (Margaret Jay). The director was
Mike Nichols.
It's a very adult romantic comedy. There are no cheap
laughs or hijinks aimed at a teen audience. It's all high-minded and
sophisticated, but also sentimental and bitterly romantic. And
it's oh so Washington, with a few side trips to New York post-Watergate,
the decade from 1975 to 1985, which was as exciting as this
city's been in modern times. (A lot of the credit for that goes
to McLellan and her take-no-prisoners gossip column). In
various interviews Streep talked about how hard she worked to embody
Ephron, getting down the little ticks of the way she would
stand or use her mouth to emote worry or doubt. She succeeds. As
Mark, Nicholson is a robust and arrogant version of
Bernstein—really, the Bernstein that could only exist in a movie.
(Later,
in
Broadcast News,
Albert Brooks captures another episode in the Bernstein book of moments.)
At the end of
Heartburn, the book, Ephron writes, "Of course, I'm
writing this later, much later, and it worries me that I've done what I
usually
do—hidden the anger, covered the pain, pretended it wasn't
there for the sake of the story. . . . Because if I tell the story,
I control the version. Because if I tell the story I can make
you laugh, and I would rather have you laugh at me than feel
sorry for me. . . . Because if I tell the story I can get on
with it."
The end of the film is one of my favorite film endings
of all time. Streep's Ephron has left her philandering husband and
boarded the Eastern shuttle with her young son and infant, and
is heading back to New York to "get on with it." The soundtrack
kicks in, a chorus of children's voices singing "Itsy Bitsy
Spider," and over them, Carly Simon singing "Coming Around Again."
The lyrics:
"Baby sneezes,
Mommy pleases,
Daddy breezes in.
So good on paper,
So romantic
But so bewildering."