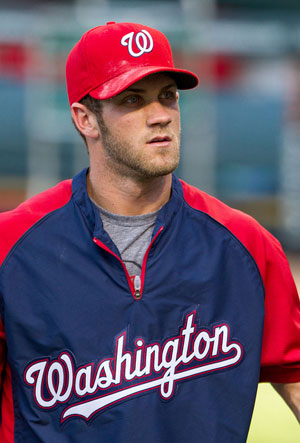 In a contentious presidential election year, here's a vote that seems simple, uncomplicated and rewarding, especially for
Washington Nationals supporters—a chance to send rookie phenom
Bryce Harper to the All-Star Game.
The American League-National League matchup will be played July 10 in Kansas City. Already given the nod from the Nationals
are pitchers
Stephen Strasburg and
Gio Gonzalez and shortstop
Ian Desmond. Among all the other players
chosen from other teams, there are two remaining opportunities to get
the nod from each league:
Final Vote Candidates. Harper
made this roster of ten players—five
from the AL and five from the NL. With enough votes he'll be on
his way to Kansas City with his teammates.
And for the American League,
Jason Hammel of the Baltimore Orioles is also among the Final Vote Candidates. Vote for him, too. The Nats are calling it the "beltways
ballot."
Note: the ballot asks for your e-mail address, date of birth, and Zip code, but otherwise appears fairly straightforward.
The voting ends Thursday*.
*This post has been updated from a previous version.