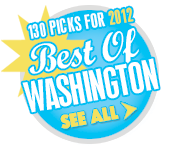 Cornucopia
This Italian market is an ideal stop before dining al fresco.
Pick your antipasti from the extensive olive bar, and order crusty
baguette sandwiches splashed with olive oil and balsamic and layered with
prosciutto or soppresatta. For dessert, it's hard to resist
filled-to-order cannoli or house-made biscotti. 8102 Norfolk Ave.,
Bethesda; 301-652-1625.
Cork Market
Picnic fare here ranges from sandwiches to charcuterie, but our
favorite is the cold fried chicken. Individual pieces of the crispy,
garlic-and-herb-marinated birds can be plucked from the case, or you can
order them a day in advance in a two-person picnic basket that includes
salads, cookies, and wine. 1805 14th St., NW; 202-265-2674.
Society Fair
Restaurant Eve chef/owner Cathal Armstrong's new market brims
with tasty finds. Head to the butchery for superb sandwiches such as
Italian cold cuts and sharp provolone or braised short ribs with
horseradish and pickled leeks. The ideal sweet finish: a slice of pink
"birthday cake." 277 S. Washington St., Alexandria;
703-683-3247.