Summer calls for simple, fresh meals that make good use of local farmers markets. Using seasonal vegetables, dietitian Katherine Tallmadge whipped up this take on tabbouleh that's sweet, savory, crunchy, and filled with a variety of nutrients.
"It's delicious, first of all," she says. "It's also low-cal because of all the veggies, high in fiber because of the whole grains and beans, and has all the elements for a perfect main dish: protein, fiber, fruits, vegetables, nuts, and a fresh vinaigrette."
It keeps in the fridge for a week, making it a great lunch to take to work. Tallmadge recommends leaving out the tomatoes until serving: "I don't want my tomatoes refrigerated!"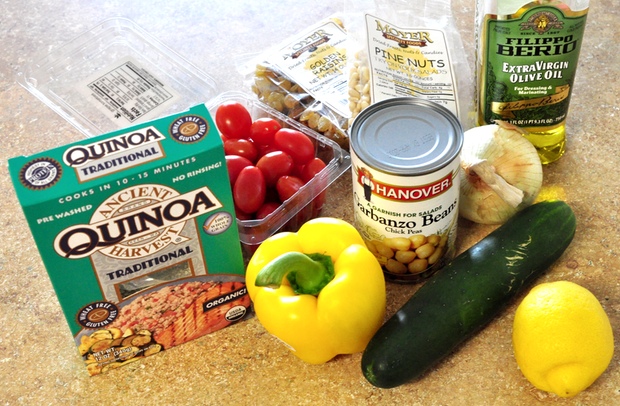 Yield: 6 servings
Calories per serving: about 300
1 cup cooked quinoa
1 (15-ounce) can chickpeas, rinsed and drained
1 large cucumber, skinned, seeded, and chopped
1 large yellow pepper, seeded and chopped
1 sweet onion, chopped finely
1 pint cherry or grape tomatoes, sliced
1 large handful fresh basil, chopped
¼ cup golden raisins
¼ cup roasted pine nuts
Dressing:
Juice of 1 lemon (about 2 tablespoons)
Zest of 1 lemon
2 tablespoons extra-virgin olive oil
1 garlic clove, crushed
Kosher salt and freshly ground black pepper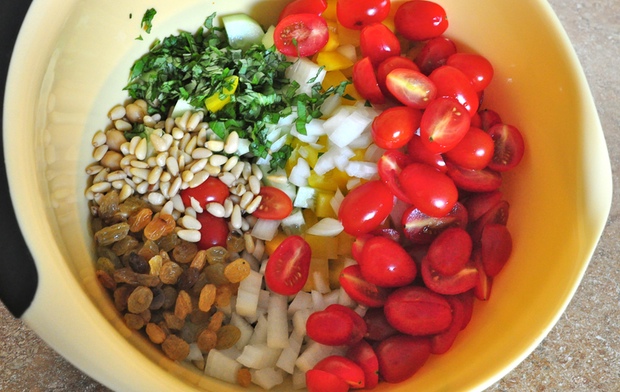 1. In a large glass or plastic bowl, combine chickpeas, cucumber, pepper, onion, cherry tomatoes, basil, raisins, and pine nuts.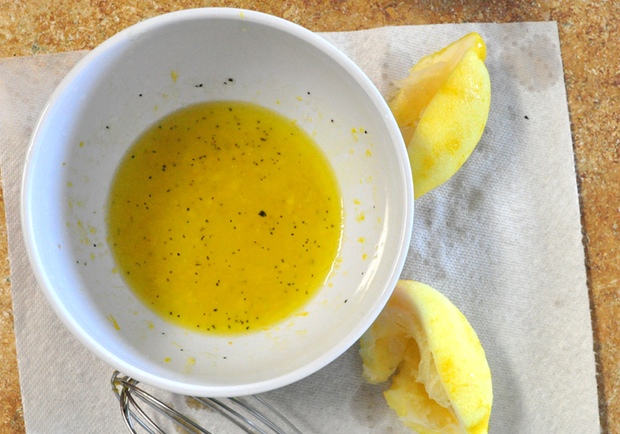 2. Make the vinaigrette in a separate small bowl: Roll the lemon on the counter and then place in microwave for 30 seconds (this procedure extracts the maximum juice). Let cool. With a microplane, zest the lemon, being careful not to use the bitter white pith. Squeeze the lemon juice and place with zest in the small bowl. Add the olive oil, garlic, salt, and pepper. Whisk together.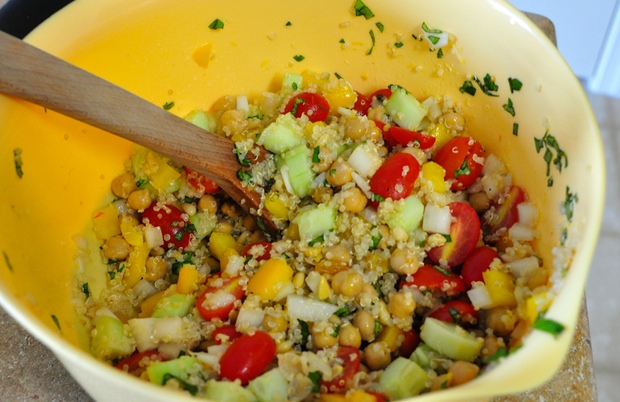 3. Add quinoa to salad. Toss in vinaigrette.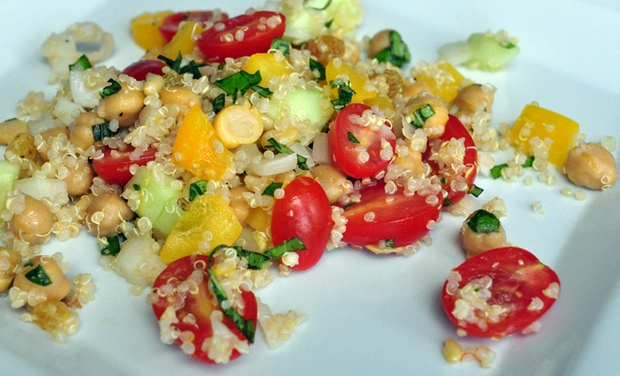 For more tasty recipes, visit Well+Being's Healthy Recipes page.