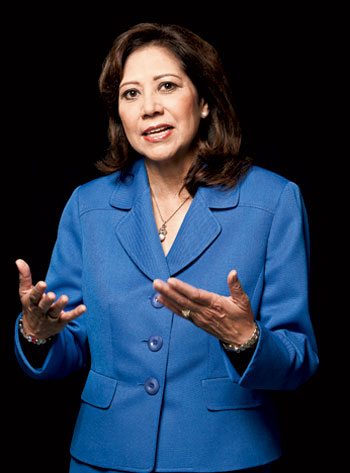 The Role Model: Mr. Robert Sanchez, my high-school career counselor, told me not to listen to people who doubted my abilities or discouraged my dreams. He put a college application in my hand. My previous guidance counselor told me I wasn't college material and suggested I become a secretary. Well, he was half right. I did become a Secretary!
The Parent: My father worked in the fields, on the railroad, and in factories in Arizona, Texas, and California. He eventually became a Teamsters shop steward at a battery-recycling plant. As a young girl, I would help him translate—from Spanish to English—his colleagues' grievances about wage and safety violations. He told me, "Hilda, these are the voices of the workers." That experience was the best preparation for the job I hold now.
The Book: John Steinbeck's The Grapes of Wrath had a profound impact on me. It still moves and inspires me every time I reread it. It was the first time I saw people like me, my family, and my neighbors portrayed accurately and honestly in popular literature. My parents lived that story in many respects.
The early job: I began my career as a college recruiter for Cal Poly Pomona University, helping underrepresented and at-risk students attend college. I was the first of seven kids in my family to go to college, so it felt great to be able to do for others what Mr. Sanchez did for me.
This article appears in the July 2012 issue of The Washingtonian.