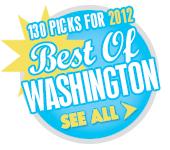 Worst Local Politician
Marion Barry. The former District mayor and
current council member's checkered past and controversy-plagued present
have once again earned him a spot on our readers' bad side.
Also unpopular: DC mayor Vincent Gray.
Worst Local Athlete
Alex Ovechkin. Voted local hero just a year
ago in this same poll, the Great 8 has apparently lost points both on and
off the ice.
Also unpopular: Andray Blatche.
Worst Local Columnist
Charles Krauthammer. The Post political
columnist and Fox News commentator was no favorite on this year's
survey.
Also unpopular: George Will, Petula Dvorak, Mike
Wise.
Worst Local Radio Personality
Elliot Segal. Readers continue to show
fickleness for Segal, voting the DC101 morning DJ both best and
worst.
Also unpopular: Jack Diamond.
Worst Food Trend
Cupcakes. Speaking of fickle: Best food truck?
Curbside Cupcakes. Worst food trend? Er, cupcakes.
Also unpopular: Foam, small plates.