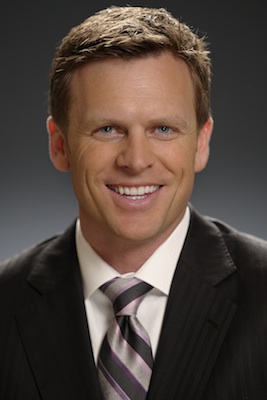 Several Washingtonians
are off to London this week to prepare for the Olympics, which
start July 27, and NBC4's sports anchor,
Dan Hellie, will join them. The Maryland native and Bethesda resident will make his Olympic debut this month, and we caught up with
him to talk about how he's preparing and what he thinks will be the high and low points.
Tell me a little bit about finding out you'd get to go to London.
We generally send someone every year. In the past,
Lindsay Czarniak has been going, and she's
done a great job for the network and for [the local station]. Then she
went to ESPN. I was told
six or eight months ago that I'd probably get to go, and I
found out for sure more recently. There will be three people there
from Channel 4—a cameraman, a producer, and me.
How much of the various sports' trials are you watching?
As we get closer, I'll probably be doing a lot of studying of the events specific to London. Right now it's just been so crazy
since I'm the only Channel 4 sportscaster, so I haven't started cramming.
What are you most excited to cover once you get there?
Basketball. I love basketball. Really, I'm a pretty traditional sports fan, but I think I'm like everyone else in that I really
get into track and swimming in the Olympics. I'm fascinated by
Usain Bolt and
[Michael] Phelps and
[Ryan] Lochte, and I never get to watch those sports in person, so that will be really cool. Then there's also the stuff I've never watched
before, like BMX, that I'm looking forward to.
How does being a sportscaster in Washington prepare you for a huge multi-sport event like this?
In Washington, there's always a sport going on that
we're talking about, and every day you're doing something different. I
most recently worked in Orlando, which was a one-sport town—we
had the NBA and that was it, so I love the variety of my job
here. We might cover a Nationals game live one day and a Caps
playoff game the next day, and you have to keep on top of a
lot of things.
So it sounds like it'll be busy and complicated like your everyday job; how will it be different?
The biggest thing is that in the Olympics, you never
know who's going to win. In the NCAA tournament, for example, you might
not know who's going to win, but at least you know what to
expect. Then there's the fact that the athletes can be very hard
to reach (because they're in the village with their teams). I
would dread if one of our local athletes won a medal or had
a really surprising performance and I wasn't able to track them
down.
What's the coolest thing about the Olympics?
The really cool thing about the Olympics is that every athlete has a story. I've learned so many of them even so far.
Julie Zetlin is a 21-year-old from Bethesda
who's trained her entire life in rhythmic gymnastics. Her mother was a
rhythmic gymnast, and
that's how she got into it. She plans on retiring after this
and moving to LA to start school because she's been putting it
off for a while now to train. Or
Terrence Jennings—he's a guy from Alexandria who's going to compete in Taekwondo. He saw a
Teenage Mutant Ninja Turtles movie when he was ten and decided he wanted to be a ninja, and now look at him. I really like all the different stories.
How will Washington benefit from your presence in London?
Our primary focus will be local athletes. It's amazing
to think about all of them—people who are always on TV and people who
aren't. We'll be covering them all. For a lot of these people,
the Olympics means representing the country but also representing
their hometown, and to be able to come home and be an Olympic
medalist is really remarkable.