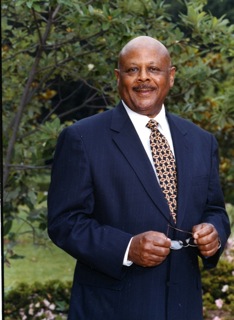 Bill Raspberry, 76, died July 17 in Washington. Very few journalists, and almost no
columnists, had as many readers, admirers, and friends. Here are snapshots of Bill
from 40 years of knowing him.
We met in the early 1970s when WRC, the NBC-owned television station in Washington,
wanted to start a Sunday morning talk show. The producers wanted three local journalists,
and politically correctly they had picked a woman (Clare Crawford, from the
Washington Daily News), a black male (Bill, from the
Washington Post), and a white male (me, from
The Washingtonian). They wanted us to talk about local issues, and as a hint of what was going to happen
to journalism, they wanted more heat than light. So we did it. Every Friday morning
we'd get on the phone to talk about the week's hot local topics and how we were going
to disagree with one another. Then we'd go out to the Channel 4 studios on Nebraska
Avenue and sit down with moderator
Angela Owens to tape the show for viewing on Sunday.
I think we all enjoyed it at first—it was one of the first TV talk shows featuring
print journalists, we got a little money and notice, and we hoped we were helping
sell copies of our publications. I was never sure how Clare felt about the charade,
but it didn't take long for Bill and me to talk about the high BS factor of what we
were doing. After what I remember was two years of this, WRC mercifully moved on to
different Sunday morning programming.
In 1974
The Washingtonian honored Bill as one of our Washingtonians of the Year for his journalism at the
Post. There was no BS in this—Bill was a great columnist, and nobody could better reach
both blacks and whites. Lots of reasoned discussion, lots of bridge-building, lots
of light.
In 1975 when I married Jean Vincent in the backyard of our Bethesda home, Bill and
his wife, Sondra, were there.
Then in October 1976,
The Washingtonian published what was probably its most controversial cover ever. It showed an ice cream
cone holding one scoop of vanilla topped by four scoops of chocolate. The cover headline
was "Can Whites Survive in DC?" The subhead: "A 'Chocolate City" mentality is taking
hold in the District. A new kind of racism is emerging. And there is a greater frustration
and bitterness between blacks and whites."
Bill wrote about the cover and came pretty close to calling the magazine racist. We
exchanged some private written words but didn't see much of each other for some time.
In 2001 I wrote him a note about a
Washington Post story that had echoes of our 1976
cover story. Bill wrote a column about it.
In 2003
The Washingtonian published a story about Bill's efforts to improve the education
of small children in his Mississippi hometown of Okolona.
In 2005 he retired
from the
Post and split his time between teaching at Duke University and his efforts to help kids
in his Mississippi hometown. Finally, in 2010 we both spoke at a dinner of the Society
of Professional Journalist in Washington. As always, he was the most admired journalist
in the room—a great journalist and a great man.