There's a lot to love about Hank's Oyster Bar: goldfish crackers to snack on before your meal, gratis hunks of dark chocolate for dessert, and one of the best lobster rolls in town. And that's just at the Dupont and Alexandria locations. Hank's on the Hill, a 3.0 version of Jamie Leeds's New England-style seafood spot, debuts today at 5 with the Eddy, a 20-seat bar with cocktails from Gina Chersevani (formerly of PS 7's Lounge). For a beachy 60-seat restaurant, there's a lot going on. Here are nine things to look out for.
1) Jerks at the Bar
Yes, your typical Capitol Hill egos may be out in force on certain nights, but we're talking jerks of the soda variety. Two fountains dispense a rotating lineup of three freshly made sodas—think seasonal flavors like blueberry and citrus-sage or classic orange—which you can booze up, transform into creamsicles, or make into a float with a scoop of Sinplicity ice cream.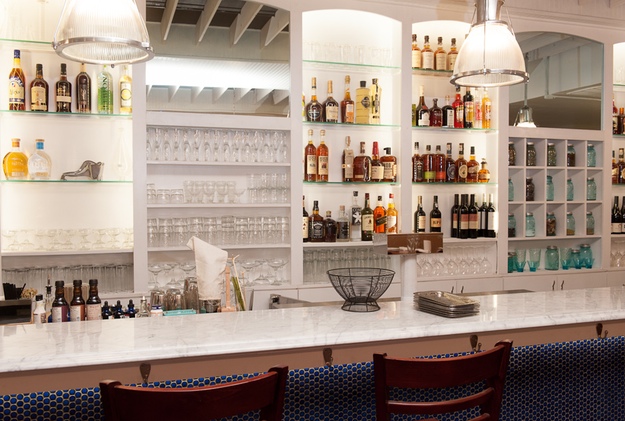 2) Great-Grandpa Fanelli's Ice Tongs
Forget measly little ice cubes that'll turn your blueberry soda into blueberry water. Chersevani outfitted the bar top with a chilling station that holds an 80-pound block of ice, which the tenders carve into hunks for drinks. Helping along the process: ice tongs that are more than a century old and belonged to the mixtress's great-grandfather, an "ice man" in Brooklyn.
3) Low-Cal Cocktails
Chersevani was known for her 100-calorie cocktails at PS 7's, and she's continuing them at Hank's. Tonight you'll find Squeezed Melons, a cooling combination of gin or vodka, mint, and honeydew water.
4) Dollar Oyster Happy Hour
Enough said. Plus discounted wine, beer, and cups of Chersevani's punches.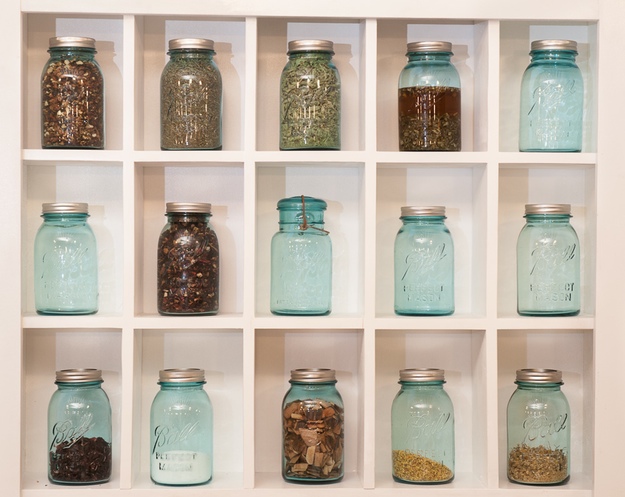 5) Bipartisan Programming
Three mirrors behind the bar transform into televisions (because you can't serve drinks on the Hill without TVs). You may find Fox News on the right side of the bar, MSNBC on the left, and C-SPAN in the middle. Or you can just ignore politics and watch the oyster shucker going to work at the raised bivalve bar.
6) "Reservations"
Nope, Hank's still doesn't take reservations. But you can call ahead 30 minutes prior to your arrival and get your name on the inevitable waitlist.
7) Dessert
You'll still receive a small bowl of chocolates at the end of your meal, but for the first time, you can also order dessert after a round of grilled oysters. The house-made sweets include Key lime pie, peach cobbler with vanilla ice cream, and a gluten-free chocolate layer cake.
8) Brunch
Hank's brunch is slated to start next weekend, with the likes of the smoked salmon Reubens and You Beety Bastard, a spin on a Bloody Mary with beet juice in place of tomato.
9) Smoked banana peels and marshmallow bitters
Chersevani is known for her whimsical creations—remember that cereal milk cocktail?—and things are no different at the Eddy. You'll find seasonal ingredients like fresh berries muddled in the Champagne Cobbler, politically themed creations such as I Cannot Tell a Lie, with bourbon and pickled sour cherries, and a frozen concoction called Forgetfully, Fernet, which involves freezing Jameson and giving it a herbaceous Fernet float. Says Chersevani: "It's like tiki got bitch-slapped by whiskey."
Hank's on the Hill, 633 Pennsylvania Ave., SE. 202-733-1971; hanksoysterbar.com.