One reason we love summer is for the abundance of delicious seasonal foods, from juicy watermelon to sweet peaches. But when we really need a hearty addition to our meals, we turn to the avocado. The yellow-green fruit contains healthy fats, and adding a cup of avocado to a salad or salsa increases one's chances of absorbing vital nutrients from the meal.
We love avocado so much we wanted to know other ways to eat it, before we got too tired of simply tossing it on salads and sandwiches. Here are three super-simple and tasty recipes to try for either breakfast, lunch, or dinner, thanks to the folks at Two Peas & Their Pod, SweetonVeg.com, and Eating Well.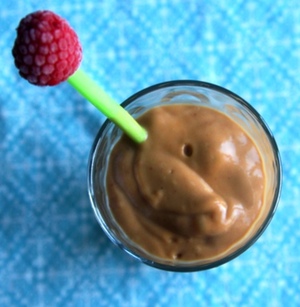 Breakfast: Raspberry-Avocado Smoothie
We were skeptical of putting avocado in a smoothie—until we had our first sip. It's a great substitute if you don't have yogurt on hand, and it left us feeling full for hours. Note: If the smoothie turns out too creamy, add more juice to even it out.
Ingredients:
1 avocado, peeled and pitted
¾ cup orange juice or mango juice
½ cup frozen raspberries (not thawed)
Place all ingredients into blender and mix until smooth.
Lunch: Avocado-Pesto Toast
The hardest part of this recipe is making the pesto, which is easy enough anyway. We recommend kale pesto, but the basil version works just as well. Two pieces of bread with this avocado-pesto topping was plenty to get us through another three hours of the day.
Ingredients:
2 slices of bread
1 avocado
Kale or basil pesto
Toast two slices of bread (we used multigrain bread). While bread is toasting, peel, pit, and slice avocado. To keep avocado from browning, sprinkle with lemon or lime juice. Top toast with avocado, then drizzle on the pesto.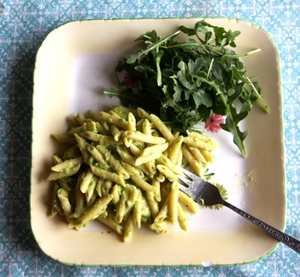 Dinner: Creamy Avocado Pasta
We couldn't believe we hadn't thought of this genius trick before. Instead of loading on the heavy Alfredo sauce, blend up an avocado to create this creamy pasta.
Ingredients:
6 ounces pasta
1 large avocado, peeled and pitted
1 tablespoon lime juice
1 clove garlic
¼ chopped fresh cilantro
salt and pepper, to taste
Cook pasta according to package directions. While pasta is cooking, blend the rest of the ingredients in a blender or food processor until smooth. Note: It's extremely filling, but we recommend eating the dish the day it's made for ultimate freshness. No one likes brown avocado sauce.
For more healthy recipes, visit Well+Being's Healthy Recipes page.