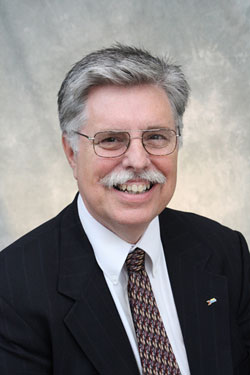 Joseph Boardman grew up on a farm in upstate
New York, where his father inspired him to value the
nation's rural areas but also to look up from milking the cows
and dream about the
places he could go—on trains. Today he is the president and CEO
of Amtrak, making
him a key player in an ambitious plan to overhaul an urban rail
icon, Washington's
Union Station. The proposed almost $8 billion plan
was announced this week by Boardman, Mayor
Vincent Gray, and the developer, Akridge. If it is approved and funded, the full project could
be completed by 2028. As designed by architecture firm Parsons Brinckerhoff and HOK*, the new Union Station would feature a dramatic glass-roofed concourse while still
preserving the original Beaux-Arts building designed by
Daniel Burnham and built in 1907. The last renovation was in 1988.
The approximately $8 billion slated for Union Station is part of a $151 billion proposed
package that would revamp rail service in the United States, particularly the Northeast
corridor.
Reaction was fierce and mixed. No one disputes the need for enhanced service. The
principal concern seems to be: Don't mess with beloved Union Station. The
Washington
Post
called the plan "pretty nice" but labeled redevelopment "a dangerous
business." Slate
called the plan "insane" and "amazingly
costly."
Greater Greater Washington said "it has many needed
pieces."
Most reports focused on the need to expand rail service to meet
capacity, citing claims
that the new station would double the current number of trains
and triple the number
of passengers. But there was caution about commercial
development. Intriguingly, the
overall plan includes trains traveling from Washington to New
York in just over 90
minutes at speeds of up to 220 miles per hour.
Boardman, a Vietnam veteran, served as commissioner of the New York State Department
of Transportation and as administrator of the US Federal Railroad Administration before
being named head of Amtrak in 2008. He commutes between New York and Washington—by
train, naturally. Thursday he was on the 1 PM Acela to Washington and was amazed to
find the train was packed with passengers. "We're starting to go to max capacity much
earlier in the day than we used to," he says, especially on Wednesday, Thursday, and
Friday. He says they're seeing more and more people riding earlier in the day, rather
than only during the conventional rush hours. He's currently trying to add a couple
of coach cars to the existing Acelas.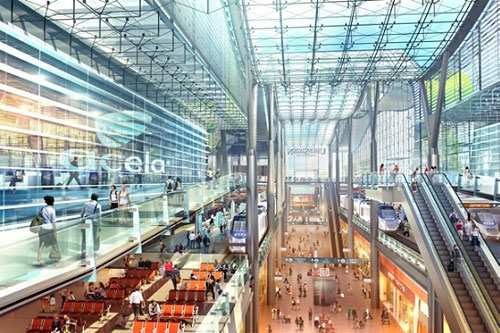 Boardman talked to us Friday morning about the new Union Station plan and Amtrak in
general. While he was candid on most subjects, he simply would not come out and name
his favorite train or route, because "that would be like trying to choose between
the Nationals and the Mets and the Yankees."
What's wrong with Union Station that it needs to be redesigned?
It's old. It was envisioned for a hundred years ago. Things have changed. We have
commuter operations, VRE and MARC, which didn't exist a hundred years ago. The speed
of travel was different back then. We now have 40 million people within 40 miles of
the Northeast corridor, and we're going to have about 60 million in the next 20 to
30 years. Interstate 95 is packed and unable to expand. We have major delays in the
US at the Northeast airports. Union Station fits into the vision of high-speed rail.
As a New Yorker, and a rail veteran, you can appreciate that a lot of people thought
the old Penn Station was fine and did not need to be rebuilt. [The original 1910 McKim,
Mead, and White station was torn down in 1963 and replaced by Madison Square Garden.]
I wasn't working in policy development when that happened. But there really should
have been a different vision back then for what would be happening in the future.
But nobody knows the future. What we see is continuing growth, and it's not just about
Amtrak.
What is the single most important feature of the redesign?
Capacity and movement of people.
What will the redesign bring to the experience of the train traveler? Will it be easier
to get on and off trains?

Yes. For example, right now we don't meet ADA requirements. It takes a lot of time
for people to navigate on and off the trains, to be well taken care of in the concourses.
There needs to be more space for people to move around. In the afternoon commute there's
no place to move.
How much of the original building will be preserved?
People think we're tearing down Union Station. That ain't happenin'. The entire Burnham
design will be retained. It's an iconic building, and it will be the entrance to the
new station.
Will there be parking that is comparable to the expansion in size?
We're looking at parking to be underground. I've seen some folks who think we could
reduce costs by reducing parking. More people are arriving at the station by train
than by car. If there's less need for parking, some of those things can be adjusted.
When and how did this plan begin? Did the impetus come from Amtrak or the developer,
Akridge?

It came from Amtrak. When I came here in November of 2008, my interest and effort
were to change Amtrak for the future, to change the culture, to change how we think,
to get a strategic plan together, imagining a vision of what rail could be for the
future. This is part of that.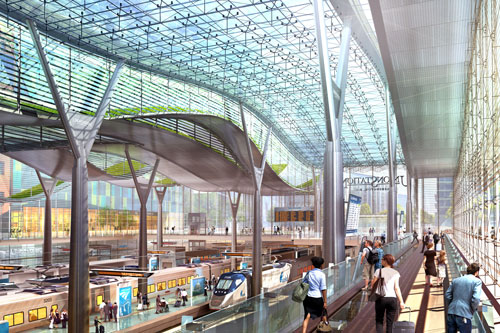 Was Amtrak involved in the design plan from the beginning?
Yes. Amtrak said, "Look, we have to do something different here."
Who owns Union Station—DC? The federal government? Or is it private?
The federal government.
How many people use Amtrak in Washington on a daily basis?
It's beyond capacity, serving 100,000 passengers and 200 trains per day.
Does Amtrak oversee all the track in and out of Union Station, including what's used
by MARC and VRE?

Yes. They have an agreement with us.
The budget is a proposed $7.5 billion, none of it financed yet. Won't some people
wonder whether that money could be better spent on improving the tracks?

It is part of improving the tracks, but if you don't have anywhere to go on the tracks,
then [why] allow development to occur around it? You have to have an efficient station.
But will money go to track improvement?
In the station area. And it's not just about the tracks. It's about the power, too.
Electricity is how we operate high-speed trains on the Northeast corridor. We have
to fix the electric power, the signal system, and the platforms first.
Will passenger rail ever be able to resolve the burdens put on it by freight, which
has priority to use the tracks?

The balance between freight and passenger will always be a bone of contention between
Amtrak and its private rail operators. But I think there's been improvement in recent
years.
Overall, how are the trains doing at running on time?
In the Northeast corridor we've had one of the best years. It's up to 80 and 90 percent.
In part that's thanks to a pretty [mild] winter. We really do get impacted by the
weather. The heat affects us as well. We sometimes have to slow down because of the
heat. The tracks become kinky.
Across the country there are varying levels of reliability. Back when the economy
went down, our reliability went up, because freight service went down. Now that the
economy is improving, freight is back up.
How disruptive will the station reconstruction be to operations between now and completion
in 2028?

Our intention is for it not to be any more disruptive than necessary. We still have
to run a railroad right in the middle of the development. That's not a surprise to
anybody. Railroads do that kind of thing all the time.
How much of a say does Amtrak have in the project?
We have to run the railroad. If there's a decision that comes down that impacts the
railroad negatively, we're going to have something important to say. People have to
keep it a transportation investment first and a development investment second.
Is there pressure on Amtrak stations nationwide to become more than just a place to
catch trains?

That's a pretty good analysis. Some of it is because of growth and the number of passengers
and cultural changes. Some of it has to do with catching up with ADA, bringing platform
levels up. Some of it has to do with the fact the stations are old and need to be
updated. We have 500 stations out there that we serve. Part of the problem, since
Amtrak got created in 1971 and got the Northeast corridor in 1976, is that investment
is too low.
How often do you ride the train?
Almost every day; at least weekly. I've put more miles on the railroad than any other
president. I try to cross the country every year. I try to ride every route. I do
get out on the railroad, meet the employees, talk to them. I'm out there. Amtrak needs
to exist to provide border-to-border connectivity. It's necessary for those who are
isolated. Bus systems abandoned them. Aviation can't do it. We need to be able to
have something other than the car.
Do you have a railroad role model that's outside the US?
VIA Rail Canada. They struggle as well for the future, and they need to provide the
same kind of coast-to-coast service as we do in the United States.
Do you really think we're going to get trains that travel 220 miles per hour?
I think we can. We're very capable in this nation to do what we set our minds to get
done. We can do it in our kids' lifetime.
* This post has been updated from a previous version.