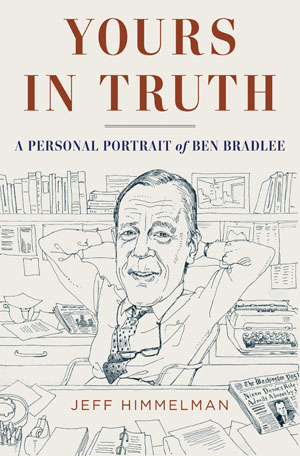 In journalism there is little redemption. Reporters write their stories or their books
and send them out into the winds, hoping for flight. Negative blowback, when it happens,
is dispiriting; people find fault, take sides, deny they ever gave that provocative
quote in the first place.
Jeff Himmelman knows this well. He wrote a book,
Yours in Truth, about
Washington Post legend
Ben Bradlee that caused all kinds of ill will
among the people closest to Bradlee. We wrote about
it when the book came out.
This Sunday, Himmelman gets his redemption—and not from the
Washington Post, but the
New York Times.
Phil Bronstein, former editor of the
San Francisco Chronicle, gives the book a boffo review.
"This is instead a work about seduction and mythology, how
powerful and romantic they
can be, and how neither makes for a fulfilling relationship or a
full portrait of
a three-dimensional human being," writes Bronstein, noting that
the book is neither
about heroes nor about journalism. Well, it is, but he makes a
good point. The book
transcends being just another love letter to Ben Bradlee.
How does Himmelman feel about his good review? You guessed it. "Not sure it is redemption,
but it sure feels like it," he wrote to us in an e-mail.